"The Community Centre" is a gentle comedy full of colourful characters. It is set – obviously – in a community centre in a rough area, the centre of the community, the heart in a heartless place, where a group of regulars gather to spend their days socialising and saving money on their fuel bills.
Writer, Nicola Gardner, plays larger than life receptionist/manager, Patience, who is a pure joy. She swaggers and sways, is feline and vampish and full of sassy personality. She addresses the audiences and flirts outrageously. She shops at international shops. (Netto, Lidl and Aldi.) They call her the Black Marilyn Monroe and to prove this, she performs a seductive and breathy "Happy Birthday, Mr President" on a reluctant and decidedly uncomfortable caretaker, which is a show stealing moment. (Whoever "they" are, they're right: she really is a black Marilyn Monroe.)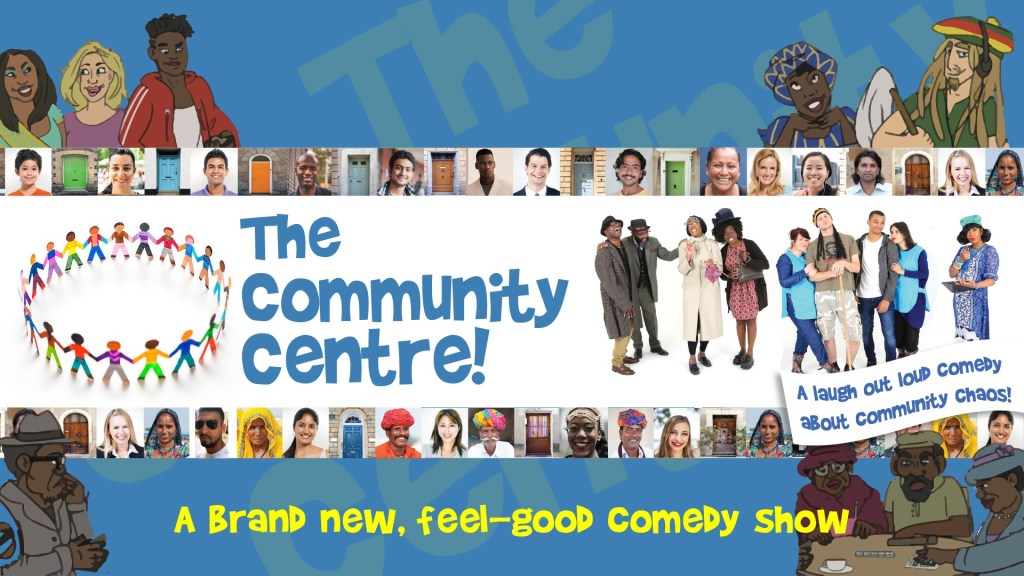 Nicola is also a stand-up comedian, which really shows. She has great rapport with the audience and huge confidence. The other character she plays is evangelical pensioner, Sister Richards, who lusts shamelessly after many – or any – black men in the media, but her TennaLady gets in the way. (She passes water at six o'clock every morning... But doesn't wake up until seven.) She is accompanied by three other elderly patrons, the loveably innocent Sister Johnson (Deborah Colphon), Brother Leroy (Tony McPherson) and Brother Myers (Andrew George). They are a comedy quartet with ripe accents, full of Jamaican jubilance and exuberance, smiling and laughing and generally spreading joy. The four old timers are all young, but convincingly old. That's called acting!
The other regulars are two skiving workers, drippy Anisha (Alex Kapila) and rough Bev (Janet Lilley), who put me in mind of characters from Victoria Wood's Dinnerladies sitcom as they discuss men, abortive relationships and blind dates.
Finally, occasionally shuffling through with his mop, is caretaker Robbie, a white Rasta with dreadlocks, ably portrayed by Liam Grunshaw, who adopts an excellently authentic accent, though when he gets stressed, Robbie drops back into his native broad Mancunian. He lopes and skanks: "born in a white body, but a black man underneath." He occasionally sings a few lines from his idol, Bob Marley, and he has a beautiful voice.
This is very much a feel good show. I smiled all the way through. It is fairly consistently funny, gently comedic, with several really hilarious moments. Some of the humour comes directly from the performances, especially with Patience, who is really restricted to a few walk-on parts, but every time she appears she owns the stage and the audience. At first, I felt we should be seeing more of her, because she is hugely entertaining, but I think it was probably a clever ploy to hold back such a strong, forceful and upfront character, because less is more. Patience is immense fun. She's outrageous, contagious and highly addictive.
"The Community Centre" is multi-cultural; the cast is multi-talented. My only criticism – and I don't think I've ever seen a play that this doesn't apply to – is that it is a bit on the long side. It is in the region of an hour and forty minutes and – while it doesn't drag – I would prefer it to be shorter. There's no play that I don't think could benefit from being shorter and tighter.
There is a running background theme of concern over citizenship and deportation, which addresses very real, current fears. I thought we were heading towards a very negative culmination, but Instead it ended very happily with the whole cast singing Bob Marley's "One Love".
The play is a day in the life of the community centre and tomorrow will be another similar day for the regulars. There are no big, dramatic plot revelations: it just simmers with constant humour. The moral of the story is that we're better off in a community, we're better off being with other people and sharing our problems, so – in the words of Bob Marley – and the cast – "let's get together and feel alright".
Reviewer: Gray Freeman
Reviewed: 8th August 2019
North West End Rating: ★★★★