Agatha Christie's The Mousetrap opened in London on the 25th November 1952 after a brief national tour and the London production is now heading for its 67th anniversary. While London audiences can still see the play, it is now out on tour again bringing Christie's twisted tale to the regional audience.
The Mousetrap is based upon a short radio play Christie wrote in 1947 called Three Blind Mice, using this as a basis and keeping the three blind mice theme it was expanded into the play that still runs today. Like many Christie stories, it is set in a closed situation, but this is an advantage for a play and one large elaborate set is all that is needed.
Giles and Mollie Ralston have turned the large house they inherited, Monkswell Manor, into a guest house and this is the first day. Unfortunately it's also blowing a blizzard and once the guests have arrived, plus another stranded traveller they are snowed in and stuck together in the house.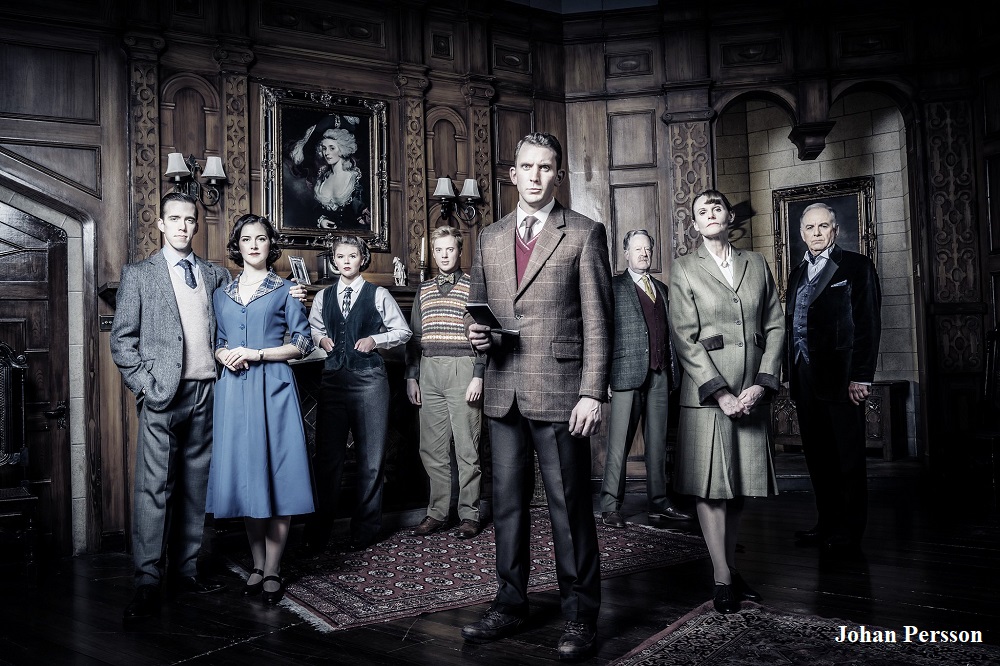 There is talk of a murder which took place earlier that day in London and all are surprised when a police Detective Sergeant arrives as the Manor's address has been found in a notebook dropped at the scene.
So the typical Christie murder mystery plays out. Who will be murdered? Who is the murderer?
Christie is well known for her written denouement but here there is a twist, but this reviewer isn't going to break the oath taken on seeing the play and reveal the twist or the murderer!
As Giles and Mollie Nick Biadon and Harriet Hare prove a strong leading couple, their characters having the middle class fortitude albeit tempered by a huge amount of naivity, that was considered appropriate in the late forties and early fifties. Their guests Mrs Boyle (Gwyneth Strong), Christopher Wren (Lewis Chandler), Major Metcalf (John Griffiths), Miss Casewell (Saskia Vaigncourt-Strallen) and stranded traveller Mr Paravicini (David Alcock) are all defined if rather predictable characters. Lewis Chandler shines as Wren but the portrayal strongly seems to be based on the comedian Joe Lycett, the camp caricature seeming out of time for the era of the play.
Sergeant Trotter is very capably played by Geoff Arnold and he carries much of the latter dialogue with skill and precision.
A beautiful set perfectly creates the impression of a slightly faded country house and the lighting is used to great effect creating the feel of the era when electric light wasn't the efficient LED whiteness we use today.
The Mousetrap is very much a play of its era and it needs that period setting to work. For anyone who has read a few Agatha Christie novels or watched some of the multiple TV and film productions, the plot isn't that difficult to work out but it still scores highly as a light evening's entertainment. If, like this reviewer, you haven't seen it during the last 67 years then it's worth a trip to see. Just remember to tell no one the ending!
Reviewer: Helen Jones
Reviewed: 13th May 2019
North West End Rating: ★★★★