The 1988 film of "Rain Man" was an Oscar-winning, box office smash. I have only ever seen it once – at the cinema – but it was very memorable, mainly down to the strong portrayals by Tom Cruise and especially Dustin Hoffman, of the Babbitt brothers, Charlie and Raymond.
Raymond has Savant Syndrome, a very specific and high functioning form of autism. The film has been dubbed as "the best and the worst thing that's ever happened to autism". Although it brought autism into the mainstream, Savant Syndrome is very rare but the public walked away from the cinemas under the belief that everyone with autism can memorise a phone book and cheat at cards, which is not specifically the fault of the film as it never states that. In the past thirty years attitudes towards autism have changed immeasurably, but this isn't reflected in the play, as it is a very faithful adaptation of the big screen version and the clothes, hair and accompanying music set it firmly in the late 'Eighties.
The story centres around the adult Babbitts meeting for the first time since childhood, because their father has died and left his entire estate to Raymond, who lives in care. Charlie essentially kidnaps his brother to use him as leverage to try and get his half of the inheritance.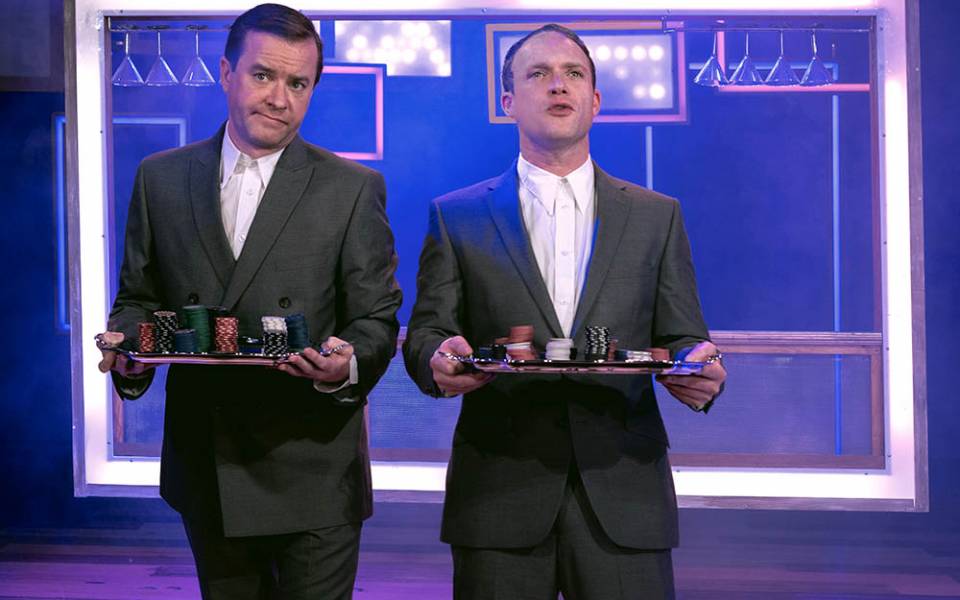 Chris Fountain plays Tom Cruise playing Charlie. He's full-on; he's loud, brash, self-centred, immoral and quite unlikeable – and that's really the point. Fountain displays aggressive, bullying and dominant traits, but also we see him start to grow and eventually a gentler side emerges. This is in no way a one note performance.
In the interval people commented on the amount of swearing from Charlie. It's true his every sentence contains a swear word. Or several. Some people felt there should have been a warning and there wasn't. I didn't see any children in the audience and it is an adult play – and while there was more continual swearing than any play I have ever seen, I never once felt that it was gratuitous or out of place. This is how Charlie Babbitt speaks; it's how the real Charlie Babbitt would speak; it's how most of us speak. I certainly wasn't affronted by it, because it felt in keeping and naturalistic. However, if you are offended by wall-to-wall swearing, I'd probably give this a miss.
Despite the strength of Chris Fountain's acting, and the capable input from every member of the small cast, I feel the story is rather laboured until Raymond enters, when it suddenly comes to life. Tonight Raymond wasn't played by the headliner, Paul Nicholls, but by understudy Adam Lilley. Immediately, he held my attention. The way he wears his clothes, his posture, his constant movements and tics project the character long before he speaks. Playing Raymond must be exhausting, because he is reacting all the time, every second he is on stage he is doing things with his fingers, standing or sitting in a strange manner and always avoiding eye contact and conveying a nervous awkwardness.
The brothers basically go on the run, with Raymond an unwilling passenger. They stay at various hotels, motels and casinos, effectively conveyed by the simple but effective set, which utilises lit signs and wheeled-on props.
There are plenty of humorous moments, which mainly come from Raymond and his way of taking things literally, misinterpreting situations – such as when a prostitute approaches him – or even just his indifferent and deadpan delivery. There is a scene where Charlie and his girlfriend are having sex in their hotel bedroom. Raymond hears from his adjoining room and comes in, watches and starts mimicking their noises; it is both hilarious and acutely embarrassing.
The premise is an interesting one and there are certainly many fine scenes, but I did think the script could have been a lot tighter, especially at the very beginning and in the second half, where many of the scenes seem overly long and the audience began to fidget. I did feel the script let down the talents of a very accomplished cast.
I'm not sure about criticism of the "damage" to autism. The film and the play aren't aiming to depict everyone who is autistic, they are concerned with one man. Current thinking about autism is that it isn't an "illness" or a "disorder", but a different wiring of the brain. This is cleverly showcased as the differences between the brothers are highlighted. In many ways Charlie is a far more flawed person than Raymond. Charlie goes on a personal journey and is changed by their meeting; although Raymond has definitely been affected by his brother, the change isn't enough and never will be. The ending is touching and realistic. The very final moments are underplayed perfectly by both leads; they are subtle and very moving.
In a previous run, Mathew Horne (Catherine Tate Show, Gavin and Stacey) had portrayed Raymond and had faced some criticism, because he "failed to make the character his own". Tonight, both Lilley and Fountain portraying Raymond and Charlie respectively, very ably depicted the characters from the film; Hoffman and Cruise playing Raymond and Charlie. That isn't a criticism. The characters are so well-drawn, so specific, that I don't feel there is any room to "make the character your own". Any changes would alter them, which isn't going to work in a story so character-driven. The show might not be for everyone, but the acting was outstanding.
Reviewer: Gray Freeman
Reviewed: 11th March 2019
North West End Rating: ★★★