104 days is a brand new intriguingly named play by Luna Rose Productions. Playing tonight in Salford after testing the water in London. Luna Rose herself has penned the piece and she also plays the part of Emmy, a young twenty something alongside Christopher Deakin who plays Hollis, her boyfriend.
The two protagonists appear to be confined to a dubious looking hotel room that has seen better days. A kind of low rent Chelsea Hotel, that's very sparse and threadbare with a mattress and clothes strewn all over the floor. This evoked uncomfortable feelings, as if you were a voyeur and you shouldn't really be there.
The play centres on the duo's situation with witty engaging dialogue. They have been thrown together by a series of events, by fate it seems and very soon an underlying tension builds. Both characters are troubled, their actions and thoughts that we are let into, riddled with insecurities.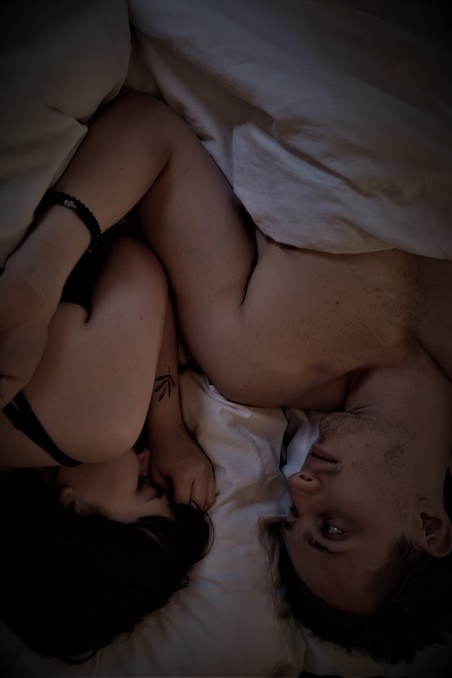 This is beautifully played by the actors in a very real and convincing manner. As the tale unravels it we start to discover all their flaws and idiosyncrasies. Locked in a claustrophobic world where they jump at the sight of their own shadow, and although they say they haven't argued after their lengthy confinement, you feel things are about to blow. As the story develops, the mood changes from light hearted – youngsters flirting, absurd conversations to a more sinister turn to the dark side but with a slow pace that works.
Storylines a sub plots intertwine, revealing secrets and dysfunctional families of the two hedonists, their silly talk turns serious – the stuff of nightmares where one phone call can change everything, giving it a gritty edge. Also they've given a lot of depth to the play touching on many themes, such as death, relationships and violence.
There are some funny moments too, which the actors timing gave depth too, with subtle little nuances and twists and turns it all goes a bit 'Natural Born Killers,' as their tight bond grows but in an unhealthy way. Emmy and Hollis are multi-layered; Luna Rose and Christopher Deakin are able to successfully draw this out subtly. They are likeable but with an edge of danger, reminding of the 'slacker,' kids of the nineties.
Luna Rose Productions are aiming for Edinburgh this year and with a beguiling, fast paced plot and an enticing script, not to mention the convincing characters they must be on their way.
With a harsh edge, the not knowing the whole picture was extraordinary. The mystery kept the audience on the edge of their seats and the ending left everyone wondering. It will be great to see where this production goes next as it has so much potential and stands out.
Reviewer: Rachel Foster
Reviewed: 8th February 2019
North West End Rating: ★★★