Presented by Script Club and Boundless Theatre and with success at last year's Edinburgh Fringe, 'Drip' is a one man musical that was the idea of Tom Wells and Matthew Robins. It was originally developed with young people in Hull for the Hull City of culture, supported by Hull City Council.
The story is essentially about Liam (Josh Tucker) and his desire to help his best friend Caz create an entry for the project prize at school that she is desperate to win. It relays the tale through narration, singing and guitar strumming. Littered with humorous references of being an angst ridden teen on the periphery of life, the story is relayed by Tucker and his guitar in such an amusing fashion that he could have been a student from the Victoria Wood School of singing comedy.
Drip is performed for the first time by Tucker tonight. Tucker performs the part of Liam. He is charming, articulate and very engaging to watch. There is no question about his stage presence at all- it's there in abundance. His performance is intentionally awkward and as a teen he plays the 'unpopular end of cool' very well indeed.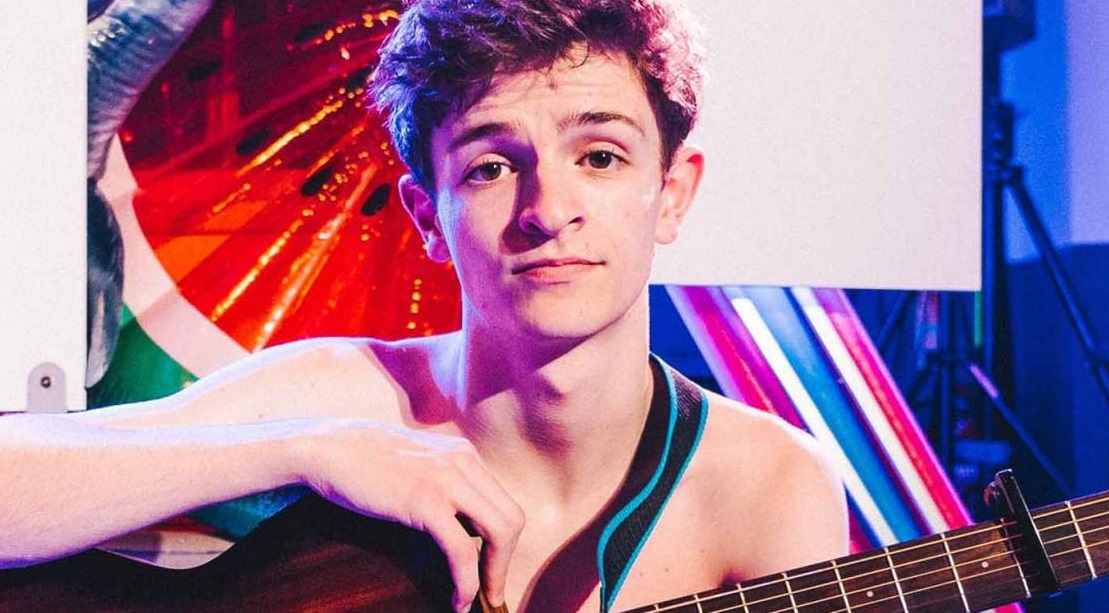 However, Liam's character, although likeable, was nothing more than this. I would have loved more of an edge, and more emotion from the character of Liam. Sat in the audience I also wanted to enquire more at each twist of the story that was being narrated. I was desperate to know more about Caz's father who drank a lot and 'got sad', more about Liam and how he was apparently comfortable being 'out' within High School and also more about his slight obsession with Josh and where that was going, if anywhere. .
It was a story representing friendship and love for sure and also about finding yourself at this challenging age. It did this very well. Having been a hit at the Edinburgh Fringe last year it's a certainty that this show has its fans. The fans that seemed to engage most tonight were undoubtedly the under 25s. They seemed to get a lot more out of the performance than perhaps older members of the audience.
Props were a large part of the performance and intrigued by being given a waterproof poncho to wear on entering the theatre I was hoping to at least get a drenching in some way. However the ponchos were merely representing a swimming pool which it did very well but again, I was left wanting more. It seemed that a lot was made out of having the props but it actually did little to add to the story being narrated. The blow up swimming pool toys such as a shark and the party bunting representing the pool party were relevant but not entirely necessary.
One man shows are challenging as the individual must deliver on many levels and this one did deliver, however I would suggest that the delivery was quite niche and not a show for the masses. However, I would confidently recommend this hour long performance by the talented actor Josh Tucker for the under 25s but perhaps not any older.
'Drip' is inspiring for teens who may need to hear that it's fine to be a bit uncool and awkward. I think as an older audience member I wanted more than awkward teen angst really.
Reviewer: Angela Kelly
Reviewed: 31st January 2019
North West End Rating: ★★★