Winner of The Vault Festival's Pick of the Year Award and nominated for four Off-West End Awards including Best New Play; Skin a Cat is now touring the UK following a hugely successful run at the Edinburgh Fringe Festival earlier in the year, and it is not a show to be missed.
A semi-autobiographical account, Isley Lynn's Skin a Cat follows Alana (Lydia Larson) on a not-so-classic coming of age story about going "all the way". Every teenager goes through the awkward stage of thinking everyone's doing "it" and they're the only ones not. Lynn's piece is a refreshing take on this experience. From Alana's first period at 9 years old to watching bad porn at a house party to teenage fumblings, every time she gets close to doing "it" something gets in the way. As time goes on and things don't get any easier she begins to question what's wrong with her and why she can't just be like everyone else, but as the play unfolds we are instead led to question what "normal" really is.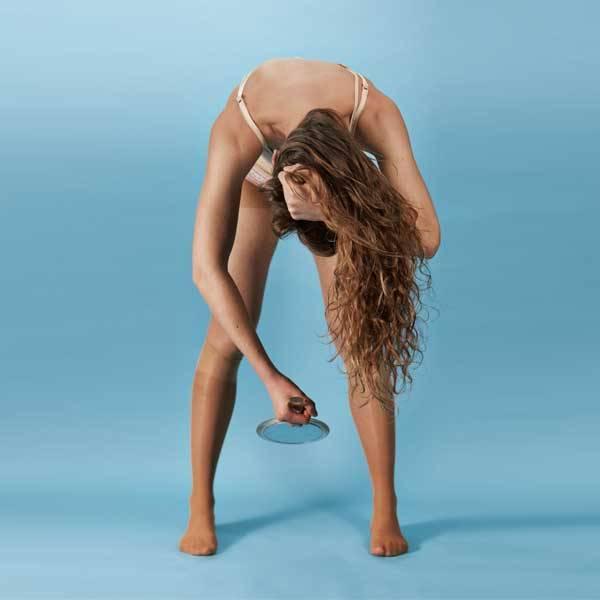 Larson plays an authentic Alana that the audience cringe with and root for, performing with complete versatility both the comical and awkward scenes, and the sensitive and tender moments. The rest of the cast is made up of only two performers, Libby Rodliffe and Joe Eyre, who swap between roles skilfully to create a vast array of distinctive characters. Rodliffe is hilarious in her roles as an over-bearing mother, a well-meaning best friend, and an over-cheery gynaecologist. Eyre is extremely skilled and also downright hysterical in portraying awkward teenage boys, and several men in Alana's life. There are clear differences separating all of Rodliffe's and Eyre's characters creating a full atmosphere and bringing the story to life.
The set is simple with a double bed in the middle of the stage and two microphones positioned on either side that Rodliffe and Eyre stand behind when they're not directly involved in the action. However, due to the hard work and talent of the cast, the audience fully comprehend the world the characters are inhabiting.
The play is an honest account of female sexuality that raises awareness for the condition of vaginismus; the piece is as entertaining as it is educational. As expected with a show of this subject matter, sexual references are prominent throughout, however it is dealt with tastefully (sometimes comically) and is not crude.
Written incredibly well with wit and sincerity and produced and directed proficiently by Rive Productions and Blythe Stewart respectively, Skin a Cat is a hilarious, frank and heart-warming play. Despite some jokes getting a louder laugh from women cringing and relating to Alana's experiences, Skin a Cat definitely reaches and appeals to a wider audience.
Reviewer: Becky Mottershead
Reviewed: 27th September 2018
North West End Rating: ★★★★