The theatre production of Early Doors is a timeless piece; for those aged by time. A seamless transition from sitcom to stage allowed for the show's trademark humour to live on but for younger audiences some jokes felt dated.
Craig Cash and Phil Mealey's show, aired on BBC 14 years ago has had a revival in theatre form. Moving from the variety of scenes offered by television to the confines of a static theatre stage meant that changes would have to be made to keep the performance fresh, and this was partly achieved by creative stage design. Utilising a two-tiered building interior with a bedroom on the top floor and pub on the bottom alongside a pseudo alleyway meant that through use of a spotlight, areas of the stage that were next to each other could be separated by illumination. The stage format also brought a meta aspect not before used in the series: characters would at times be interrupted by audience laughter and very occasionally play off it, through rehearsed and adlibbed comments.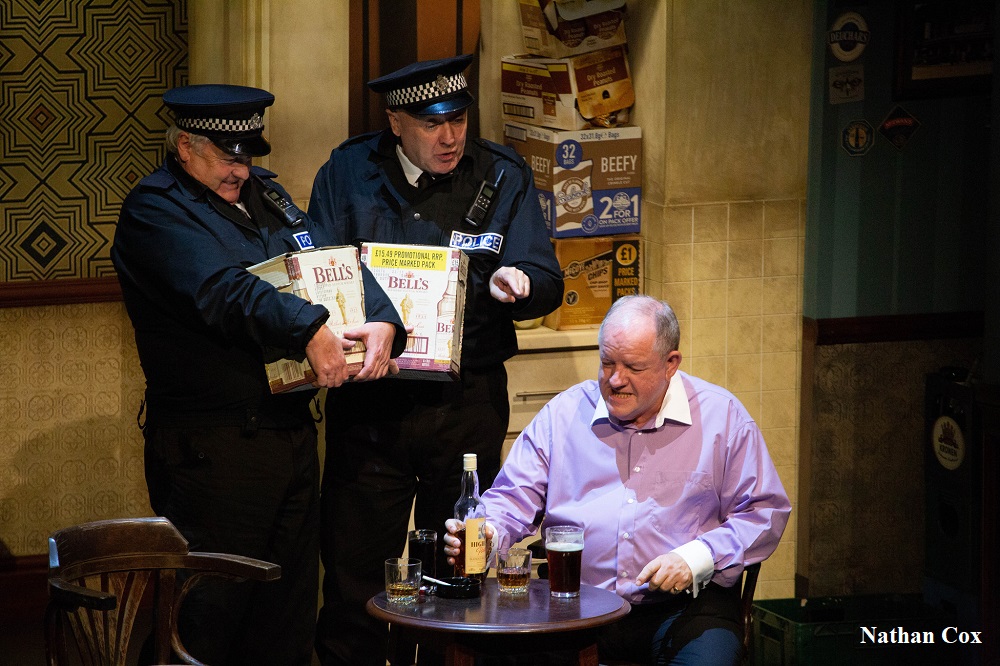 Early Doors follows main character Kenny, his group of friends, and his mother as he plans to propose to Tania. Unexpected twists and solid writing help keep the story fresh and tightly woven, with many moments being foreshadowed earlier in the play. Ultimately, the show is a comedy so naturally there are very few moments not peppered by one-liners, some original and some you would hear in a local pub; but that's the point, the characters are believable. Aside from Freddie's theatrical stupidity, the cast feel real and relatable for Northern people who hold local pub culture close to their hearts. Stellar acting and solid line delivery with next to no errors showed a level of acting proficiency suitable for their upcoming larger shows, taking them to heights such as the MEN arena. Tommy's ability to sit in silence with a twisted angry countenance was especially amusing, contorting his face for quite surprising lengths of time.
Choosing to retain the same humour and spirit of the original show, while rewarding to fans of the series, potentially holds it back from appealing to newer audiences. Outdated references and a general lack of modernity in the play show a missed opportunity to widen audiences but it seems the writers want to keep their creation true to its origin, unchanged; life imitating art, the play remains set in its ways much like the characters within.
It's clear the cult classic still has a strong following as the sold-out show's audience participation was constant, chiming in with certain lines and giggling with nostalgia to running gags from the show. For appreciators of traditional British pub culture or sitcoms pre-2000s made in a similar fashion, Early Doors should be an energetic, nostalgic and rewarding evening, but keep in mind, this is outspoken, not subtle entertainment.
Reviewer: Will Ryan
Reviewed: 4th September 2018
North West End Rating: ★★★