Love From A Stranger is an intriguing play set in the late fifties. Director Lucy Bailey has updated the play to this era, but comments in the programme that it could easily have been updated to the present day due to its relevant themes and timeless storyline. I would agree with this as the complexities of human nature and actions are something that can always be seen throughout time.
Each act started and ended quite abruptly. No time to settle into your surroundings whilst the lights faded, but a sudden burst of darkness on stage and in the auditorium, teamed with an instant sharp sound effect and beam of light – you were thrown straight in. It was an effective way of beginning proceedings and upon reflection, I wonder if this might have been a representation of taking a photograph, due to the recurrent action of it throughout the play.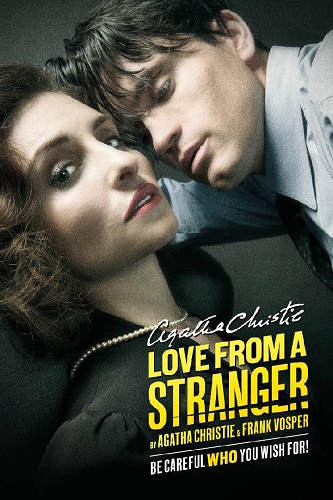 Bailey and her cast have certainly captured the Agatha Christie essence of the play. From the acting to the music, sound effects to stage design, you were in no doubt of the style of theatre you were watching and the entire team succeeded with this as a collaborative. The style of acting from all performers was pitched perfectly, from the annoying yet lovable Aunt Lou-Lou, played by Nicola Sanderson, to the energetic and funny Ethel played by Elizabeth Bouckley. All of the cast acted with such fluency and naturalism that at times you forgot you were at the theatre and felt more like a fly on the wall, which was a credit to the execution of their craft.
The two main roles were played by Helen Bradbury as the naive Cecily, and Sam Frenchum as the mysterious Bruce. It was the scenes which saw these two alone on stage together that enthralled the most. Be it earlier in the play when they're first getting to know each other, or towards the end when they engage in more passionate interactions, these two were truly captivating in their roles.
The design and movement of the stage setting was subtly crafted. Having only two locations in where all of the action took place, the creativity in moving the scenery from right to left (in a conveyor belt style) in each setting, felt like the effect of when a cinema screen expands once it gets to the feature film. This allowed for a broader variety of setting in the least interrupting way. I could hear many of the audience members sharing in my appreciation of this during the interval and after the show. I feel it was a unique idea and it was certainly a stand out point of the play.
If you enjoy murder mystery type drama, have a fondness for Agatha Christie's work or are intrigued by an interesting storyline – then this is certainly worth your time.
Reviewer: Sara Starkey
Reviewed: 10th July 2018
North West End Rating: ★★★★