Tonight, the Royal Shakespeare Company continue their tour at the Lowry Theatre with their contemporary take on Hamlet by Simon Godwin.
Simon Godwin's Hamlet has been utterly modernised, switching it from a Danish city in the middle ages to a 21st century unspecified modern African state which is somewhat genius.
The Shakespeare tragedy is based around the main protagonist, Prince Hamlet, the son of King Hamlet and Queen Gertrude. The play opens to the word of King Hamlet's death and Claudius, his brother has recently become King and married Gertrude. Shortly after the marriage, Prince Hamlet meets his father's spirit. Many believe the death was caused by a poisonous snake bite "the serpent that did sting thy father's life… now wears his crown". However, the ghost tells Hamlet he was murdered by Claudius and Hamlet devotes himself to avenging his death but with deep melancholy and apparent madness he does so.
The show opens with a current University graduation setting and a student, Hamlet, being called home to find his life has taken a turn for the worst, his father has died. The production is flamboyant and energetic through the colourful costumes and set. Godwin's transportation to a modernised African theme is inspiring.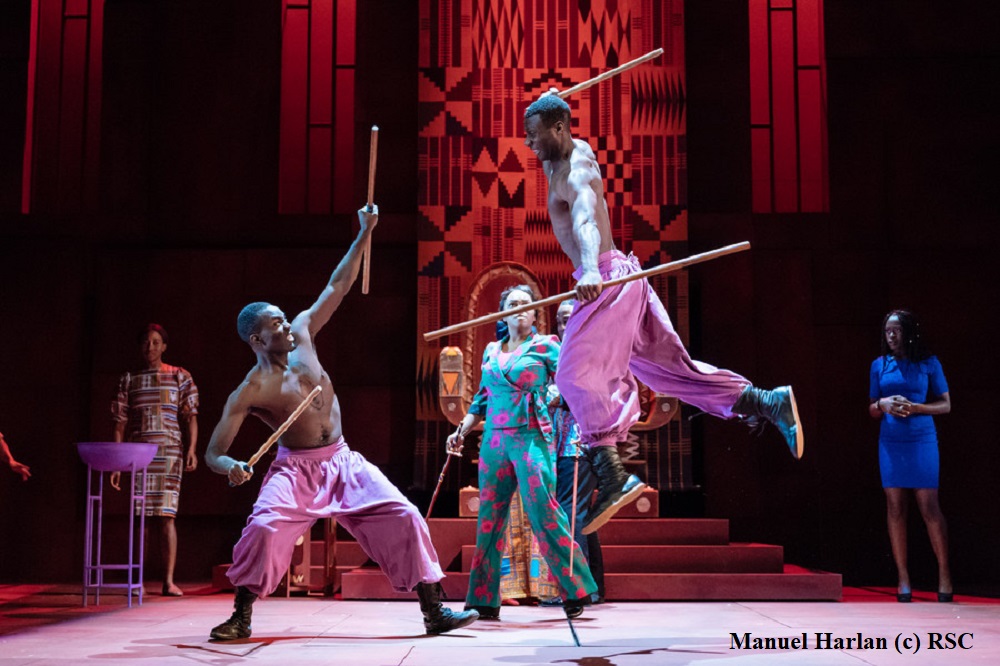 The use of drumming and calypsos, which are often regarded as quite light hearted and frivolous are used amongst the tragedy's most poignant moments which played a vital contribution and made it truly heartfelt.
The predominately black cast, which was a first in the Royal Shakespeare Company's existence, was an idea and direction that was superlative.
Paapa Essiedu's physical poise and possession over the role of Hamlet was extraordinary; dissimilar to any other actor who's attempted the role. He portrays Hamlet through a mischievous, sarcastic manner yet still manages to portray the characters rollercoaster of emotion throughout the longevity of the play.
Godwin takes a fresh approach to Hamlet's psychological unravelling and Essiedu's performance was engaging and compelling from start to finish. His vocal clarity, his intelligence in Shakespearean verse and musicality were delivered with such precision, it felt as if I heard 'to be or not to be' for the first time.
The full ensemble is cast very well and their efforts were superb throughout. Natalie Simpson's take on Ophelia was a piercingly emotional one, ripping out pieces of her hair instead of herbs was not only a great idea but thrilling to watch.
This perilous journey of madness, murder and lost love is so extensively rethought from any existing idea we once had of Hamlet. This production manages to leave you amazed by the setting, the direction and the rhythmic music which all were constant feature from the start.
Through Hamlet's voyage of ostensible madness, we found him indulged in paint and soaring round the stage with an aerosol can painting pictures and words such as snake and 'serpent' in large letters. I could see why this may have been a good idea yet, although the graffiti that hung amongst the set was inventive, I felt it didn't fully match the nuance of the production.
Godwin's production takes a while to understand however once you get your head around the idea, the thrill of Hamlet begins to unravel. Godwin's manufacturing of the play was capricious, captivating and powerful and one I will remember.
Reviewer: Heather Errington
Reviewed: 30th January 2018
North West End Rating: ★★★★