The wonderful Quays Theatre at The Lowry is the setting for The Gruffalo based on the fantastic picture book by Julia Donaldson and Axel Scheffler. On arrival you are transported to the Deep Dark Wood with a beautifully presented stage set, from company stage manager Alyssa Tuck.
This production from Tall Stories Theatre Company is wonderfully acted by Lauren Scott-Berry as The Mouse, Alastair Chisholm as The Predators and Aaron Millard as the Story Teller and The Gruffalo. With Direction from Olivia Jacobs and creative Director Toby Mitchell.
Our three actors set the scene for the Deep Dark Wood as Lauren becomes the Mouse and Alastair takes his first form of the Fox. Fox tries to get mouse to join him for dinner, but mouse resists and tells him she is meeting The Gruffalo. There's no such thing as a Gruffalo though is there! Fox is not sure and when mouse says Fried Fox is the Gruffalo's favourite food he runs off.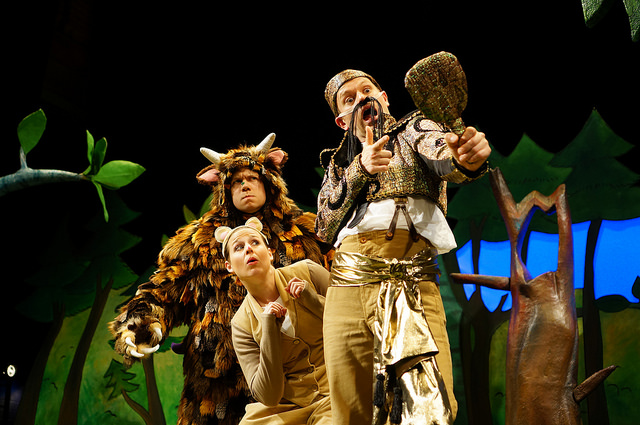 Soon mouse comes across Alastair's next transformation as he appears as the Owl. Not quite as wise an owl as you would expect. He too wants mouse for his dinner, but again mouse tricks him into thinking she is meeting the Gruffalo. Whose favourite food is Owl Ice Cream? Off flies owl scared of the thought of becoming Ice Cream.
Next to join the line of tricked creatures is the Snake, the funniest of the characters who gets the children in the audience laughing out loud. He tries to hypnotise poor little mouse but fails. Again he wishes to have mouse to eat as he is off to a party. Again mouse outwits snake and off he slithers, just like the others not wanting to be food for the Gruffalo. Would you eat scrambled snake? Apparently Gruffalo loves it.
Corny jokes abound especially around mouse's hunt for a nut before we get to meet Gruffalo ably played by the wonderful Aaron Millard, such a funny actor. Poor mouse now Gruffalo wants to eat little mouse! How will she trick Gruffalo? After all she can't use the favourite food of the Gruffalo to trick him.
Gruffalo follows little mouse as she tells him that everyone is scared of her, will her plan work? Off they go back into the Deep Dark Wood as mouse puts her plan into action. First they come across snake who runs off, followed by owl and Gruffalo is amazed. Finally fox is encountered again and off he runs. Now its Gruffalo's turn to be scared of little mouse and off he runs into the audience to try and hide. Can mouse still see him? Will you help Gruffalo?
I would highly recommend this show to any parent with young children and school parties from Primary school. The school sat next to me the children engaged with the show throughout and loved every minute of this funny and enthralling show. And all were clapping along to the show finale.
This shows is definitely a 5 star show with kids in awe of the Gruffalo and loving it when he comes amongst them. A definite hit by Tall Stories and has me waiting for their next production.
Reviewer: Cory Coxon
Reviewed: 8th December 2017
North West End Rating: ★★★★★