The latest double bill in Opera North's innovative 'Little Greats' series is an improbable pairing: Trouble in Tahiti, Bernstein's meditation on suburban ennui in fifties America, and Gilbert and Sullivan's comic piece of legal froth, Trial by Jury. The common theme, I suppose, might be said to be marriage, but two more contrasting treatments would be difficult to find.
In the Bernstein, we enter a world of picket fences and manicured lawns, bored housewives caught up in the relentless consumerism of the post-war American Dream, and Mad Men style executives obsessed with winning. Sam and Dinah are a conventional couple whose marriage has gone sour, and this perfectly constructed mini-opera explores their attempts, in the course of a day, to find their way back to love.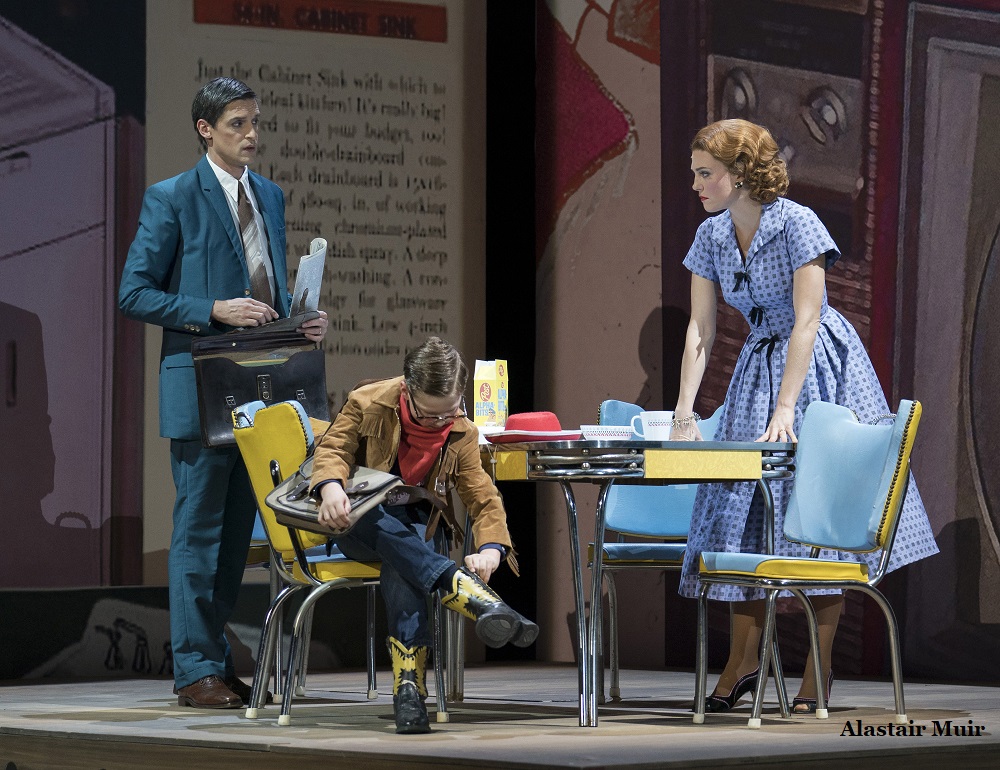 Bernstein uses, as a kind of Greek chorus, a trio of singers who set the scene with the catchy jazz tune 'Suburbia' before we find Sam and Dinah bickering over the breakfast table. Then we alternate between the two protagonists' days, he in his office, she, at the therapist. Dinah's wistful account of her dream of escape, 'I was standing in a garden' is an early highlight, with Wallis Giunta, the Canadian mezzo-soprano lending an exquisite touch of pathos to the aria. She longs for 'harmony and grace' but we know she won't find it. Meanwhile, Sam polishes his manly persona as he celebrates his win at handball in 'There's a Law', with Dutch baritone Quirijin de Lang managing to convey a sense of existential despair alongside his macho posturing. The jazzy trio, with Welsh soprano Ffur Wyn a particular delight, continue their interplay, counterpointing the principals' soliloquy-like musings.
The title of the piece derives from the film that Dinah sees after her therapy, one which sounds very like South Pacific, a hit Broadway show when Bernstein wrote the piece, but yet to be a film. She dismisses it as ridiculous escapism, but is still seduced by the carefree life it portrays, and Giunta's lively rendition of the theme song 'Island Magic' was beautifully done. In the end, the couple agree to try again, but there seems little prospect of any kind of magic in their future lives.
Charles Edwards's clever set is very evocative of the time, dominated by fifties advertising hoardings. Matthew Eberhardt's direction moves the piece along at pace, and Bernstein's score, which is in places reminiscent of his later masterpiece West Side Story, alternates between heartfelt lyricism and cheesy radio jingles. This was an impressive revival of a neglected work by a modern master.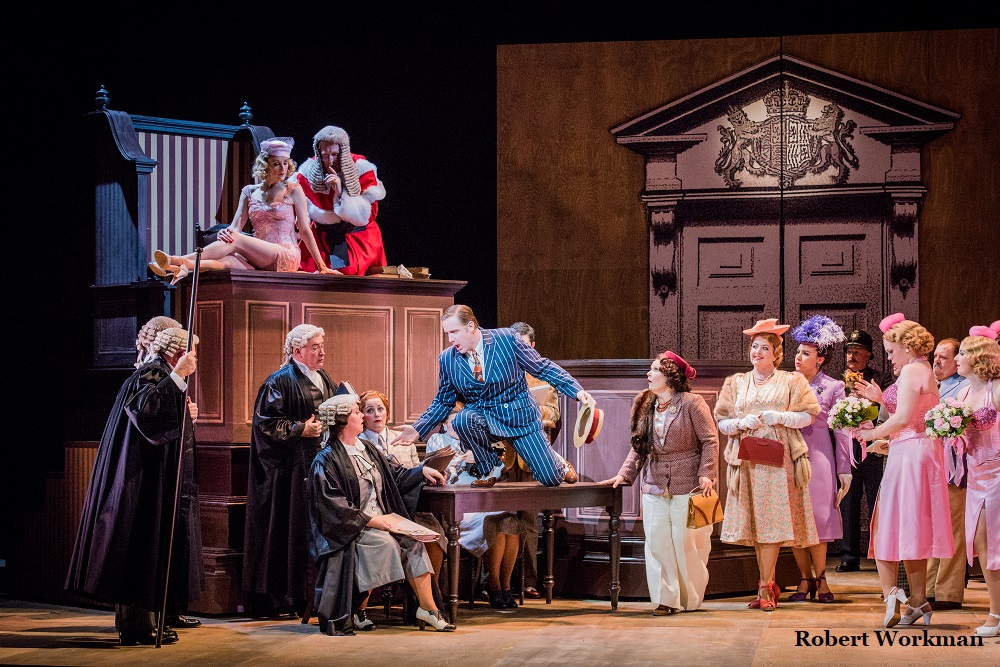 The mood changes dramatically for a riotous Trial by Jury, in which the talents of Opera North's brilliant chorus were displayed to great effect. Director John Savournin has taken the decision to set the action in the twenties rather than Victorian times, for no obvious reason, other than to allow for a spoken introduction by Amy J. Payne given as if to a newsreel camera, in which the main facts of the breach of promise case are given, with the plaintiff, Angelina, now transformed into a film star, and her former beau into a runner on the set.
Although the main characters all have their individual numbers, this is an ensemble piece, and the busy stage resounded to the excellent singing of Opera North's chorus. The stage set, again by Charles Edwards, was an ever-mobile whirl of witness stand, public gallery and judge's bench, brilliantly choreographed to cope with the demands of the constant changes of focus.
Amy Freston, in the role of Angelina, looked ravishing, but was a little under-powered, her voice occasionally disappearing under Oliver Rundell's energetic orchestral accompaniment. Her former lover, the heartless Edwin, was played for fun by Nicholas Watts, like a spiv in a P.G. Wodehouse novel. In a production that was visually entrancing, special mention must be made of the six bridesmaids, decked out in shocking pink, who managed some quite complex dance routines while singing perfectly. But the star performance came from Jeremy Peaker as the Learned Judge, a man who has clearly always looked after number one. His account of his self-serving career in 'When I, good friends, was called to the Bar' was given the full comic treatment: I was reminded of Groucho Marx in his pomp.
This was great fun, so it was disappointing to overhear a grumpy G&S diehard in the row behind me mutter about it being a 'disgrace', presumably because of the change of setting from Victorian to jazz age. Well, the Lowry audience disagreed, and were clearly bowled over by this lively, frothy, funny take on an enduring classic of light opera. And I think Gilbert and Sullivan would have loved it too.
Reviewer: Rob Spence
Reviewed: 17th November 2017
North West End Rating: ★★★★