Gareth Malone is undoubtedly Britain's most well-known Choirmaster, having come to the nation's attention through the BBC1 series "The Choir", "The Naked Choir" and "The Military Wives" to name but a few. He has a gift for drawing the best out of reluctant singers and insecure community choirs and bringing singing to the masses which is fascinating to watch. On a personal note, his television series "The Naked Choir" inspired me to form a community singing group and so I was very pleased to be reviewing his show.
This tour is quite intimate, in that there are only six dates and tonight's was the only one in the North West so it felt quite a privilege to be there. Gareth is joined on his tour by "The Swingles" a seven piece a cappella group who have been around since the 1960s and are five times Grammy award winners; also "The Ayoub Sisters", two classically trained musicians (cello and violin) who produce a unique and mesmerising sound, the like of which you will not have heard before. Check them out!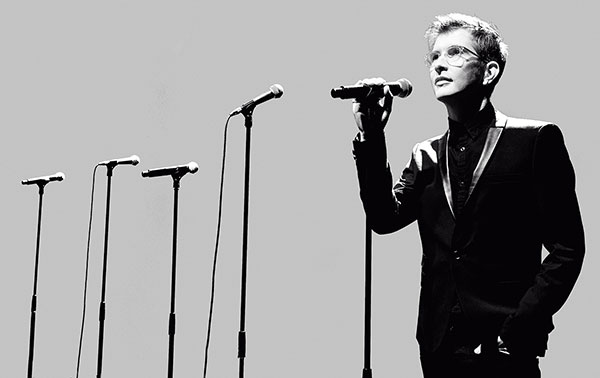 I had assumed that Gareth would talk about his passion for music and singing and tell us some 'behind the scenes' anecdotes from his many television programmes. However, The Swingles featured heavily and at times it felt as though Gareth was almost insignificant as he sat at the side of the stage, not playing much of a part. It didn't feel like an evening with Gareth Malone, it felt like a concert by The Swingles with Gareth as the compere and this isn't exactly what I had expected - no disrespect intended at all to The Swingles who are extremely talented and have a beautiful and pure sound with amazing harmonies and also the Ayoub Sisters who produce sometimes eerie, yet totally compelling music in many layers.
When Gareth did take to the stage, it was to sing his own songs. Obviously he is a multi-talented musician, songwriter and performer but I only know him from choral singing and choir leading, not as a singer with a guitar.
The one song which got everyone fired up was "Superstition" and this was the last song of the evening (bar the encore). I do think that the show needs have more upbeat and well known songs, particularly at the beginning. There was nothing to set the audience alight and get the feet stomping and the hands clapping until almost the end of the evening and this was a shame as it meant that the atmosphere was slightly lacking. It was abundantly clear that there was a lot of warmth and affection for Gareth but the audience response was polite but not rapturous. I felt this was simply because we hadn't really been able to engage until this point.
Tonight was the first night of the tour and there were a few very minor glitches – none of which impaired the evening and in fact, added to it. However, I did feel that Gareth was very nervous and this was quite apparent at times – there were some awkward "dead air" moments at the end of some of the songs that he'd sung when he simply walked away from the microphone and it didn't do a great deal to enhance the atmosphere.
There was a section where Gareth composed a short song based on audience suggestions – although this was a bit slow to get going, it became very enjoyable. Everyone joined in and he did seem to lose his nerves during this part – possibly because he was more in his comfort zone. This section showcased his talent as a choirmaster as in literally less than five minutes, he managed to get an audience of well over 1500 people singing in harmony.
The show is a strange mix and at times, it doesn't really feel like an evening with Gareth Malone. I wanted to see and hear his infectious and vibrant enthusiasm about the joy of group singing but this didn't feature. "The Choir" showcased how singing touches everyone on many levels and demonstrated that music and group singing has an almost magical quality that can have an amazingly positive impact on your life and I wanted a little piece of this tonight.
That said, there was a phenomenal amount of talent on the stage and it was an enjoyable and memorable evening. I wish Gareth well for the rest of his tour.
Reviewer: Nicky Lambert
Reviewed: 12th November 2017
North West End Rating: ★★★★