After debuting at the National Theatre in London, Patrick Marber's version of Hedda Gabler is now on tour, with Lizzy Watts giving a star performance in an otherwise disappointing adaption.
Through Ivo van Hove's direction, Ibsen's radical classic has been drastically reenvisaged, arriving in the blurry depiction of the modern age with an uncomfortable jolt.
The decision to transport a play into a contemporary setting is normally one I'd praise for its bravery, but unfortunately this time the risks did not pay off. Ambiguity in this case did not open possibilities but diminished plausibility, causing more problems for the play than it solved.
Marber's vision, although clear and occasionally quite daring, was a little too transparent. Lazy choices in costume, set, and sound design were heavily reliant on easy symbolism and shallow references. Splicing Cohen's 'Hallelujah' for instance? Lazy and unnecessary. These shifts from sound loops (helpfully signposting tension or danger) to hits such as 'Blue' and 'Hallelujah' were jarring to say the least; I even feared at one point that Hedda might burst into song.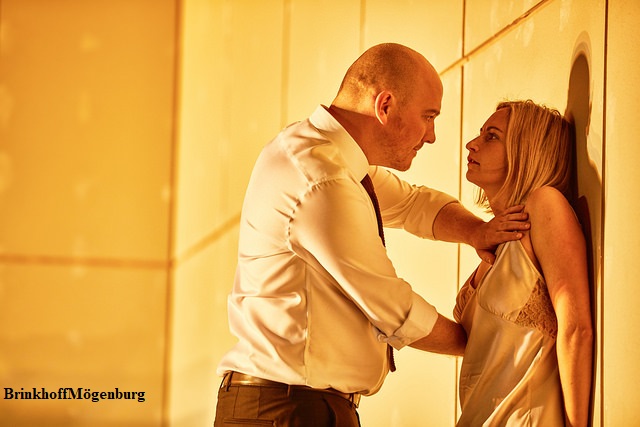 Yes, repositioning Hedda Gabler as a modern 'suicide play' has potential—revealing timeless truths about relationships, entrapment, power and self-destruction—but removing the rich historical setting left a hole that Marber and Ivo van Hove were unable to fill. This perhaps explains the problem with pace; gaping holes in the contextual logic let a draught into what should have been a stifling environment.
Exactly why in this modern age Hedda was unable to work herself is conveniently ignored, yet the fundamental pain of powerlessness and extreme dissatisfaction translates well. Hedda's tragedy as a woman fits into the contemporary if not through the boredom of Ibsen's aristocracy but, sadly, through violence and sexualisation. As a trophy wife, she is reduced and claimed by men and, by the end, she is completely at their mercy.
In theory, Hedda Gabler performed today for commercial theatre set in today's world is important in itself. As Ruth Wilson described after playing the role in London, female characters who are fundamentally unlikeable and dangerous yet not demonised are still hard to come by, and are even less likely to be the lead role; Lizzy Watts took full advantage of this and her performance is what saved the play.
If there is one reason to see this version, it is for Watts's cutting wit and tantalising stage presence. Her embodiment of restless destructiveness was full and convincing as she prowled around the largely empty set. The marriage of Hedda's dialogue with Watts's delivery was the production's greatest strength.
In a strange way, what made Watts's Hedda so convincing was the infuriatingly wet performances of those around her. With the exception of Adam Best's believable authority as Brack, the supporting actors left much to be desired and only expanded my sympathy for Hedda's maddening rage at life.
The climax of Lovborg's breakdown was so farcical I was almost laughing, while Tesman, Thea and Juliana all gave off an all-too-thespian vibe. The decision to make the main characters all a similar age provided a refreshingly new perspective, but sadly this wasn't enough.
If only the gravitas of the final scene could have been sustained throughout, this could have been a great production. Perhaps it's a victim of being on tour, or perhaps when transforming such an important, radical play into a contemporary setting you simply can't afford to leave some of it behind.
Reviewer: Eve Ryan
Reviewed: 31st October 2017
North West End Rating: ★★★