In How The Other Half Loves the cast, directed by Mr. Ayckbourn, convey the tale of three couples over a four day period and how their lives intertwine and interact, the male halves of each couple all work for the same company.
The story starts with the very elegant middle-class Fiona Foster (Caroline Langrishe) having an affair, with the very working class womanising Bob Philips (Leon Ockenden), who works in the office of her executive and somewhat forgetful husband, Frank Foster (Robert Daws). The mix-ups start when the two lovers have to invent for their almost unsuspicious spouses a quick alibi for a late night out together. The alibi happens to involve the methodical and straight laced William Featherstone (Matthew Cottle) and his mouse-like wife Mary (Sara Crowe) as they make up stories about helping the Featherstone's through a sticky patch in their relationship. Resulting in Mr Foster's and Teressa Philips (Charlie Brooks) well-meaning attempts to sort out William and Mary's non-existent marital difficulties, causing chaos and some hilarious misunderstandings.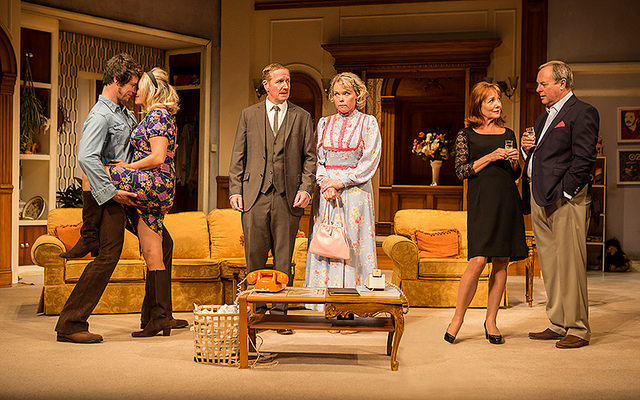 How the Other Half Loves is British farce at its absolute best and it all starts with Julie Godfrey's wonderful stage set which manages to fit both Frank and Bob's respective homes on the same stage at the same time. In itself, this is a pretty neat trick but the fact that Julie makes it look so natural is remarkable. The set really comes into itself during the wonderful dinner party's scene when the Featherstone's are at two separate dinner parties, in two different locations, on two different nights at exactly the same time.
Six highly talented actors make the art of delivering great farce look easy in this fast paced witty piece of theatre. Each of the couples were absolutely superb, especially Robert Daws and Caroline Langrishe who were the perfect British middle-class couple. Robert Daws, in particular, was a wonderfully doddery man who bumbles through life never really sure where he is or what is going on around him. Daws's endearing portrayal of Mr Foster was spot on as he captured my sympathy and also had me belly laughing throughout. Although Sara Crowe had some of the best lines which really made use of the ability of the English to say one thing out loud whilst with a simple look or gesture communicating something totally different. Sara's portrayal of the timid and cripplingly shy Mary was undeniably brilliant. She was my stand out performer of the evening leaving me crying with laughter.
How the Other Half Loves is definitely comedy gold and a show not to miss. It runs at the Lowry until the 16th September then continues touring the UK until December 2017.
Reviewer: Victoria Wilmot
Reviewed: 11th September 2017
North West End Rating: ★★★★