Room on the Broom is a much-loved picture book written by Julia Donaldson that has found life beyond the page in this superb show presented by Tall Stories Theatre company in association with Kenny Wax Family Entertainment.
Julia's rhyme time text is a popular bedtime story in my house and my daughter (aged 5) is able to recite the entire book, so attending today's performance at the Lowry theatre was filled with excitement and anticipation. The Quayside auditorium was bursting with a mass of equally excitable little children most armed with (expensive) show merchandise purchased in the foyer, who loved the cast's entrance to the stage as they searched the audience for food for their camping sleepover.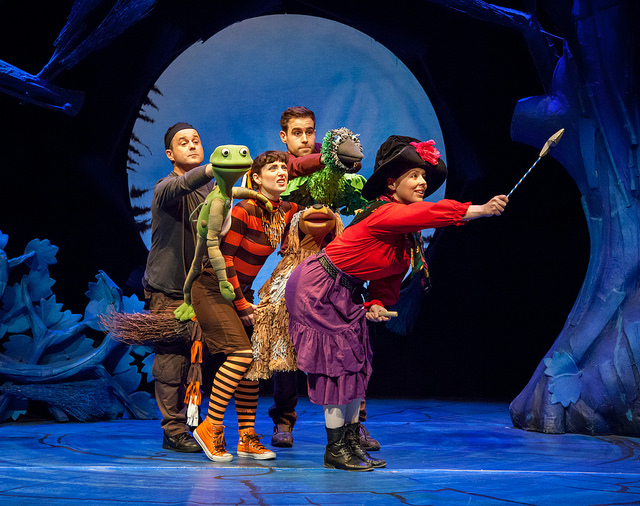 The story follows a kind-hearted, accident prone witch and her cat, whooshing through the night sky on a broomstick, as they are on their way to back and beyond to confront a dragon. However they have to keep making unplanned pit stops along the way, and each time, they encounter a talking animal who wants to hitch a ride. The witch can't say no, much to the disgust of her loyal cat and it's not before long things get very squishy and cramped on the broomstick. Disaster strikes, but a spot of resourcefulness from the witch's animal friends saves her from becoming dragon food.
The production brings all this to the stage with charm and humour, through catchy songs (John Fiber, Andy Shaw and Robin Price) and beautifully created and colourful puppets (Yvonne Stone). Amy Harris ​is a likeable clumsy witch singing bubbly duets opposite Emma Crowley-Bennett, her loyal and wise cat. David Garrud managed with ease to juggle the puppeteering of a dog and a frog with comic zest and superb accents. And Connor Bloom rounds out the cast as a bird and the (not too scary) dragon, again with superb accents and boundless energy.
The show was bewitching and fast paced throughout, which ensured there was never a dull moment, alongside the perfectly struck balance between action and song. Room on the Broom was children's theatre at its finest as it takes a special show to keep auditorium full of very young children captivated. Other than a few fidgets part way through, the auditorium of mainly toddlers and their grown-ups were completely wrapped up in the story of a very hospitable witch, her far more sensible cat and a particularly overcrowded broom.
The live stage version of this charming tale was truly wonderful and I was very impressed how it extended a five minute book to 60 minute live show with all the lines from the book intertwined into the energetic and colourful script.
The energetic two finale songs had the whole audience and my little companion clapping along and shouting iggety, ziggety, zaggety, ZOOM at the top of their voices. On asking my little companion to review the show she replied "mummy it was soooooo amazing, even better than the book"….high praise from a real fan of Julia Donaldson's beautiful book.
Room on the Broom live show continues at the Lowry theatre until the 27th August showing 11am and 2pm every day except Mondays. If you're stuck for things to entertain your little ones over the school holiday this is a guaranteed feel good show and Bewitching theatre for all the family.
For more information on the cast and show visit www.roomonthebroomlive.com or www.tallstories.org.uk
Reviewer: Victoria Wilmot
Reviewed: 1st August 2017
North West End Rating: ★★★★