David Wood's musical version of Judith Kerr's 1968 wonderful book, The Tiger Who Came for Tea, the tale of a very big cat who called to Sophie's house with his ferocious appetite, was staged at Salford's Lowry theatre this afternoon.
The huge auditorium was bursting with tiny people and their grown-ups brimming with excitement to see the production, and before we know it, Sophie (Abbey Norman), her mummy (Ashley Tucker) and her daddy (Harry Howle) arrived in the stalls and were saying hello to the young audience as they climb on to the stage. Their entrance was a massive hit with the children, with most of them waving tigers on stick bought for £3.50 from the merchandise stall in the foyer, and squealing with delight.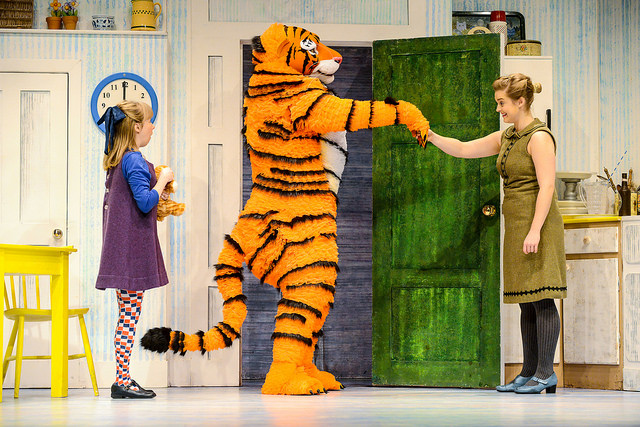 Daddy played by the very tall and charismatic Harry Howle soon was off to work and as the clock ticked, the audience eagerly waited for each of Sophie's visitors to arrive. With each doorbell ring the children sat upright in anticipation to see who it could be, first the milkman, then the postman and with panto style arrival building up to the 'he's behind you' screams, the hungry Tiger arrived.
Sophie and mummy delighted to share their hospitality with Tiger and then the magic unfolded as there were some delightful sleight-of hand magic tricks (or should that be sleight-of-paw?) by which plates loaded with goodies were nimbly emptied by the tiger, leading to the children and their grownups gasping with amazement.
My little co reviewer (aged 5) was then thrilled to join in with the tiger's unexpected exercise class 'Tigerobics' and this went down a treat as the children mimicked the moves and danced in their seats.
The low-tech set, of the very quaint kitchen seemed like a TARDIS as a bathroom, larder and fridge full of foods appeared, and then was converted to a café and even a venue of an amazing star lit evening walk.
Although the recommended age for this show was 3+, there were much younger children in the audience today who were equally as mesmerised by the performance. The shows fast pace and the very catchy songs, delivered by the three extremely talented singing performers, kept the young audience enchanted for the whole 55 minutes. This show was truly children's theatre at its very finest and to see my little girl glow with pure joy was heart-warming.
My little companion summed today show up with "mummy that was Purrrrrrrfectly Grrrrrreat", (in her best tiger voice impression).
I would highly recommend seeing this show that remains at the Lowry theatre until the 30th July after which it continues its UK tour. For more information on dates and booking visit www.TigerTeaLive.com
Reviewer: Victoria Wilmot
Reviewed: 27th July 2017
North West End Rating: ★★★★★