Full House Theatre in Partnership with Luton Culture presented 'The Elves and The Shoemaker' at the Lowry Theatre Salford.
Writer Ben Miles and Harriet Hardie directed by Harriet tell the tale of 'The Elves and The Shoemaker' with their own words and ideas.
The scenery and design by Mic Kemp was exceptional with what originally looked like a basic back garden with hedges, a shed and washing line was stunningly transformed throughout the performance to show an array of glitter and glam which captivated the audience with lights, twinkles and glittery shoes.
We all know the Brothers Grimm tale of the original story but this performance was cleverly rewritten to show a stunning side to creativity and the issue of memory loss.
'Geoff' played by Ben Hammond an old cobbler with 50 years' experience has lost his memory as he head to his garden shed in a quest to make his beloved wife a pair of shoes for her 90th Birthday. When up pops the Elves 'Polly' played by Charlotte Chinn and 'Buster' played by Nick Pack beautifully costumed and full of glitter as they danced and played around the stage invisible to Geoff.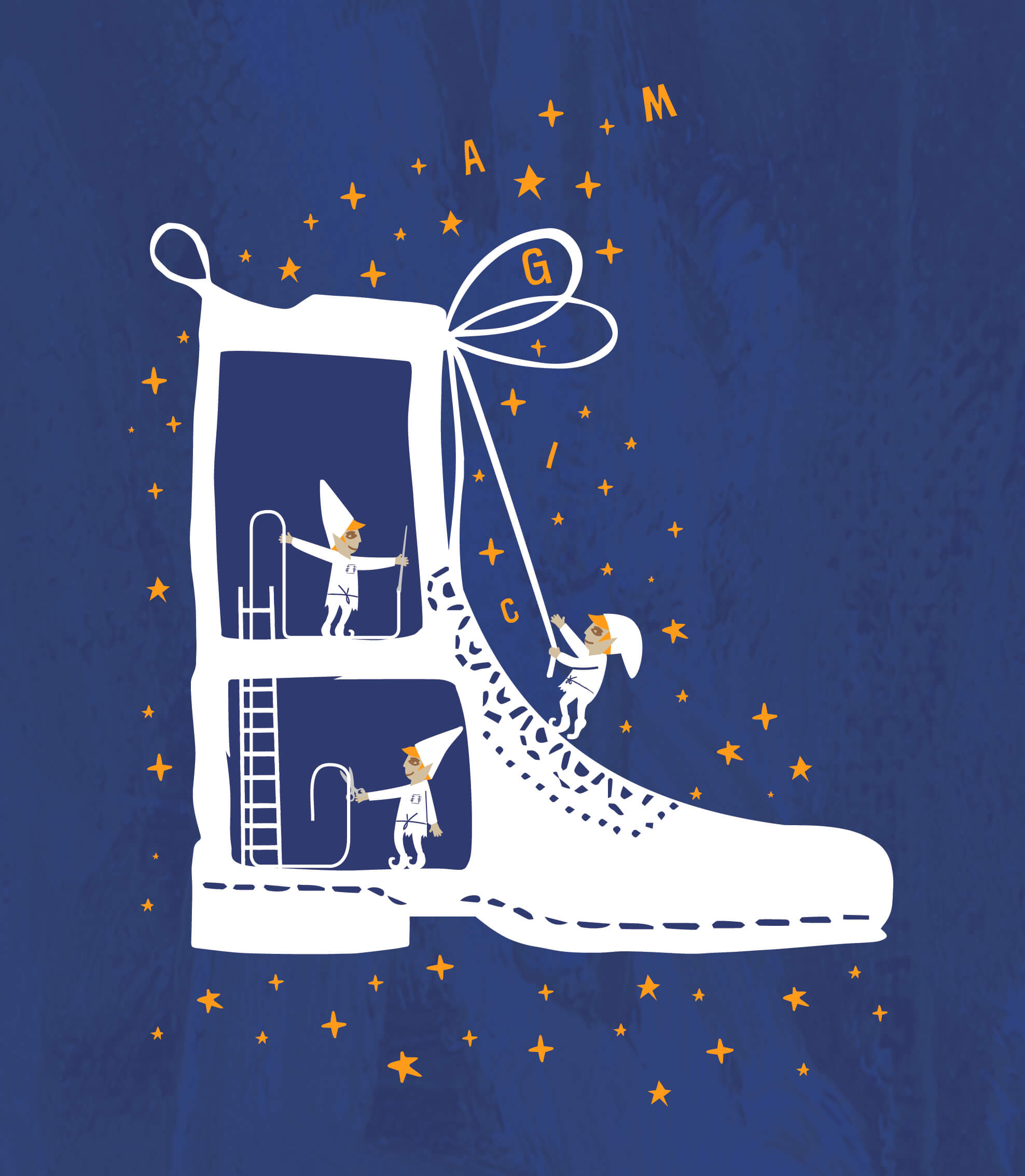 Geoff had one last piece of leather to make the shoes for his Eileen but he has lost his memory and needs support from the Elves who help him remember with a beautiful and enchanting sequence of magic. The audience is treated to a display of magic where fire turns into a rose, Christmas lights appear, torn pieces of paper repair and shoe laces tie themselves.
Polly and Buster take Geoff back to the 'old days to their old ways' for him to remember the patchwork of life. Geoff is presented with several memory boxes with clues to his past to help him along his way. Beautiful projected memories are displayed from his long forgotten past where Geoff is magically returned to his youth as a young man.
Back in the past Geoff is reminded of the tough times and this is where the classic tale is told how he sells the shoes and makes a successful reputation for himself never knowing how the shoes are made.
The staging, scenery and direction is so cleverly written and presented by the talented actors and actress, with fantastic interjection of modern day audio on people's preference for shoes where the team comically mime their way through.
Geoff memory box of marriage takes him back to the years of his success where he promises Eileen he will make her a fine pair of golden shoes once they are older. The past scene ends with the discovery of the elves after spying on them and on Christmas Eve the couple making the Elves lovely outfits to say thank you for the poor elves to wear setting them free whilst the elves leave a gift of good luck only to return if needed.
Geoff manages to 'stitch all the pieces of his memory together' as he remembers his promise of Eileen's birthday gift of gold shoes.
This is a brilliant production for young and old, it is not only enchanting but uplifting and inspiring. Well done to all involved in this terrific piece of work.
The tour continues until 24th June 2017 tickets available at www.fullhouse.org.uk
Reviewer: Katie Leicester
Reviewed: 11th June 2017
North West End Rating: ★★★★