The Emperor's new clothes was presented at The Lowry Quays theatre by Stuff and Nonsense Theatre Company. This was a one hour retelling of Hans Christian Andersen's story of the dim-witted Emperor who had so many clothes he could never decide what to wear. So, the night before his birthday he ordered a brand-new set of clothes. With little time the chancellor was left in a panic to find a designer and tailor quickly. Leading to two opportunist conmen posing as designers, Hugo Bolshy and Claude Banana (Bolshy and Banana), to pretend to be tailors in order to gain the large sum of money promised to the designer of the perfect outfit for the Emperor's Birthday. This they do, producing an outfit that was made from a 'special material' that only 'intelligent people' can see. No-one in the emperor's court wanted to appear stupid and so all agree that they could see the outfit, and so by the time it was presented to the Emperor himself, he too had to admit that he 'saw' it, for fear of being thought unintelligent himself. He orders a birthday parade around the town and rides on his horse to the cheers and gasps of the crowd.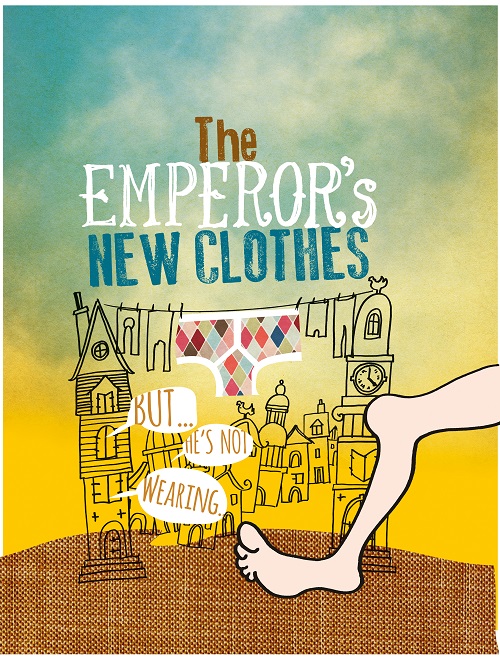 However, it was only Molly a local girl who was brave enough to tell the Emperor he wasn't wearing any clothes. Ending the show beautifully as the Emperor found friendship amongst the townsfolk and a Geordie pig, and, preferring their kindness to the lonely atmosphere of the palace he decided to live there as a commoner.
The whole story was told by two very talented performers, Jenny Harrold and Toby Gascoigne who not only acted several characters (and accents) themselves but also handled different styles of puppets too.
Today's show was advertised for ages 3 years onwards; however, I would be inclined to recommend a higher age target on this show. As despite it being extremely well done, colourful and impressive, there were sections that were quite wordy with little action, which gave rise to today's very young audience's attention to drift slightly.
The set was truly wonderful, and very well thought out. What started as the living room and bedroom of a Jenny and Toby was turned into the fantasy land of the Emperor with seamless ease.
I personally thought this show was fabulous; engaging the young audience with just the right amount of opportunities for audience participation. It inspired the use of imagination through modelling inventive thinking and role play, as the audience was privy to the creative transformation of a simple bedroom and two ordinary people into a colourful world of Palaces, Emperors, Villagers and various eccentric characters. This show was a wonderful representation of how the art of storytelling can immerse and captivate an audience by really bringing a story to life.
Reviewer: Victoria Wilmot
Reviewed: 11th June 2017
North West End Rating: ★★★★