TRAINSPOTTING LIVE IS LIKE THIS: IT IS HUGE AND IN YOUR FACE. AGGRESSIVE AND HARSH. IT FORCES ITSELF UPON YOU. IT IS INTIMIDATING. IT IS NOT PRETTY TO LOOK AT. IT IS CLAUSTROPHOBIC.
IT IS INCREDIBLE.
Whilst I shall cease with the CAPS, this production certainly does not ease up. It is an onslaught on the senses even before you have walked into the room. I sit back at my house, with my compulsory neon glow stick still attached to my wrist protective earphones on the desk, my ears ringing, my mind swirling, from the production I have just witnessed. A performance with impeccable raw energy combined with flawless technical stagecraft.
Trainspotting was first published by Irvine Welsh in 1993 and adapted into the infamous Danny Boyle film in 1996. This current production has been in development with In Your Face Theatre since 2013 and it certainly shows. The narrative of the story is similar to that in the Welsh original but focusses more on the human cost of drugs, alcohol and unemployment. It is a development of the story and not simply a regurgitation of it.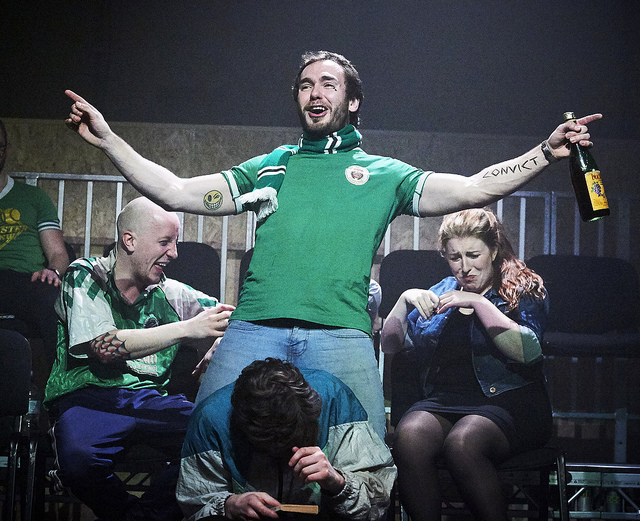 This promenade production is bold and exciting. Audience members literally sit on the stage and we are all part of the story that is unfolding in front of us. Characters clamber around, though, even on top of the "audience", a term used extremely loosely as we are all dragged into becoming characters, witnessing the stories unfold as if we were sat in Central Edinburgh. The narrative flowed with fluidity and dynamism, one moment actors being a named character before instantly becoming an omnipotent narrator. This is a true ensemble piece with all cast sharing stand-out theatrical contributions.
Everything about this production makes you feel uncomfortable; the loud music, the violent lighting, the harsh seating conditions, the language, the images. Nothing however, including the nudity, is a gimmick. Its evolution and commitment means the act of naked actors becomes an integral part of the story, the lack of clothes as a prop becomes just as important as the other objects like the bed and toilet brought into the space.
This production is not for everyone; it aims to be confrontational. Whilst I felt that the acting throughout with show was brilliant, confident and deliberate, full of passion and energy, I felt this full throttle tempo was hard to maintain. The piece perhaps needed a few moments to relax and settle which never really came. This settling could have also been helped by the dynamic of the piece which felt loud throughout even in more poignant moments. This said, the horror of the content is perfectly balanced with more comedic elements.
This is theatre at its absolute best: It was provocative and engaging. It presented a study of helpless people and their struggles. It was eye opening and fully deserving of the highest accolades I can offer, 5 inserted stars on Microsoft Word, and my glowing recommendation.
Choose life. Choose a job. Choose a career. Choose a family. Choose a fuc*ing big television.
Choose to see this INCREDIBLE production.
Reviewer: Dave Collins
Reviewed: 6th June 2017
North West End Rating: ★★★★★
………………………………………
Book by Irvine Welsh and Adapted by Harry Gibson
June: Rachael Anderson
Mother Superior: Finlay Bain
Begbie: Chris Dennis
Tommy: Greg Esplin
Sick Boy: Michael Lockerbie
Alison: Erin Marshall
Renton: Gavin Ross
Director: Adam Spreadbury-Maher with Greg Esplin
Assistant Director: Catherine Exposito
Lighting Design: Clancy Flynn
Sound Design: Tom Lishman
#Trainspottinglive
@The_Lowry
https://www.thelowry.com/events/trainspotting
Photo: Geraint Lewis