The tragic events of Monday night in Manchester were felt tonight at The Lowry. There were posters of support and a collection was being taken up. The presence of security was also heightened, with bag checks strictly enforced. Despite this the atmosphere was buoyant as I entered the Quays Theatre.
Cas Public bring us Symphonie Dramatique, an hour long dance piece inspired by William Shakespeare's Romeo and Juliet. They are: Nicholas Bellefleur, Claudia Colonna, Cai Glover, Robert Guy, Mariya Kyrychenko, Daphnée Laurendeau, Danny Morissette, Marc-André Poliquin and Mickaël Spinnhirny. Without exception every member gave their all to the piece and their commitment and drive was outstanding.
If you expect a linear re-telling of the classic story, think again. There were elements of the familiar: direct quotes from the original text and the use of the music from the ballet by Prokofiev and the symphony by Tchaïkovski. There were also moments of classic ballet, but this is Cas Public, nothing is going to be straightforward.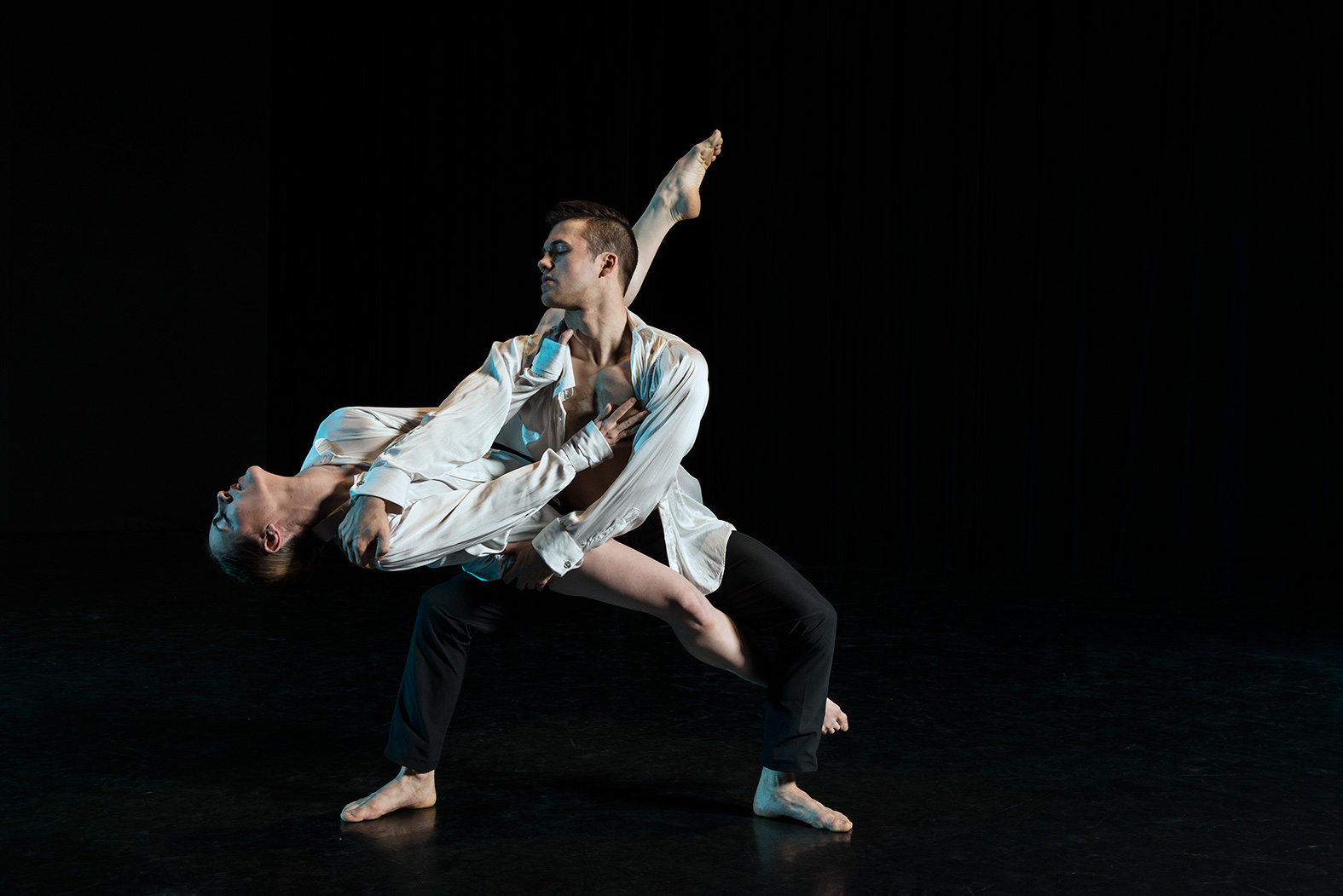 Using a monochrome palette a patchwork of ideas, images and movement are revealed on stage - beautifully imagined by Choreographer Hélène Blackburn and Scenographers Hélène Blackburn & Samuel Thériault. We enjoyed a fusion of contemporary modern, ballet and street dance; all performed with a passion, intensity and energy that did not wane throughout. The next layer were video projections by Samuel Thériault and an exceptional lighting design by Emilie B-Beaulieu. The final voice in this performance was the mesmerising soundtrack created by sound artist and composer Martin Tétreault.
There were many beautiful, touching and humorous moments and ideas in tonight's performance. My particular favourite, expressed by the Choreographer Hélène, is that everyone can be Romeo's and Juliet's, hoping for and finding love. This was reflected by all the dancers wearing t-shirts with Romeo or Juliet written on the back - a variety of dance pairings occurred, including a very powerful same-sex male pair.
I didn't know what to expect from this evening's performance, I came with an open mind and I was pleasantly surprised, entranced and entertained.
Reviewer: Alan Harbottle
Reviewed: 23rd May 2017
North West End Rating: ★★★★