As soon as I entered the auditorium this evening I was struck by the set.... I double checked I was in the right theatre as it has not been unknown for me to have taken a seat in the wrong one at the Lowry. Yes, right theatre, so what is so unusual about the set? Well, surrounded by white curtaining which was put to good use with superb lighting effects to enhance the moods, there is a centrepiece construction of wood with several platforms, metal ladders and resembles a childrens play centre complete with a band incorporated.
It is not the staging I had envisaged for a play based on Charlotte Bronte's classic novel Jane Eyre! Director Sally Cookson has achieved what she wanted with this adaptation and in her words 'I didn't want authentic set and period costume to suffocate it, killing the essence and magic of the story.'
This innovative play challenges the mind as the structure designed by Michael Vale, becomes Gateshead Hall, where Jane lives with her uncle's family following her parents deaths, Lowood Institution, with its bleak classrooms and Thornfield Hall, home of Mr Rochester. The actors themselves are challenged too as they take on a variety of roles regardless of age or gender and the sheer energy by all performers is wondrous as full use of the set is made. Demonstrating the diversity of their roles Paul Mundell takes on three characters including Rochester's dog Pilot, a role he plays well and you cannot help but be amused at his antics as he lollops across the stage. It is a little confusing at first to see men sporting beards playing young schoolgirls, however, I found myself accepting this, along with the portrayal of horses and stagecoach by the ensemble.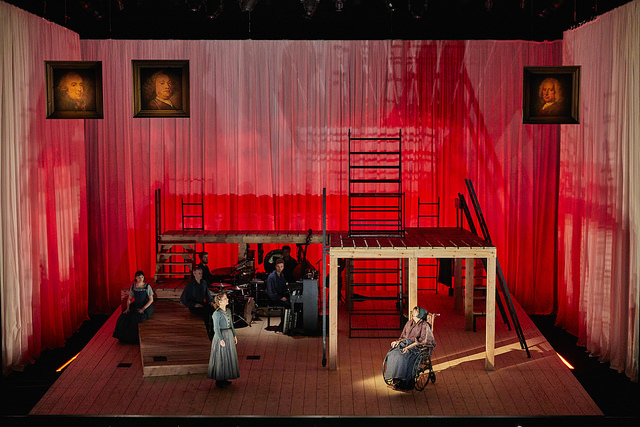 Jane Eyre, tells the tale of a young orphan girl and the trials and tribulations of her life with an abusive aunt and cousins, the harsh religious regime and humiliation she endures at the school she is sent to after arguing with her aunt. After six years of education and two teaching, Jane advertises for a new post and is employed as governess to Adele, (Hannah Bristow) a young French girl and ward of Mr Rochester, owner of Thornfield Hall. Jane's first meeting with her employer is when Rochester is thrown from his horse and accuses Jane for startling it, despite his bad temper she assists him but upon arriving at Thornfield Jane realises who he is. Able to stand her ground, he is amused by her and they soon begin to enjoy each other's company. It is a love story with a twist.
Jane Eyre is performed superbly by Nadia Clifford as she develops from young child to adulthood with a passion for life, freedom, independence and strong principles. The ensemble become the voices of her conscience as she struggles with the feelings she is experiencing for her employer and unsure of his. Rochester's character is strongly played by Tim Delap but he harbours a dark secret and strange things begin to happen in the house causing concern to Jane when she hears screaming and mysterious fires, can he convince her that it is nothing to worry about?
Melanie Marshall as Bertha Mason deserves special mention as she hauntingly makes her presence known with wonderful vocal performances, but who is she?
Once you realise this is not a traditional period piece, although the story is closely adhered to, the performances tonight are a pure theatrical delight, my one criticism is it's a little too long at three hours plus a 15 minute interval.
Reviewer: Lorna Weekes
Reviewed: 12th April 2017
North West End Rating: ★★★★
Photo by Brinkhoff Mögenburg