The Quays Theatre at the Lowry today was bursting at the seams with Sooty fans of all ages. As the Sooty Show has been running since 1955 the majority of people in the audience regardless of whether they were a parent or a grandparent has had an opportunity to enjoy the cheeky antics of Sooty and his friends in their childhood. The Sooty show was presented for 20 years by Harry Corbett on TV, and then from 1976 by his son, Matthew, and is currently aired on CITV hosted by Richard Cardell.
Richard and Sooty have a packed scheduled UK tour running until June 2017. From the offset of today performance it was easy to see why this show is in such demand, as it is everything children's theatre should be. From marvellous Sooty latest inventions to hilarious tongue in cheek slap stick humour…. Not to mention the audience soaking at several points in the show.
Staged at Sootys' Palace Theatre, Richards' job is in jeopardy as his boss Mr Slater has threatened him with the sack if he doesn't deliver a great show. Richard dressed as a holiday park entertainer has a stage presence reserved for the very few amazing children's entertainers. Bounding with energy and bursting with enthusiasm he had the audience captivated throughout as he brought to life the characters of Sooty, Sweep and the adorable Soo. Butch and Ramsgate also starred in today's show and I have to admit the very naughty police dog Butch was my favourite by far, truly hilarious sketches that were just brilliant.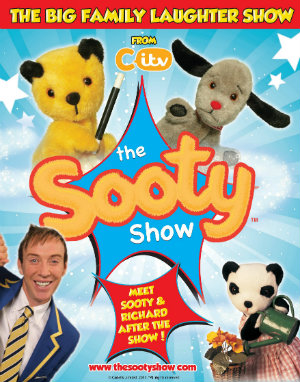 Richard preforms throughout the show engaging the audience to participate in dancing auditions and being stage assistants to ensure a good show is produced to save his job. Jack and Elizabeth were todays little audience members that were invited onto the stage to assist Richard and Sooty, and as with every unplanned audience child participation this was both endearing and hilarious in equal measures. Certainly two little Salford residents will never forget their encounter with Sooty on stage at the Lowry, as magical memories were definitely made.
Trap doors, explosive escape boxes, magic tricks, xylophones and crazy invention machines kept the show fast paced and engaging for this very young audience. The 'Sootys' got talent' show was excellent with Sootys' infamous dodgy magic, Soo's dainty tap dancing and Sweeps amazing musical talents as he squeaked his way through Luciano Pavarotti 'Nessun Dorma'. The costumes and staging were superb with just the right amount of glitz, glamour and pizazz to make the Sooty show feel like a real cabaret act.
I can honestly say this show far exceeded my expectations as it was genuinely side splittingly funny, my 4 year old companion was rolling in her chair clutching her sides laughing, and I probably laughed more at this show than I do at any stand-up comedian gig. If you do get chance to see this show I can guarantee you will have a truly 'feel good' experience as it was as magical as Sootys' 'Izzy Whizzy Let's get Busy' spell.
A great selection of Sooty Merchandise was on sale in the foyer and to seal a fabulous day out Richard and Sooty did a meet and greet session at the end where each child beamed with delight as they got a cuddle from Sooty. Magical how these very simple timeless hand puppets captivate the imagination and hearts of our little ones. Simply stunning to see.
Reviewer: Victoria Wilmot
Reviewed: 12th March 2017
North West End Rating: ★★★★