I can hear the shouts already echoing as readers race to call me out as a dreadful cynic once again as I claim to be ambivalent towards Theatre which tries to effect social change. It's not why I do Theatre and my politics is honestly shaped more from Bruce Springsteen than any play I've ever seen. It makes me cynical of other people's attempts to press burning issues upon us through Theatre.
Ridiculusmus on the other hand is a company who do believe in the power of Theatre as a tool to help shape social attitudes. Their work in raising discussion and debate on concepts within the area of mental health began with The Eradication of Schizophrenia in Western Lapland in 2014 and is followed up now with Give Me Your Love performed here as part of the Sick Festival which features artists highlighting issues and ideas on mental health.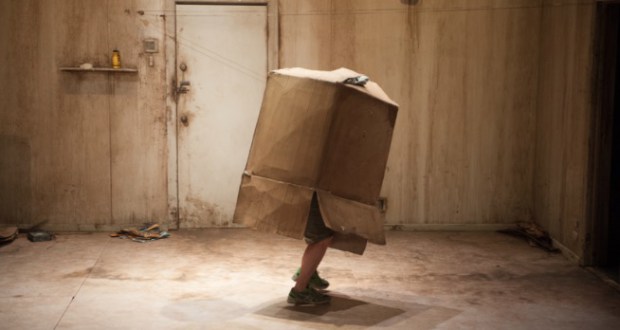 Give Me Your Love shows the situation of Zach an Iraq war veteran now suffering from Post Traumatic Stress Disorder and spending his days hiding away in a card board box in his spare room. His friend Ieuan comes to offer support (through a chained door) and with the help of MDMA thus opens the door to the idea of therapy for sufferers of PTSD through the controlled use of psychoactive drugs to put the subject in to a mental state. It's an interesting concept and done rather well by the two actors of the piece. Tragically though, I wasn't given a program which detailed who those two actors were and so cannot portion the oodles of praise they deserve upon any specific names. Further to this I don't know who anybody involved in the production is.
This play does not chart a man's descent into madness like you may find in Shakespeare or whatever. Instead it is depicting a man already in the grip of a mental illness and so the aspect of the journey, so vital to telling a story lacks the drive and distance to hook in an audience. Make no mistake the production is presented and performed to a high standard, this cannot be denied. Ultimately though, Give Me Your Love fails to engage when seen by someone such as myself without a prior interest in the subject matter. I take nothing away from their efforts which are well realized, however, in this case, the most interesting aspect of the evening was the post show discussion featuring Dr Ben Sessa a psychotherapist and leading researcher into the use MDMA in post traumatic stress therapy. While this was fascinating in itself, I have in the back of my mind the knawing question, shouldn't I have been this engaged in the play and not just the post show discussion?
Reviewer: Karl Barnsley
Reviewed: 10th March 2017
North West End Rating: ★★★★