Tonight, at the Lowry Theatre Studio we were entertained by the dazzling Ian Cook, Adam Davies, Eleni Edipidi and Jennifer Essex who collectively make up Tmesis Theatre. This thought provoking, fast paced, comedy explored the vulgarity and stupidity of our 21st century fixation with happiness and success.
The show started with a sketch that discussed the 1953 Skinner rat psychology tests that electronically and artificially accessed the rats pleasure centre of the brain. Then the neuroscience research in 1984 that suggested 'it is the want for happiness rather than the desire for happiness' that really makes the quest a more determined one. Exploring the concepts of artificial happiness, the quest for it and whether it can be manufactured, forced or unrealistically maintained….. this great show highlighted the absurdity of it all.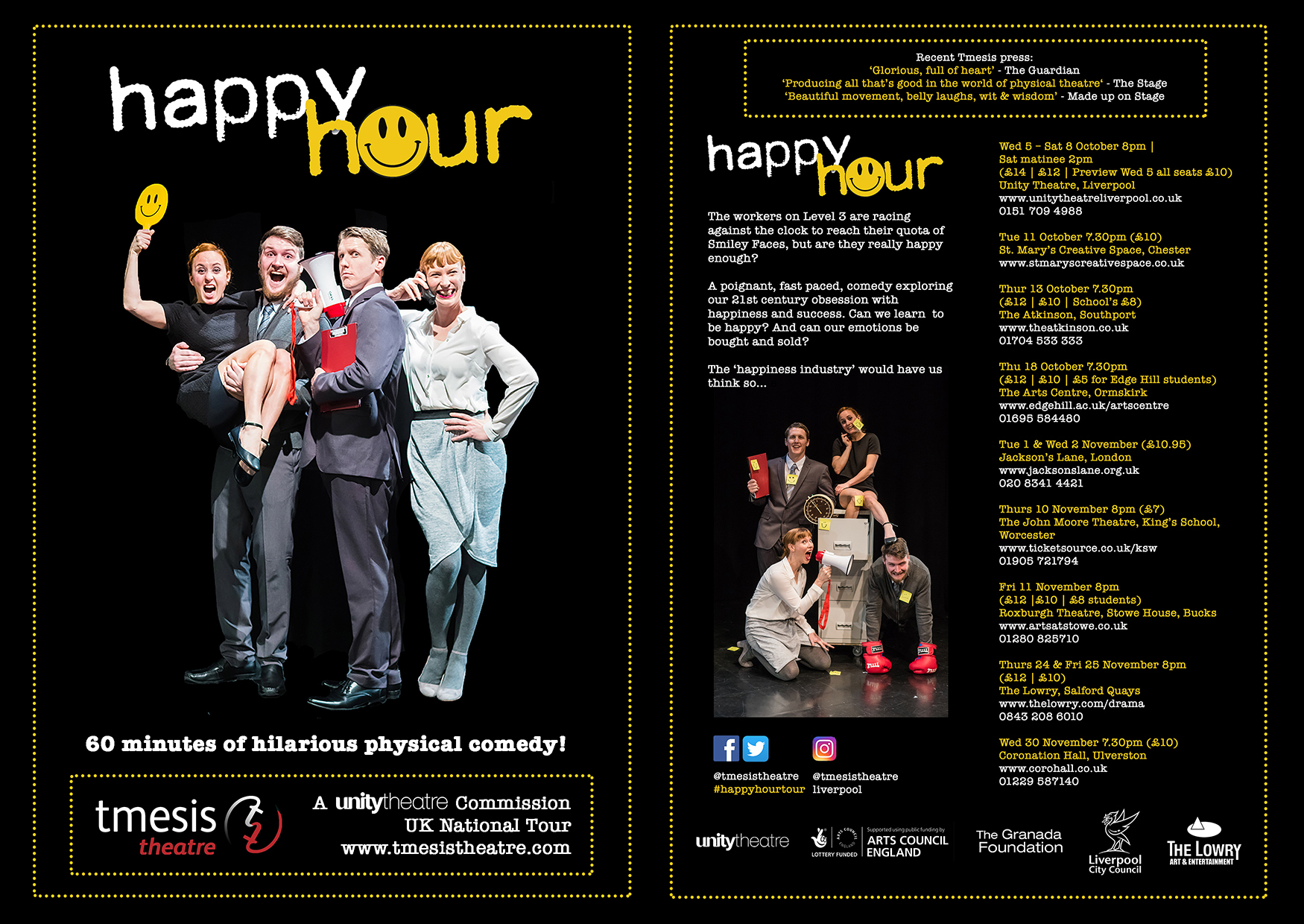 The workers on level 3 at the "Happiness industry" are competing against the clock and the levels above to try and achieve their targets of smiley faces in order to gain happiness, whilst day dreaming of what their life might be like if they had their own version of happiness. Happiness such as being a manager on level 6, becoming a motivational speaker and having authority of others or having the "new girl" become their love interest and tango dance partner, before quickly snapping back to the disappointing reality of "real life".
We can all relate to the horrendous 'rat race' (ironically the show opened with the rat experiments from past years) and the 'dog eat dog' mentality of the workplace. Where the 'Big Brother' type surveillance and micro-management that can be endured in some workplaces can be often masked by the artificial smiley faces of colleagues and managers. I'm sure that we can all relate to this in some way or another and this was ingeniously put across in the sketches of tonight's show.
Happy Hour although a bit abstract and hard to follow for me was still a brilliant piece of theatre. It was hilariously funny and the marvelous cast were so gifted with energy and zest that appeared boundless. The movement and choreography of this production was so perfectly timed and executed it was a masterpiece in itself to watch. Happy Hour is definitely worth seeing if you fancy an hour of fantastic fun and quick fire humour that at points was belly laughingly funny. Credit to director Elinor Randle and script writer Chris Fittock for this brilliant show.
The show is currently touring the UK and for further dates and information visit www.tmesistheatre.com
Reviewer: Victoria Wilmot
Reviewed: 24th November 2016
North West End Rating: ★★★★