Circa Tsuica is the musical offspring of the French group Cheptal Aleikoum who met over ten years ago at the Centre National des Arts du Circue in France and when not touring, live together in a small community in Saint Agil, in the West of France. Opus 7 is the creation of Circa Tsuica and produced by Cheptal Aleikoum and features seven performers tonight, Franck Bodin, Maxime Mestre, Tom Neal, Oliver Pasquet, Matthias Renau, Lola Renard and Camille Secheppet.
Be prepared, Opus 7 is not your conventional circus, nor is it a conventional brass band, so what is it? Well it is 80 minutes of nonstop entertainment displaying some amazing circus skills with all artists playing a variety of instruments at the same time. Its chaotic, loud and funny and at times you forget the actual skills that this motley crew are demonstrating. Playing a variety of musical instruments from trombone to tuba, flute to drums the show opens with the group of seven sidestepping onto a see-saw (actually a plank supported on breeze blocks) with perfect balance and never dropping a note.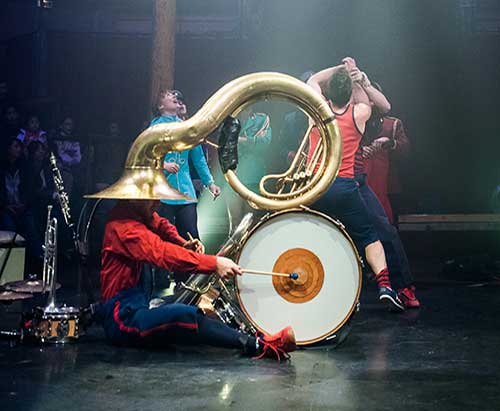 Their costumes are a variety of mis-matched marching band outfits with shorts, tights and peaked caps giving them a comical appearance. It all adds to the fun and although none are introduced to the audience you begin to warm to each character. The music is cacophonic and continues throughout the whole performance but with a nice touch the local MAPAS Big Band join them on the stage at one point and for the finale. MAPAS are a senior ensemble organised by the Salford Music and Performing Art Service for children from across the city. I understand that Opus 7 engages local bands at each of their venues on tour.
There are balancing acts with one in particular being totally mesmerising involving one female playing a ukulele whilst balancing aloft her partner and skilfully moving to other balancing positions around him. With somersaults, tumbles and comedy and a breathtaking high rope swing performance , the highlight of the evening for me was an incredible routine involving a weighted hoop and one of the male artistes which was extremely impressive whilst the rest of the troupe continued playing and marching around him.
Such is the disorder taking place on stage you really need to step back and consider just how talented these amazing performers are. It all appears so easy but the expertise needed to perform these seemingly effortless acrobatics whilst playing instruments show just how hard they work together to achieve this. Opus 7 will appeal to all age groups and lasts for 80 minutes without interval.
Reviewer: Lorna Weekes
Reviewed: 1st November 2016
North West End Rating: ★★★