A tale as old as time, we all know the story of how Belle meets the Beast and they fall in love. However, the Christmas show at the Unity Theatre this year, is a retelling of the well-known story.
Belle's father stumbles across a big house in the middle of nowhere. He ends up falling asleep in front of a large fire and when he awakens the next morning, he goes in search of a present for his beautiful daughter. He finds a solitary rose, a thing of beauty, amongst all the dead and dying plants around him, and picks it for his daughter. As he's about to leave, a butler appears and tells him not to steal the rose. He has no money on him, but promises to return with a present, in exchange for the rose. When he arrives home and gives the rose to his daughter, she is horrified to learn that he left nothing in exchange for the rose, and they have nothing worth enough for payment. She wants to return the rose to its owner (a monster – as described by her father) and promises she'll return straight home. However, she is held captive when she arrives at the monster's big house, and is only allowed out of her room for meals.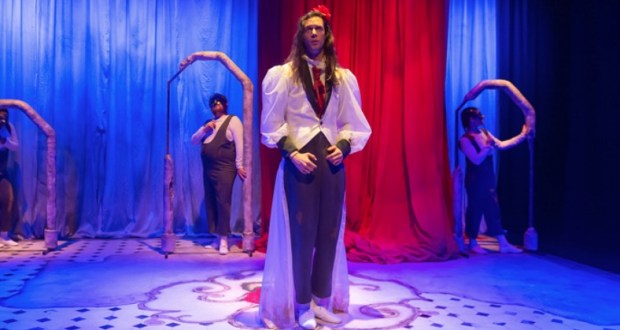 One evening, she escapes her room, as she can hear singing and stumbles across the monster, who hasn't been very nice to her during her time there. She demands he meets her for dinner. The following evening, they share a fun dinner together, but things take a sour turn and Belle runs back home to her father. She is followed by the Beast's most faithful servant who explains the story behind the rose and that the Beast is just looking for a friend. She returns back with the servant, but doesn't tell her father, so he assumes she's been kidnapped. Following a big chase scene, everything gets resolved and everyone becomes friends.
The cast of four have all worked hard to put this production together. Each cast member has a main role, and then also plays other smaller characters (or statues and gargoyles!) Simone Lewis, as the faithful servant, was absolutely spot on with her comedic timing, especially in Act 2, that made the show. But her fellow cast members, Stephen Collins, Rose-Marie Christian and Edward Day all played their parts well. Whilst it may not be the perfectly polished, star studded production you'd expect from a large theatre, the set and costumes, by Lena Kennard, were simple, but worked well. In using the cast as statues and gargoyles in the house, it really allowed the children believe that there was a secret life in them!
This production also integrated some British Sign Language into some of the songs and scenes. This worked really well and also allowed children to question and learn what it was from their parents, more shows should do it this way!
Overall, it is a fun show to take all your kids too, there's something there for all ages!
Reviewer: Jenn McKean
Reviewed: 4th December 2018
North West End Rating: ★★★