Proving the popularity of pantomime many theatres are now staging two if not three panto's a year and today at the Epstein Theatre as I take my seat for LHK's Easter production of Jack And The Beanstalk, the theatre is buzzing with excited children and adults alike.
With popular favourites, Radio City 2's enchanting Claire Simmo as the veggie Fairy Moonbeam, the wonderful Lewis Pryor as Silly Billy and hilariously entertaining Martin Chapman as Dame Trott, the show is already off to a good start but add the amazing Lindzi Germain as Fleshcreep and Liverpool's very own multi- talented Ray Quinn as giant conquering Jack, you are guaranteed a fantastically entertaining time. Joining the cast is delightful Mia Molloy as Princess Jill who is captured by Fleshcreep and is in danger of being eaten by a giant!
This pantomime version of the much loved children's fairy tale is written and directed by our dame Michael Chapman and there have been a few changes made to the traditional tale but the general plot remains the same. Dame Trott and her sons have fallen on hard times and finding themselves in desperate need, poor daisy the cow is to be sent to market. Jack is entrusted with the task but on the way is fooled into trading Daisy for 'magic beans'.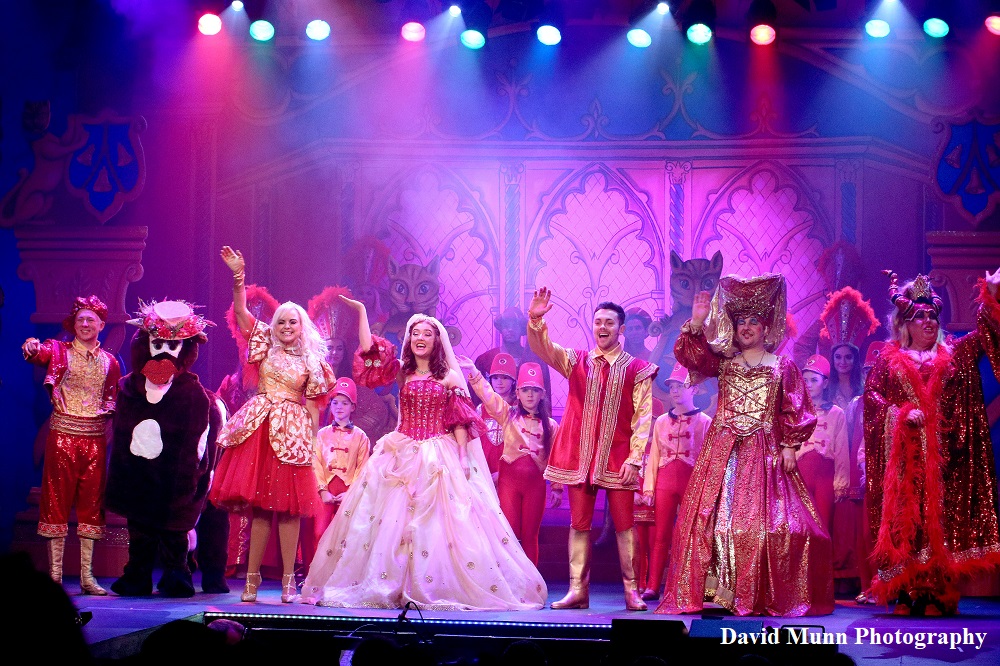 His mother is very angry upon his return and throws the beans to the ground but the following day a huge beanstalk has appeared proving they are indeed magic. What lies at the top of the beanstalk?
The tale takes us on an amazing journey from start to finish with everything we have come to expect from a panto. There is subtle innuendo to keep the adults amused, although you'd be hard put not to be laughing all the way through, especially at Chapman's delivery of the countless one-liners. With special effects of pyrotechnics at her every appearance Simmo simply sparkles on stage. Singer, dancer , actor and recently known for his ice dancing skills, Quinn bursts onto stage singing fittingly, 'I Am The One And Only' and indeed there are few who have the charisma and instant likeability and he is greeted with massive cheers and applause. He performs his role with ease and confidence and with twinkling eyes and infectious smile he makes a perfect Jack. Germain deservedly encounters boos and hisses as she performs as the evil Fleshcreep but I am sure that they are more than welcomed as this is pantomime and the more you get the better! Displaying powerful vocals with a rendition of 'Evil', Germain's character is certainly not one to be messed with!
More comedy with Pryor's Silly Billy and a hilarious chase through the theatre with Dame Trott as they scramble through the seats brings lots of laughter, as does the almost obligatory soaking of the audience with water cannons by our fairy, Jack, Silly Billy and Dame.
With a song from the recently released 'Greatest Showman' Molloy treats us to a lovely version of 'This Is Me' endearing her to the audience.
There are colourful costumes, great scenery and accompanied with live music under the direction of Alan Moore, the show is topped off with beautifully choreography (Holli Jo Bradley) including talented youngsters from LHK Youth Theatre, Jelli Studios and Boom Productions. Special mention to Daisy, you made a lovely cow!
So will this be a tale of 'Happy Ever After?' Well 'Fe Fi Fo Fum' ..... don't ask me, I'm staying shtum!
The only way to find out is to ensure you get your tickets as soon as possible.
With performances until 8th April 2018, tickets and further information: http://www.epsteinliverpool.co.uk/events/jack-and-the-beanstalk/
Reviewer: Lorna Weekes
Reviewed: 2nd April 2018
North West End Rating: ★★★★