Tonight I was at the Gladstone Theatre in the lovely village of Port Sunlight to see Dreamworld Entertainment's 'Beauty and the Beast.' This is Dreamworld's third professional pantomime at the Gladstone since the company was set up in 2016.
After a warm welcome and wonderful hospitality I took to my seat ready for the show. The buzz and excitement throughout the audience was electric.
A traditional panto created from a well-known story but with its own unique twist including panto favourites such as a rhyming fairy, a Dame and a loveable town idiot, in this case, Simple Simon.
Michael Bailey as Simple Simon was a hit with the kids from the get go. Making silly jokes and creating a special greeting for each time he came on, Bailey really knew how to get the reaction to get the panto going and keep it flowing. With wonderful humour, fantastic impressions (Alan Carr and Kim Woodburn) and some very up to date jokes including I'm a Celebrity references "He's a very small man" he had the audience in the palm of his hands.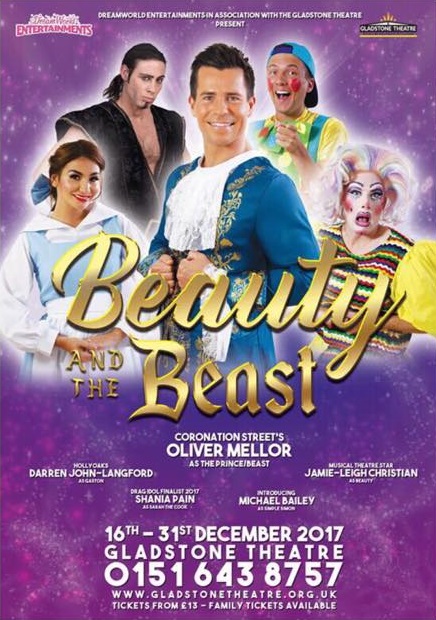 Our Dame this evening, Dame Sarah the cook was brought to life by Ryan Towart and was a complete natural. With wonderful facial expressions and even more wonderful costumes, Towart was a joy to watch. His Gemma Collins skit was hilarious including the 'stair fall.' Comedy gold.
Beauty was played by the very talented Jamie-Leigh Christian who is also co-producer and Choreographer of the show. Christian played a very innocent, naive like Beauty and gave a stunning performance.
For every Beauty there has to be a Beast and our Beast/Prince was TV and stage star Oliver Mellor. Mellor played a very likeable/charismatic Prince but also made a nasty yet lovable Beast. His transformations, with the help of cast and lighting were superb. His Beast costume was impressive, not over the top but quite natural in a refreshing way.
Each panto must have a villain and this one is Gaston played by another theatre and TV star, Darren John Langford. I'm sure the villain is not supposed to be a favourite character but Langford as Gaston was superb. Very commanding but extremely funny. Even with all the booing, you wanted to see more and more of him.
Maria Lovelady played the lovely Enchantress of the Rose and linked the show together very well.
Choreography was very good for the most with some lovely sections but I did feel in some parts, some of the choreography was repeated in different routines, in turn making bits seem samey and a little laboured. There were some beautiful lifts and tricks used so huge well done again to Jamie-Leigh Christian.
Scenery was pretty simple but effective. Scene changes were fast and slick. Huge well done to Sarah Clarke and team. Fantastic lighting brought this show and set to life so well done to Nathan Storm on creating a fantastic lighting design.
Sound was perfect from the get go, very clear and not a cue missed so huge well done to Daniel McAllister.
Directed by co-founder and co-producer Laura Handley, this team have come together and been led perfectly to bring a wonderful panto to the Gladstone.
Watching groups of children laughing, cheering and dancing along brought home how magical the theatre can be and to have this on our door step is even more special.
Running until 31st December 2017, get along to the Gladstone and let them take you on this magical journey.
Reviewer: Damian Riverol
Reviewed: 18th December 2017
North West End Rating: ★★★★