This adaptation by Julian Bond is based upon what is considered the original panto of them all, 'Harlequin and Mother Goose or the Golden Egg', dating from the 1806 Drury Lane shows, which showcased the skills of the famous clown, Joey Grimaldi. In addition to what we now understood as panto, it also contained a 'Harlequinade' – a series of running gags and practical jokes with commedia dell'arte characters Harlequin, Columbine, Pantaloon, and Clown.
Under the direction of Mikyla Jane Durkan, the play opens to Mother Goose (Bob Towers en travesti) flying on Goose (Edmund O'Hare) into a village where Pennypinch (Maggi Green) is marrying off daughter Colinette (Charlotte Thomas) to the Squire (Peter Durr) even though she loves Colin (Yahya Baggash). Mother Goose is keen to aid Colin's cause but too little avail as Pennypinch is true to his name and the Squire only serves to cause offence thereby invoking a spell from Mother Goose as Colinette becomes Columbine, Colin becomes Harlequin, Pennypinch becomes Pantaloon, and Squire becomes Clown. The only way matters will be reversed is the recovering of the golden egg which now lies at the bottom of the sea.
The whole is brilliantly constructed and served to entertain younger members whilst interjecting elements of bawdy humour to satisfy the grown-ups as well as taking some often-surreal twists and turns which allowed a hush to descend and magic to unravel in the minds of the audience – exactly what a pantomime should be about.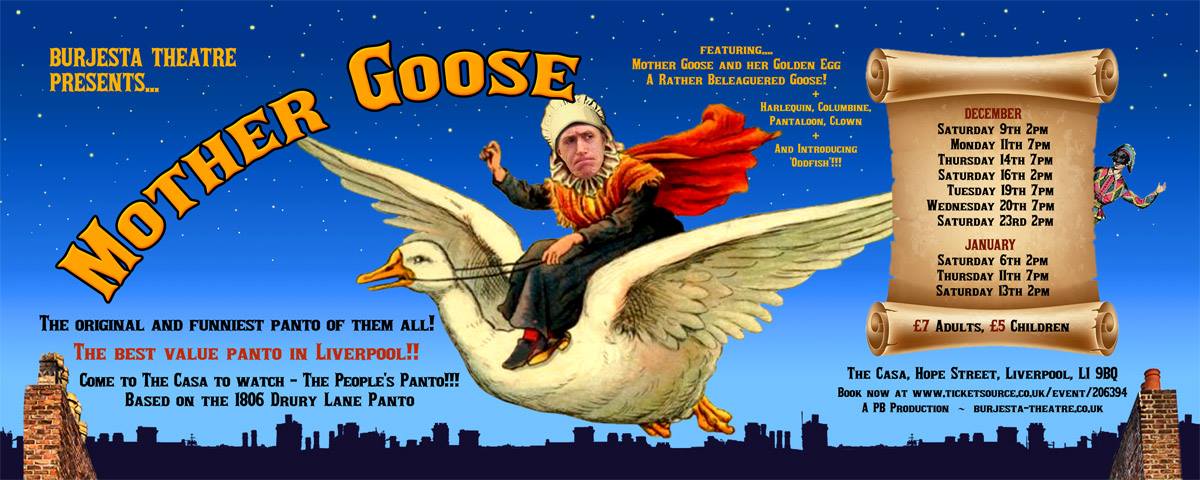 The main cast were well supported by Peasant Poet (George Melling) and with Teneya Alvarado and PJ Murray in a number of roles throughout. The second act allowed this talented cast to explore mime and slapstick routines to a superb musical accompaniment that had a real old-style music hall feel to it. The interactions with the audience worked well and more importantly were natural.
The set, costumes, props, and make-up were admirably brought together by Durkan, Indianna McMillan-Parker, and Sharon Lowe with the added sound and lighting effects managed by Vienna Bond.
There can only be one true judge of a pantomime and that is the children who I can happily report delighted in it throughout with much laughter, moments of scare, and who at every opportunity to get involved did and their voices were heard for all the right reasons. Wonderful. Go and see this show, you won't be disappointed.
Mother Goose performs at The Casa, Hope Street, Liverpool in December on Monday 11th, Thursday 14th, Tuesday 19th, and Wednesday 20th at 7pm; and on Saturday 16th and Saturday 23rd at 2pm. In January on Saturday 6th and Saturday 13th at 2pm; and on Thursday 11th at 7pm. Tickets are priced at £7/£5 and can be booked via http://www.casatheatre.co.uk/calendar
Burjesta Theatre has a strong reputation for putting on original work and adaptations. For further details of upcoming productions please see their website http://www.burjesta-theatre.co.uk/home/
The Casa Bar and Venue at 29 Hope Street is at the heart of the University/Theatre district. Further details available at http://www.initiativefactory.org/
Reviewer: Mark Davoren
Reviewed: 9th December 2017