It seems like you just need to blink and we're back in panto season again. Complete with a few blasts from the past, this year's offering from The Plaza in Stockport is Aladdin.
Anyone who was hoping for a retelling of the Disney classic will be disappointed. The story follows a young man named Aladdin who dreams of marrying the Princess. As with any panto this show was packed with campness, terrible jokes, comedy chases, songs and maybe one or two wardrobe malfunctions.
It is a typical family friendly panto that is definitely an enjoyable night out. The show never featured the lines 'it's behind you' which I thought was a bit strange for a panto.
The production had a live four piece band headed by Musical Director; Andrew Saunders, accompanied by Ben Gray, Adrian Wilkinson and David Pickles.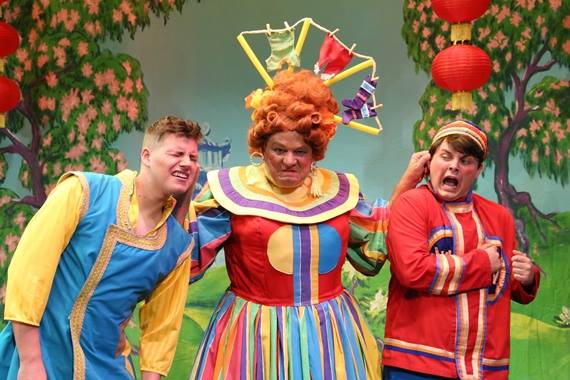 Aladdin was played by Benjamin Connor. Although it is the title role, he is definitely not the most memorable performer of the night. His vocal skills weren't great, however all is forgiven during his solo song on the flying carpet as it just creates a moment of magic.
Extravaganza Productions created a fantastic set for this show. It did look a bit dated but I think it had the desired effect. The backdrop constantly changed, which I liked.
For me the standout performer of the night was Bradley Thompson playing Wishee Washee. A very confident performer who built up a strong rapport with the audience.
James Robinson did a fantastic job in choreographing the show. The Extravaganza Dancers pulled off the moves with ease.
Chidi Ajufo playing The Genie seemed to impress the audience not only with his hunk-like physicality but also his basketball skills.
Of course a special mention has to go to Ted Robbins who took on the role of Widow Twanky. His comic timing was excellent and even managed to carry on while his hats were falling off.
Becky Bennett who played Princess Balroubadour wasn't my favourite performer of the night. Although she was good, she simply didn't shine as bright as others did. Perhaps because she didn't have much to do.
Former Coronation Street villain Brian Capron played the role of Abanazar - the typical panto baddie.
The production on the whole was good, with belly laughs, an impressive cast and a cheeky script. The only downside was that the main roles were a bit lacklustre.
Reviewer: Brian Madden
Reviewed: 1st December 2017
North West End Rating: ★★★★