The audience were in fine voice this evening, doing a grand job with the call and response. The boundless energy from the cast was truly reflected through the reactions.
We start with a bang, just the first of many amazing technical moments throughout the performance. We are greeted with a flying fairy, in the form of Linda Nolan, of The Nolans, suspended high above the front row, singing a Disney classic. Nolan appeared every time with a pyro, scaring me half to death and I think herself too! Alongside her a very strong core cast, with a wealth of experience in the entertainment industry. It's hard to separate one outstanding performance from another.
Marvyn Dickinson from CBBC'S 'Class dismissed' he gives us a nice balance of comedy and typical panto style baddy as' Flesh creep' dressed similar to Johnny Depp's version of 'Willy Wonka' my favourite moment saw him impersonating a woman. Charlotte Dalton is not just your typical principle girl, she's a true triple threat performer showing us depth of character and powerhouse vocals, with looks of a princess plucked straight from a Disney film.
Dame Trott, the pantomime dame, played with expertise by a flamboyant Ian Good, with an array of dresses and wigs that got bigger and better as the show progressed. During act one he dealt with major sound gremlins with ease and professionalism, finally being rescued with a handheld microphone, which was a shame as it was slightly distracting, but didn't take away from his outstanding performance. I must also mention daisy the cow, a lovely supporting silent role.
Director and script writer Phil Walker brings to life the lovable Jack Trott. In parts he steals the show, with his stand up comedy approach to the role. Walker has clearly put a lot of effort not only into directing the cast but also the witty dialogue. During the ensemble scenes just watch the spacial awareness, I wanted to see the beautiful faces of the dancers, not side profile.
I can only assume that the show used backing tracks, as I couldn't see any live musicians and no musical director was accredited, one criticism be it small was, we could have done with smoother musical transitions, during the scene changes. An upbeat modern score featuring some creative routines and some lovely costumes, particularly for the dancers.
Technically the show was spectacular, it wouldn't have been out of place on the West End. A few examples of the great work from 'The Twins FX', The onstage growth of the giant beanstalk and the floating rocket chair! We also finally meet the giant toward the end and he's at least 13ft high, simply amazing. The lighting plot was second to none and the scenery was elaborate and no expense spared.
A great dance number to end act one including some lovely ballet pointe work. Also, a thriller esque 'Time warp' routine, with a troop of ghoul dancers. One of my favourite moments was the full cast rendition of 'I'm in the mood for dancing' lead by Nolan. Shonagh Leatherbarrow, lead a spellbinding sequence including magic and illusion. The audience participation of 'Twelve Days of Christmas' was imaginative and hilarious.
The finale left us covered in snow much to the children's delight. The show was just a little too long in my opinion, it started just after 7pm and finished close to 10pm, a few members of the audience were starting to leave during the songsheet, this wasn't to say they weren't enjoying it, it just a bit late for little ones. Having said that it was opening night, and no one would ever guess.
To conclude a fantastic team of professionals, well worth a watch and I wish them luck for the rest of the run.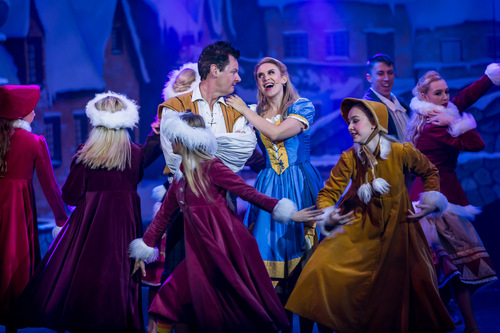 Reviewer: Rebecca Casey
Reviewed: 12th December 2016
North West End Rating: ★★★★
Photo: Michael Porter