Panto season is amongst us, and after having the pleasure of being a part of the packed out audience varying between the ages, there is no denying that this year's Aladdin at Crewe Lyceum is one to beat.
With a star studded cast which featured one of Britain's best loved and funniest dynamic comedy duo, Cannon and Ball, CBeebies star Sid Sloane as Wishee Washee, Malcolm Lord best known for Rainbow for Thames TV's George the pink hippo and Bungle Bear who this time became Widow Twankey and last but certainly not least, the evil Abanazar played by Mark Turnbull who has many impressive credits in Theatre and Cabaret, such as Nathan Detroit in Guys and Dolls and solo Cabarets of Sondheim.
Aladdin, aptly named 'The Magical Pantomime Adventure', boasts laughter from start to finish and well known modern day songs which had everyone singing along at some point such as One Direction classic 'Live while we're young', Jonas Blue's 'Perfect Strangers' and a beautiful rendition from tonight's Jasmine played by Danielle Chupak, of Aguilera's The Voice Within. The famous story of Aladdin was wonderfully portrayed by Qdos Pantomimes, capturing all the vital plots of the story and tweaking them to adapt to the locality in which the performance was held, in Crewe. The jokes consisted of references to the stars of the performance and their famous pasts such as Sloan's partaking in CBeebies and the throwback of 'The boys in blue' theme song in which Cannon and Ball played Police men just as they did tonight. The duo had the audience eating out the palm of their hand with their sharp wit and such an energy that clearly bounced off each other. The pair constantly got the audience involved when acknowledging late comers and making one audience member stand and sing alone to 'Who let the dogs out' when being caught not joining in.
Lord, who played Widow Twankee did a fantastic job of descending the room into hysterics upon every entrance. With more costume changes and puns than you could count, I'm willing to say he became quite possibly the best pantomime dame for not just me but a lot of others. He held such a timing during the routines which could quite easily have failed had they have slacked by even a second, it was admirable and by far the most impressive part of any of the characterisations, particularly during the Christmas number of 'Partridge in a pear tree' in which he worked as part of the quartet with Cannon and Ball and Sloane as Wishee Washee.
It is noteworthy to say that Dan Walter who played Aladdin, previously seen on E4's Stage School, and his Jasmine played by Chupak worked as a stunning pair. The connection between the two throughout was amazing to witness, and the voices when mixed together during their duets sounded nothing short of phenomenal. Each routine throughout the musical numbers maintained a high standard of energy on all scales, credit to the choreographer Thomas Spratt for the amazing work done with the whole cast to produce such a strong and interesting visual of movement.
Further mentions have to go to the ensemble of the show, particularly Siomone Cavaleri and Eamonn Cox, who at every point excelled in their roles, mostly that of the dance numbers where they shone despite having a disadvantage in numbers compared to the females.
John Garland blew the crowd away with his puppet operating, leaving certainly myself speechless wondering how he accomplished half the tricks he did with a bit of string and a puppet, one of many being the blowing up of a balloon. It was extremely entertaining to watch, and doesn't come as a surprise to learn that this was not his first time on stage performing his act for pantomime, as he had previously wowed the crowds of Darlington Civic Theatre during their 2015/16 Christmas Pantomime of Cinderella.
Panto truly is the only time of year where booing aggressively at the villains, singing passionately along to songs you love to hate and laughing so much your sides hurt is not only allowed, but encouraged. Guaranteed to give every spectator a magical start to the Christmas season, I encourage you to grant yourself a Christmas wish and get on down to Crewe's Lyceum Theatre, kids in tow or not – it certainly will not disappoint. Performances set to finish on December 31st 2016.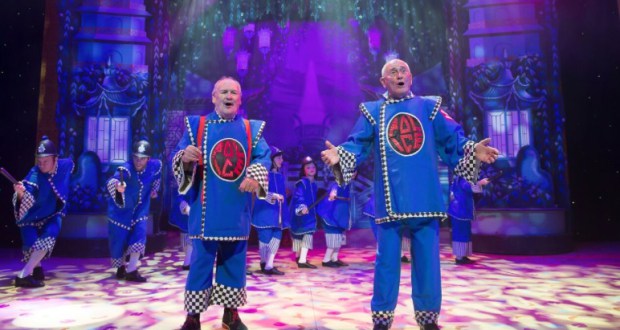 Reviewer: Amanda Woods
Reviewed: 10th December 2016
North West End Rating: ★★★★★
Photo: Phil Greig