If you expect a tribute to look like who they are portraying, sound like them and even perform like them than Magic: A Kind of Queen is not the tribute act for you. Maybe this is why the first thing we see on the screen at the back of the stage, the words, 'this is not a lookalike performance' is given as a warning and stating the obvious when they walk out onto the stage! Whilst they do state that they do not attempt to emulate Queen visually on their flyers, it's apparent by audience reaction (looking at one another with puzzled expressions and hiding their giggles) that many are not aware of this.
Magic were formed in 1974 and were an act performing the covers of the Four Seasons, ELO, The Beach Boys and of course Queen, branching out in 1993 to dedicate a show to Queen alone and have been touring ever since.
Launching into 'Seven Seas of Rhye' is lead vocalist Roger Brown which is then followed by 'Killer Queen'. By the third song 'it's a Kind of Magic' (I was truly wishing it was….) the audience are not warmed up and Brown encourages arm waving and clapping and indeed when he does, the audience do for a short time but it is not spontaneous.
Thankfully Brown does have a good voice and once you are over the fact he is no Freddie Mercury, then quite pleasant to listen too at first, but it's a bit like having an album of great songs covered by 'various artists,' you soon tire of it. The first time Brown held the microphone out to 'hear' the audience sing back to him was a little a little embarrassing as there was hardly anyone singing along! This did change as the evening wore on and one half of the theatre seemed to be enjoying it more than the other and possibly the enthusiasm of a small group on one side was infectious.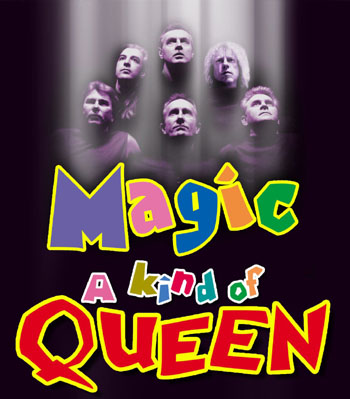 The screen at the back of the stage seemed a little pointless as for the majority of the evening simply bore the word Magic, there were briefly some Queen clips and I would have liked to have seen more. The supporting musicians consisting of drums, 3 guitars and keyboards all gave an excellent performance with great guitar playing on 'Tie Your Mother Down'. All five of them supported Brown vocally too, especially on many of the high notes. Some great drum playing by new drummer Mark Dobbs particularly during 'Keep Yourself Alive'. The keyboard skills of Dave Chapman showed a brilliant talent too.
After the interval sadly many of the audience did not return to their seats, with 18 seats in front of ours alone, remaining empty (we were on the 6th row) and 4 people to the side of us leaving early too. I was informed that there was a large group at the back of the theatre who did not return either. This was quite sad actually because there is no doubt that Brown and the band do put on a great performance and give it their all, so I can only surmise that those leaving expected a 'true' tribute to Queen rather than watch an act just singing all the greatest hits of Queen. They certainly did cram in an amazing amount of hits including 'Somebody to Love' 'Don't Stop Me Now' 'I Want To Break Free' and 'These are The Days Of My Life'.
At the end of the 2 hour show, the enthusiastic group in the audience were on their feet and cheering for more, obviously the band were going to return anyway as 'Bohemian Rhapsody' had not been performed by this stage and no Queen act would be complete without a rendition. The band surprisingly returned with an ELO number 'Mr Blue Skies' which I thought they gave a really good performance on. They then went on to sing the expected 'Rhapsody' followed by another Queen hit. Quite a long encore!
The audience were now on their feet, whether as a standing ovation or because they were ready to leave could be debateable. If you love the music of Queen and that is all you want from a show then this band will not disappoint however if you want the whole package then I would not recommend this one for you….. In the words of Mercury this one is purely 'The Great Pretender.'
Reviewed on: 18th March 2016
Reviewed by: Lorna Weekes