Liverpool Loves Reggae - and YolanDa Brown
YolanDa Brown is a British saxophonist playing Tenor, Soprano and Alto Saxophone. She is a 2008 MOBO 'Best Jazz' winner and in 2009 became the first musician to not only be nominated in the 'Best Jazz' category of the MOBO's in consecutive years, but also the first to win it two years running. She also won 'Best Jazz' at the UMA's the same year.
Brown has worked with a range of musicians and as a solo artist/saxophonist has worked in genres from straight ahead jazz to grime. She toured in 2008 opening for The Temptations. In February 2012 Brown released her first album, 'April Showers May Flowers', which was listed as an album of the year on UK iTunes 'Best Jazz Album of 2012.' Her sophomore album is due for release in 2016.
The Reggae Love Songs Tour is Brown's opportunity to explore a different genre whilst re-visiting some earlier recordings with a different slant as she explores and discusses the theme of love in all its guises and St George's Hall in Liverpool was a perfect venue as rich architecture met rich musical fusion for the first time.
Brown opened with TokYo Sunset from her first album and her movement on stage belied the amount of 'oomph' required to play a Tenor Saxophone. She was ably supported by her band comprising keyboard/piano; guitar; bass guitar and drums. This was swiftly followed by our first reggae number of the evening and it was interesting to see how well Brown directed her band with a nod of the head to give them an opportunity to solo.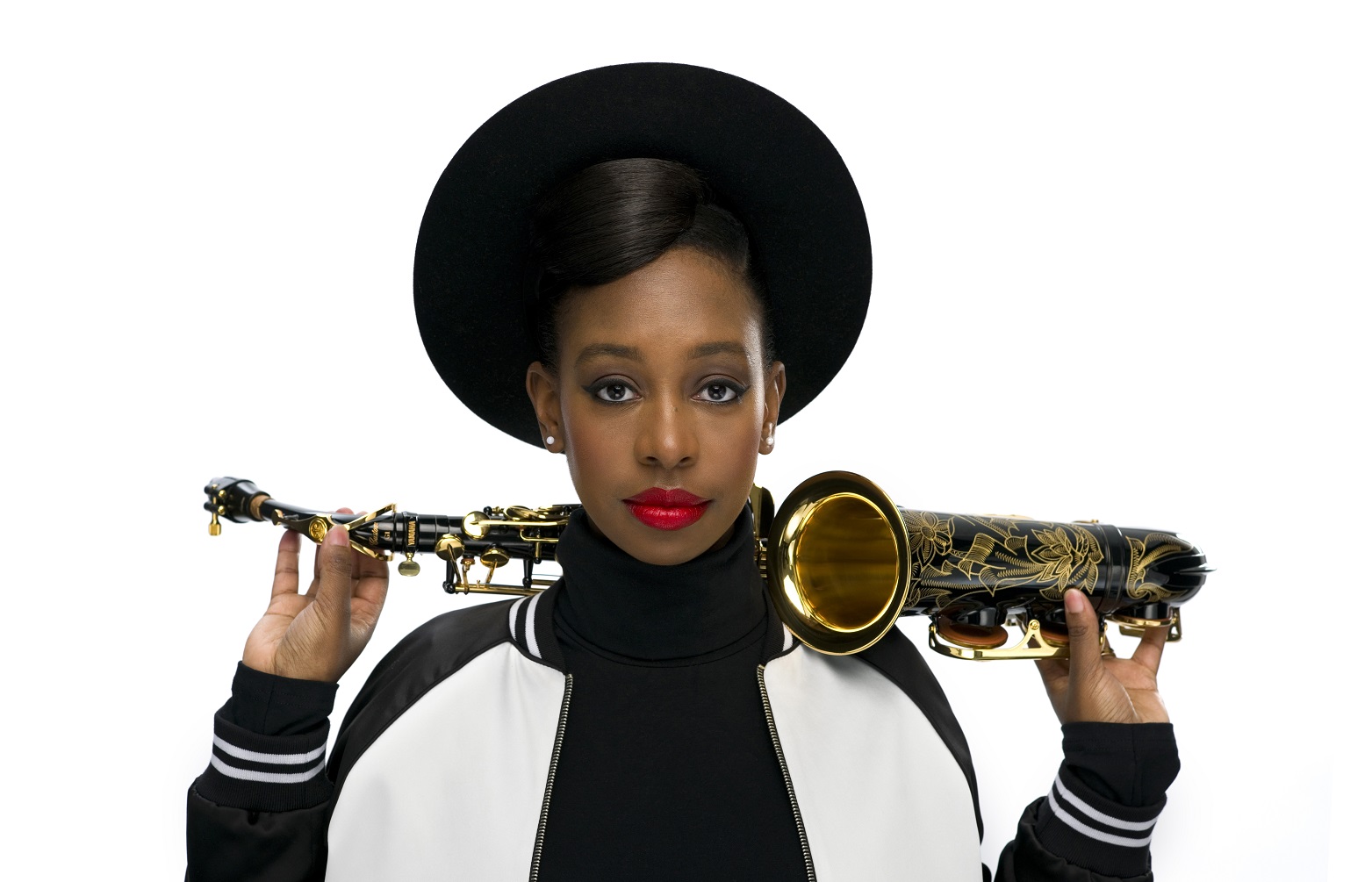 A two-song tribute to Bob Marley was next as, still on Tenor, 'Waiting in Vain' and 'Is This Love' brought the two strands of the evening together and the audience were up and dancing. Brown then highlighted the different ways that love can be expressed as she played 'Dear John' from her first album, a tribute to her professor when she chose to pursue a musical career in lieu of a PhD at The University of Kent. In the same vein Brown then took up her Soprano to play 'My Funny Valentine' complete with trills and chromatic scales as part of some great improvisation. She dealt brilliantly with some microphone issues by getting audience feedback to direct the sound desk before eventually switching to a microphone from another instrument.
The first half closed to Brown's Alto playing another Marley classic 'No Woman No Cry' and as we considered unconditional love we knew everything was going to be all right despite sound issues now affecting the bass guitar as Brown expertly handled the varying tempo changes in this piece.
The second half opened to some 'Old Skool Reggae' with some great improvisation between the guitar, keyboard and Brown on her Tenor. We continued with 'ConFusion' again with good supporting solos from the band before launching into 'Summertime' (with a twist) and finally a bass guitar solo with the earlier sound issues now resolved. It was pleasing to see Brown name-checking audience members who had tweeted in advance of the show.
One of the other aspects to Brown's Tour is that she is joined by at least one vocalist from a pool which includes Michelle Williams, Lemar, Mica Paris and Omar. Tonight we were joined by Shingai Shoniwa from The Noisettes, once described by Rolling Stone as 'the living, breathing manifestation of the rock & roll spirit', and the audience were delighted to dance along to the classic 'Never Forget You' as Brown's Alto and Shoniwa's vocals combined perfectly.
Returning to her Soprano we considered the memories of loves lost to 'Silhouette' and Brown came and played amongst the audience including sitting down right in front of me - show (wo)manship at its best. A formal introduction to band members (Mike - piano; Ed - guitar; Nathan - bass guitar; Talbot - drums) then led us into the evening's reprise, Brown's take on 'Hey Jude'. As Brown left the stage and the band played on the audience stood clapping, hoping for an encore but unfortunately it was not to be. Brown did join the audience afterwards in the lobby to pose for photographs and sign merchandise which was a lovely touch.
All in all an accomplished and polished performance although I wonder whether with a little less stage movement Brown could take her sound deeper and further beyond its current boundaries.
Brown is touring throughout the year around the UK, full details available at www.yolandabrown.co.uk, in advance of the release of her second album.
It was great to see St George's Hall being brought back to life and therefore all the more unfortunate that there were some sound issues. To hold concerts of this nature I believe an enhanced sound system is a must and perhaps some acoustic baffles/drapes to better control the sound reverberation in the room. Other than that, a perfect and accessible venue and worthwhile checking out for a visit http://liverpoolcityhalls.co.uk/st-georges-hall.
Reviewer: Mark Davoren
Reviewed: 8th March 2016