Not being a fan, as such, of The Bee Gees I made sure I was accompanied by someone who would be able to vouch for the authenticity and quality of the performances in this production at Theatre Royal Wakefield; I was well equipped with a mother in law who could arguably be Barry Gibb's biggest fan, remembering fond memories of this band of brothers right back to the 1960s. This was indeed the first thing that stuck me when entering the theatre and seeing the pre-show montage of Bee Gees interviews and rolling images of CD cover after CD cover on the big screen at the back of the stage, which stayed prominent throughout the performance: This production would span 50 years of incredible music making (and let's be honest it really was incredible) as you forget just how many number one hits these talented, high pitched, tight trouser, flare wearing, bearded men achieved in their careers; not just for themselves but also for a large number of other pop stars.
The front men Tony Kelly (Barry Gibb), Peter Simpson (Maurice Gibb) and Dominic Feekery (Robin Gibb) were well supported throughout by a great live band comprised of J Black on Keys, Johnny Leon on Drums and John Malone on Bass Guitar. In the opening two numbers the mix was a bit rusty and some of the vocals not quite balanced with the sound of the band and whilst this was ironed out by the third number it's not something you would expect from a live music event using its own sound team on tour. These talented musicians, dubbed "The Irish Bee Gees" had travelled from Dublin to take their audience through the early years of the 60s, the disco classics of the 70s, the comeback hits of the 80s and 90s whilst managing to throw in a few extras in the form of those hits written for others (Celion Dion, Dionne Warwick, Diana Ross) and included a lovely tribute to the brother Andy Gibb who died early on in his career. Tony Kelly made a likable Barry with a strong vocal performance, often emulating the trade mark falsetto voice of the group's front man. From the opening number of "You Should Be Dancing" he captured an authentic performance and by the last number had certainly charmed the ladies of the audience with his cheeky Irish smile and occasional jokes about their singing at the wrong time. In fact there was plenty of audience interaction and the three boys did their best to get this audience clapping, singing and tapping along. Peter Simpson's Maurice made, to me anyway, a good support act; he looked the most convincing and true to his Bee Gee counterpart, possibly as he appeared to be the youngest of the group. His backing vocals were good, his piano solos well executed but I found his wandering off to get a drink mid song (when he had nothing to do) a little distracting to be honest. Dominic Feekery's Robin was a fine vocal performance but not more so than his impressive lead guitar skills which often appeared effortless.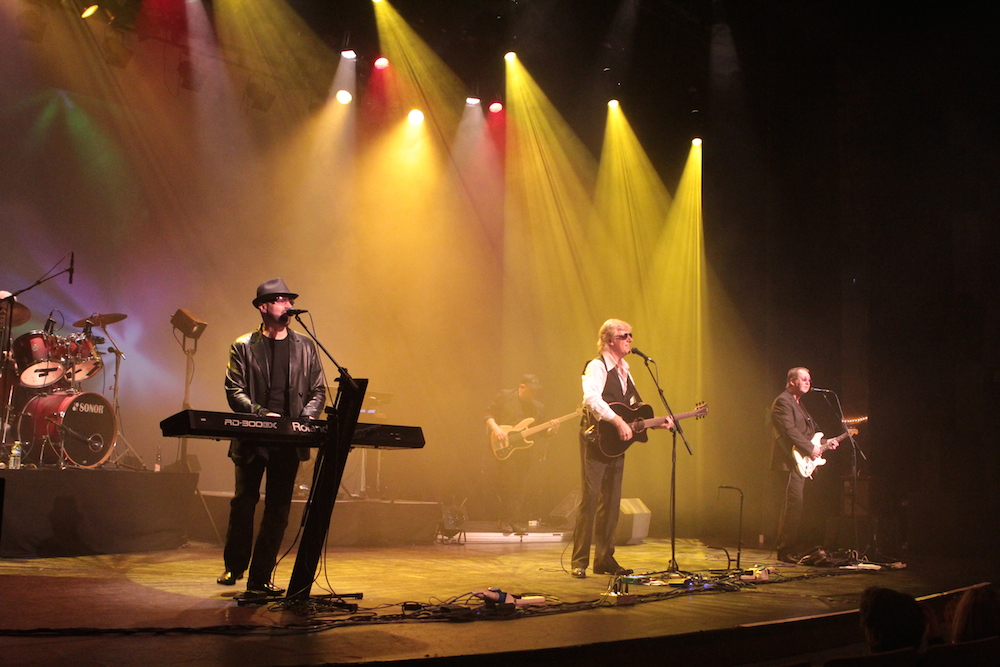 At first I was worried that Feekery seemed disinterested and bored by the whole experience and that he would probably rather be on the boat back to Dublin, but I was assured in the interval by my companion that he was simply playing the part of Robin very convincingly; you see Robin was the quiet one, who rarely spoke on stage or in interviews and often appeared moody: I guess that was an authentic performance if that is, in fact, the case.
Whilst there is no doubt that we had some very talented musicians on stage I cannot overlook the ridiculous and frankly distracting video images that appeared behind them throughout. In fact the first distraction was in fact that the projected image was wonky and there was inaccurate projector keystoning which, whilst I know is a minor thing, was incredibly annoying and frankly in-excusable for a professional show. More frustrating than an off centre image though was the simply bizarre choice of stock-video images that presented themselves behind the performers. At first the swirling, whirling images of light appeared to work but then it became a sheer distraction when it was obvious that none of the imagery was planned and in fact often continued between tracks or totally contracted the lyrics of the songs. Some of the most bizarre was during an early love ballad where fire balls and flames erupted through piano solos, not to mention the images of Las Vegas which accompanied the start of the song "Nights on Broadway"! Surely though, the most inexplicable was the video of sperm fertilizing an egg during arguably one of the Bee Gees most loved songs "Words"!
In fact it didn't stop there as in this particular song there also featured a DJ playing to a crowd at a rave, a girl spinning fire batons and another girl gyrating in a bikini! I was totally lost to see the reason behind this, except that it simply hadn't been thought through. It was unintentionally amusing in the end and surely if you are going to go to the trouble of using projection you should at least select appropriate video images to match at least the mood and tone of the song. It would also be good to get a media player that doesn't display "Next" in the top right when you skip the playback along to the next part. My final grumble in terms of the stage presentation was the unsightly desk at the side of the stage, complete with trailing wires. Now I know that this was to all intent and purpose a "gig" but I just thought this could have been tucked 1 metre away behind the side flats to give a more professional image.
These last few points said through, in all honesty, probably did not matter one jot to the majority of the audience at the theatre this evening. They were there to sing along to and reminisce over the classic hits of The Bee Gees and they certainly had that opportunity. On the whole this was an enjoyable and authentic night of entertainment delivered by talented musicians that had a good chemistry and rapport together. By the end of the show the audience was on its feet clapping, singing and dancing, having enjoyed a good night of entertainment – you can't really ask for much more than that can you?
Reviewer: Ashley Price
Reviewed: 23rd February 2016