"I'm feeling good." "Oh, what a night!" The opening and closing songs of a fantastic night in the musical company of the cheeky chaps that make up The 4Tunes.
The boys from North Wales, Bournemouth, Ireland and Sunderland treated us to an evening of musical theatre, swing, pop, acapella and so much more.
The 4Tunes are a group of musical theatre stars, who have appeared in the West End and international productions. They are also performers on some of the best cruise liners in the world. In fact the six dates of this theatre tour are interspersed by their dates on the ships - including one in my hometown of Basildon in Essex!
It was a musical feast for the ears and they weren't bad on the eyes either! Their harmonies were sheer bliss, taking songs that were familiar and creating a soundscape that was beautiful and interesting. I could tell you the set list of the night but I don't want to spoil the surprise. Needless to say, when they took on Bohemian Rhapsody by Queen, a behemoth of a song, I was in awe and like many a reviewer before me all I could say was, "Wow!"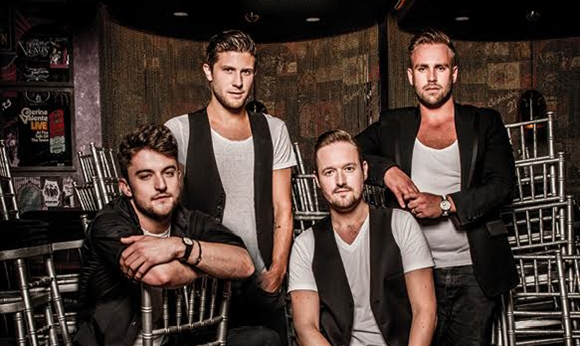 These guys were seriously at the top of their game and they were having a lot of fun doing it. There was a real camaraderie on stage, a playfulness that included the audience, they lifted my spirit and at times I felt like I was soaring on the waves of sound that emanated from the stage. Then at other times I had goosebumps and tears in my eyes.
At first I thought that each of the guys would take a part and stick to in throughout the evening but I was wrong. At times each other performers took the lead vocal, backing vocals and they floated around the harmonies from rich bass notes to beautiful falsettos. The vocal gymnastics create texture and aurally interesting sounds that didn't distract from the songs, they only enhanced them. For example, hearing "The music of the night", from The Phantom of the Opera, in four part harmony was sublime.
I can't heap enough praise and superlatives on these guys. Each one of them were given the space to sing a solo piece during the night, a moment in their own spotlight - confirming their individual talent. But the synergy of the performers together in duets, trios and as the quartet was truly breathtaking. The music wasn't live but the Epstein theatre was alive with whoops and applause. In the end, most of the audience were on their feet dancing and singing along to a medley of songs from The Jersey Boys.
"Oh, what a night!"
Reviewer: Alan Harbottle
Reviewed: 5th February 2016