To find the second word used in the programme notes for a relatively unknown young opera singer to be 'extraordinary' is some starting point. But the evening demonstrated that sometimes, just sometimes, high expectations can be justified … and then promptly surpassed.
And make no mistake, The Liverpool Opera – Four Seasons team had pulled a blinder. Not only was this the UK debut for Chinese born baritone Yunpeng Wang, they had beaten Convent Garden to him and this will add to the compelling history that this performer is rapidly writing for himself. And it already makes fascinating reading.
At an early age he was mesmerised by The Three Tenors which influenced him to pursue his passion and go on to study at the Central Conservatory, Beijing.
But even with a talent such as this, it is refreshing to discover that you still need those two elusive bed-mates, Fate and Good Fortune to come skipping into your life. And this occurred when he was just about to graduate from the Conservatory and one evening, made a chance appearance performing at a local dinner party. For fate and good fortune had ensured that the Dean of the Manhattan School of Music was also present. At 27, Wang was promptly invited by him to study a Master's Degree in Vocal Performance.
And how many opera singers of his age and experience have none other than Placido Domingo inviting them to be a special guest at his concerts?
It was with this background and pedigree that a packed audience had gathered in the sumptuous surroundings of the historic St George's Hall and before a platform upon which Charles Dickens had given readings of his works.
Wang was joined for this performance by the well-known Hungarian soprano, Ingrid Kertesi and they made for a formidable pairing with an eclectic programme of 'standards' and of surprises.
And from the first note, Wang had ensnared the audience.
He has a presence on the concert platform which is uncomplicated, unassuming and above all else, honest. He is so unpretentious in both his manner and vocal style that he puts the observer at ease and draws you into his world; you don't know him, but he projects the persona of a long-lost friend who musically gives a resume of what has happened in the intervening years.
His opening piece, Avant de quitter from Gounod's Faust immediately evidenced a superb line, evenness and quality of tone and above all else, control.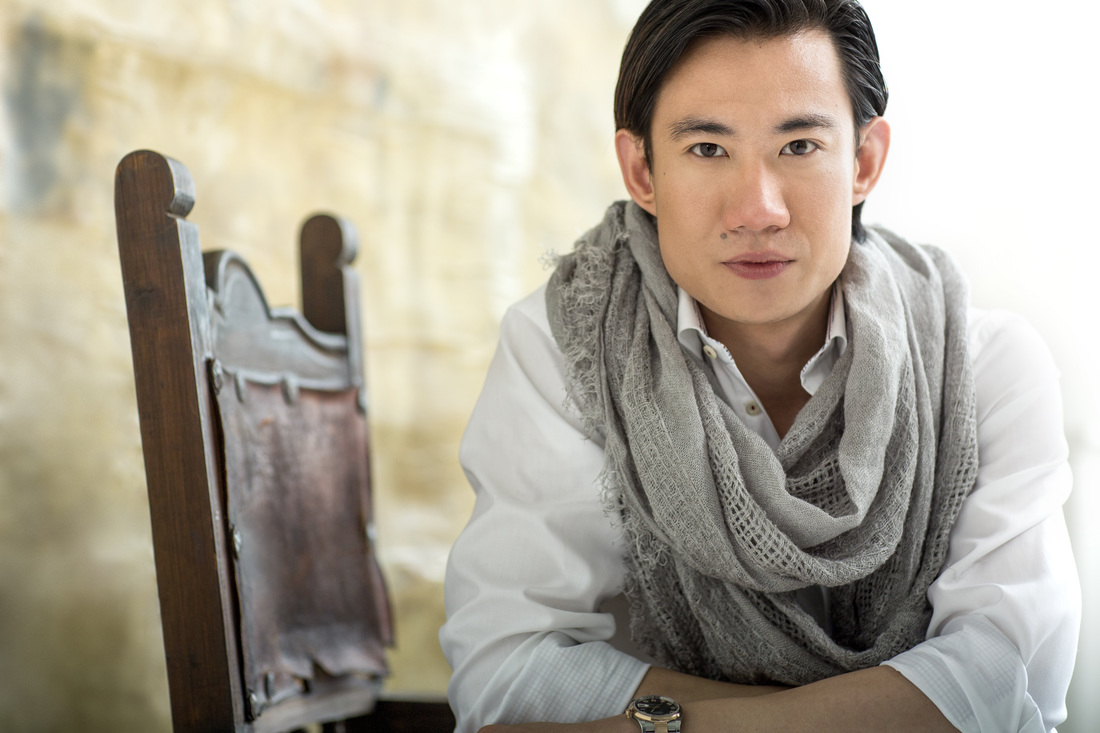 The first offering from Kertesi demonstrated that not only was the programme inspired but so was the pairing. Her Ave Maria by Caccini immediately gave us an insight to her musicianship and her strengths. The purity of the sound was so well suited to the piece and resonated with restraint and ease around the auditorium almost adorning the ornate pillars which framed the platform.
And from that point it was delightfully relentless from the two of them; Kertesi with her pedigree of experience in performance and recording behind her and Wang who simply captivated by simply being himself and allowing that effortless voice and engaging character to win us over.
Kertesi, the consummate performer, held the audience with each successive piece. The power, passion and effortless scales poured out of Je veux vivre from Gounod's Romeo and Juliette. With her perfect intonation in Caccini's Amarilli mia bella she made this deceptive and taxing piece look so simple to perform. And when it came to her piece from Verdi's The Sicilian Vespers, she valued every note, respected every lyric and made the complex so sublime and easy to enjoy. And when she allowed her power to flourish you could see the true musician at work.
But Wang was equal to the challenge of the evening and not only did he succeed, he soared. And this Chinese baritone evidenced that our dictionary is woefully lacking in available superlatives.
His Germont from La Traviata was wise and wonderful beyond his years. This is an opera role I hope I will be here to see him perform when his age permits.
And then buried in the programme he gave us Amor, vida de mi vida from Maravilla – a Spanish word which appropriately means 'wonder' and my goodness, did he provide it. I appreciate that many will equal his performance of it but it will take a rare talent to surpass it.
In the duet La ci darem from Don Giovanni, they were both glorious and Wang then gave us an insight into the actor and the comedian and he did not disappoint. This was not just an extract from an opera. His performance was a snapshot of character and context. Superb.
The Pace non trovo by Liszt saw him change gear again: not one wasted note, inflexion, expression, opportunity.
And finally, we saw Wang the showman as he came out and interacted with the audience for his performance of Largo al factotum from Rossini's The Barber of Seville. By this stage he had not only won over the audience, he owned them.
The evening ended with the obligatory encores. From Kertesi, a delightful rendition of O mio babbino caro. But Wang proved that it isn't over until the young man from China says so and for me, gave his performance of the evening with a Chinese piece which poured from his heart and defined his UK debut.
For the organisers, it must have been gratifying to see such a cross section of ages and communities represented in the audience. Great to see such an important concert being so accessible and ensuring the arts (and opera in particular) are engaging and attracting audiences of the future. It must have provided a great sense of pride and achievement also for those far sighted individuals whose generosity made such an event a possibility.
The evening was accompanied by the pianist Kirsty Ligertwood. And having been informed she took over the engagement with a week's notice, it made her performance even more remarkable: sympathetic, supportive, intuitive and exceptional.
Finally, I would suggest that Liverpool City Council need to start looking for a spare place on the wall of St George's Hall because I can envisage that at some point in the future, English Heritage will wish to record for posterity with a Blue Plaque, the night Yunpeng Wang came to town.
Reviewed: 24th January 2016
Reviewer: Martin Paul Roche