Westrock promises a night of "hit after hit" from legendary artists such as The Eagles, Fleetwood Mac, Steely Dan, Toto, The Doobie Brothers (or as their Facebook page reads - "The Doonie Brothers"), Journey, America, Santana and many more.
However, what Westrock delivers is an amateur sounding bunch of singers whom lack the feel of a well formed band. Fronted by a Cliff Richard 1980's era look alike (complete with the long hair and 1980s glasses), paired with a couple of middle aged male rockers on guitar, two thirty-something female singers who look like a Heart tribute band, thirty something female on keyboard and what looks like a member of West End musical Jersey Boys lingering at the back of the band. The band all wear a mis-matched variety of outfits which resemble Oxfam circa 1984. One would assume that the band had met at a local 80s bar THE REFLEX earlier that day and decided to form a band and put a show on that evening.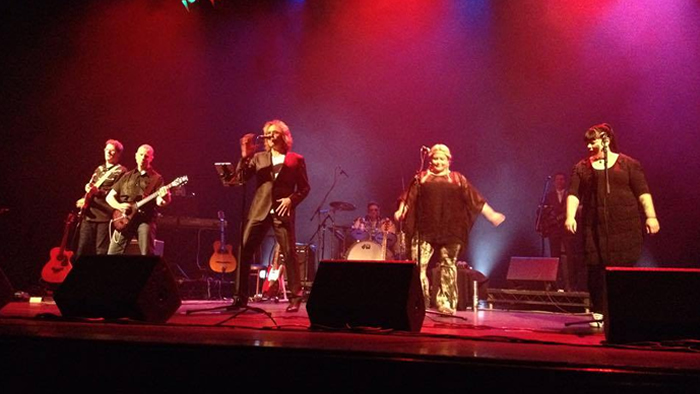 Although as a band they sounded "together", vocally they reminded me of a mediocre Butlin's' tribute style band. Not all song choices suited their vocal range and it was often almost impossible to make out they lyrics. Despite me being somewhat a bit of an 80s rocker myself, the song choices were not particularly the most obvious choices for the bands and artists mentioned above and in the glossy posters in the foyer. My companion for the evening is somewhat older than myself and even she didn't recognise a lot of the song choices. Teamed with the fact that the inside of the theatre seemed much colder than the freezing temperatures outside a snow filled Wakefield city centre, so much so you could see your breath in the air and nobody removed coats, scarfs etc, the evening received a frosty reception from the sparsely filled auditorium including one gentleman who when the band asked for audience participation shouted out "Well you won't be getting any from me" (the highlight of the evening) and a large group in front of us who left at the interval, the evening has to be the most disappointing of entertainment in over 30+ years of visiting theatres up and down the UK.
It was hardly surprising that after a delayed start that did not entice the audience, with poor ticket sales and an uncomfortably cold auditorium, a large proportion of people left before the end.
For less than the price of the cheapest ticket (around £20), my advice is - stay at home where it is warm and listen to a charity shop bought soft rock compilation instead. That way not only do you benefit from keeping warm, you also get to listen to some half decent artists. Don't Stop Believin'? Sorry Westrock, myself and half of West Yorkshire already have...
Reviewer: Lottie Davis-Browne
Reviewed: 16th January 2016