The Skids are an influential Scottish punk/post punk band. They had four original studio albums from the late 'Seventies and early 'Eighties but have returned nearly forty years later with a new album and a new, heavier sound.
The first three albums featured a songwriting core of lead singer, Richard Jobson, and talented guitarist Stuart Adamson. Adamson then left and formed Big Country. After much commercial success, Adamson's life eventually turned sour and he is sadly no longer with us, but his legacy is alive and well in his music, which fills the Ritz. Jobson always mentions Stuart Adamson, ("I'd like to think he's here in spirit.") hailing him as a great musician, who was responsible for the distinctive guitar sound of the Skids, a sound which is present at times on the new album.
Richard Jobson is a charismatic and energetic frontman, humbler than his posturing younger self.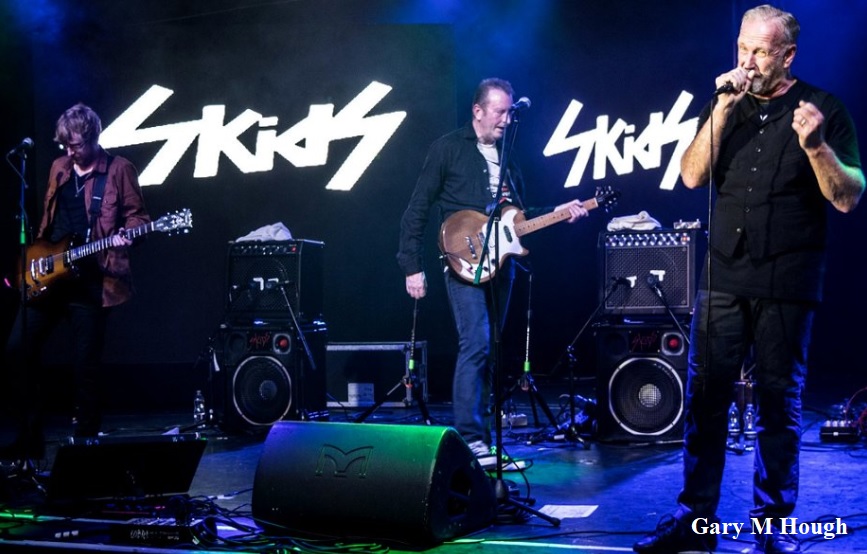 He is warm and human and throws himself around to the music like a teenager. His singing is full of passion and bile. His politics are angry, loud, common sense and he wears his heart on his sleeve. The connection this man had to the audience was quite something else. He is the lead Skid and the only member who's been there all along. The current line-up includes two former musicians from the early days, Bill Simpson on bass and Mike Baillie on drums, augmented by Big Country guitarist Bruce Watson and his ably talented son, Jamie, on rhythm guitar.
Tonight's set opened with a new song This is Our World; it is rousing and immediate. Everyone seemed to know it and sang along. Jobson asked if anyone had heard the new album. The reaction was resoundingly affirmative. He seemed genuinely surprised and said that when they played a gig in their hometown of Dunfermline, he asked the same question and no one spoke up.
Four songs were played from the new album, all exceptional, all sitting very well with the back catalogue, which comprised of virtually all the singles, including the hits Working for the Yankee Dollar ("A song more relevant today than ever before!") and Into the Valley ("Sing along, kick your legs in the air and be happy!"). These two classics, along with many Skids songs, have contagious backing vocals, which demand/invite the audience to join in. It's impossible not to. On a couple of occasions, after the song had finished Jobson started the crowd off singing again, so he could hear the strength and feeling and tunefulness for himself. I have to say, it sounded magnificent and he seemed genuinely moved by it.
I have a few complaints of the evening. A minor gripe: I was sorry there was nothing included from the fourth album, Joy, yet it's understandable as it's a very different, brooding and atmospheric album. My main disappointment was when – after multiple encores – the show finally came to an end with the three-chord punk, shouted classic, TV Stars, which simply features the names of Coronation Street characters. If the gig had lasted another five hours it would still have been too short. I just hope some of this tour is being recorded and a full length live album is released before too long, because this kind of talent and creative output needs to be preserved. This evening is what music was invented for.
Reviewer: Gray Freeman
Reviewed: 2nd June 2018
North West End Rating: ★★★★★