Kim Wilde was huge in the 'Eighties. Or at least parts of it. Eventually, she turned her back on pop stardom and turned her hand to landscape gardening, as you do. It was while sitting in her garden, planning a herbaceous border that Kim looked up and saw strange lights in the sky – a UFO – which inspired her to write and record her "come back" album, Here Come the Aliens.
Kim is the eldest daughter of 'Fifties rock 'n' roller, Marty Wilde. Her younger brother, Ricky, was briefly a child star in the early 'Seventies. [Check out I Am an Astronaut (he clearly isn't) on Youtube, if you dare. Or better still, don't bother.] This nauseating brush with fame at such an early age (eleven onwards) might have put Ricky off music for life. Fortunately, it didn't. It was while recording new material in 1980 that his sister, Kim, was discovered by accident and shot to fame with her first single, Kids in America, which reached number 2 in the UK charts.
Kim's self-titled debut album is a rebellious and youthful affair of moody stances and tuneful post-punk. Ironically, the lyrics were written by (then) middle-aged dad, Marty, who tackled subjects as diverse as tinnitus and prostitution, along with bad boys, relationships and the youth in America – which is actually about kids who don't live in America at all, but do live it Hertfordshire.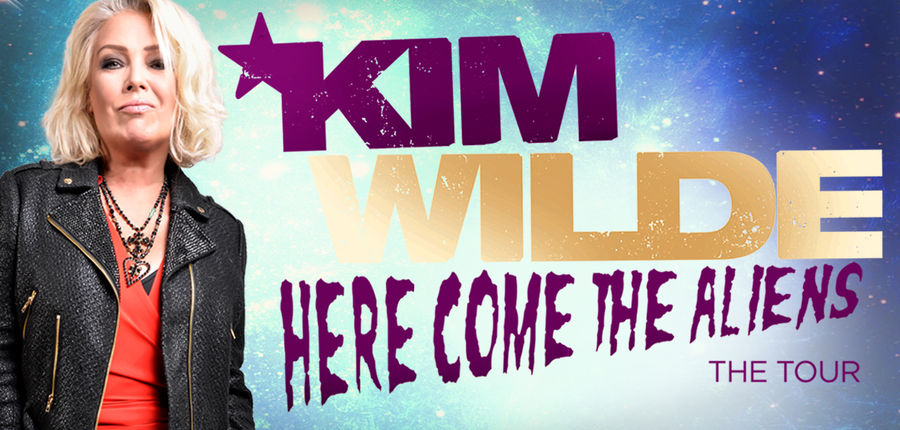 Tonight's show definitely isn't a greatest hits tour. Nor is it or a part of the "Here and Now" franchise featuring stars from yesteryear, wheeled out to perform cabaret-style versions of a handful of their most popular songs. This is a full, headlining UK tour in support of a new recording. Just before the show, I heard a woman behind me say: "I want her to play all the hits that I know, not the songs I don't know." She might have been disappointed by the show, (but I doubt it) because while there was a liberal sprinkling of hits from over four decades of singles, three quarters of the new album was showcased. For me, these were the best moments. These new songs lend themselves brilliantly to live performance and were amazing.
The show opened with a new song, Stereo Shot, which immediately set the tone. This was no tinkly 'Eighties pop; this was a rock concert at full throttle. The bass was booming, the two sets of drums were thrashing. It was very loud. There was a full band, including brother Ricky on rhythm guitar and his daughter Scarlett on backing vocals. Early single and instant crowd-pleaser Water on Glass followed. Other classic hits included Cambodia, which at the time showed a lyrical depth and was a brave choice for a single, stripped-back musically with more reliance on a very obvious electronic sound. The crowd reacted with energy and excitement to the old favourites, View From A Bridge, You Came, Chequered Love, but the new songs were so commanding that people were also captivated.
This was the last night of a month-long tour. The band were energised and appeared to be in an effervescent mood. This was a group of consummate professionals having a party on stage, loving what they do, loving the music they were making. Kim herself has grown into a bubbly and confident performer; her voice has matured and she is likeable and always watchable. She wore an OTT, tongue-in-cheek black diamond encrusted spacesuit-like outfit. The style and attitude was 'Fifties B-movie; she looked a bit like Tron. Disco Tron.
Recent singles, Kandy Krush and Pop Don't Stop, might have disposable-sounding titles, but the songs are hypnotically, infectiously, pandemically catchy and layered with melody. Musically, the new songs contain many retro elements, but they are also current and vibrant. They are meticulously crafted songs.
The original set ended with 1969, the bedrock of the Here Come the Aliens album, which was camply comic with Kim brandishing a flashing ray gun to protect us from the invaders, who she warned us were on their way. The whole band took part in a perfectly executed dance routine, which was stunningly visual. Hearing Kim gleefully sing the line "Maybe they'll save us from the apo-ca-lypse when it comes" was worth the ticket price alone.
For the encore, Kim returned to the stage, now sporting a winged collared cape in the style of Emperor Ming, which was very kitsch. It's showbiz folks. The single Pop Don't Stop, a duet with brother Ricky, tells the story of their involvement in music. Finally, the show reached a climax with an extended and thrashing guitar, rock-out version of Kids in America, what else. Literally a show-stopper.
Kim took time to thank her excellent band and the crew, getting quite emotional at one point. Extended bows and thanks followed, as the last night the whole crew were dragged up onto the stage. I imagine there will be a few sore heads this morning following a mammoth after-show party. She paid tribute to her brother, songwriter, musician, producer and colleague, Ricky, who has been at her side all along. She was nearly in tears and it was very touching.
My ears were ringing and I bounced out of the Lowry like a teenager. The aliens might be coming, but pop don't stop. A Wilde night to remember!
Reviewer: Gray Freeman
Reviewed: 30th April 2018
North West End Rating: ★★★★