The Overtones (known previously as Lexi Jo) auditioned for the X-Factor in 2009 when there were four of them. They then became a five piece band and renamed themselves The Overtones. Their style is doo-wop 50s mixed with some pop songs. Whilst working in their painting and decorating company on London's Oxford Street (they formed the company so they could work together and practise singing at the same time), they were spotted by a talent scout from Warner Brothers and the rest is history.
Tonight was the first night of their tour: "A Christmas Party with the Overtones". Before they even came on stage, the audience (mainly ladies of a certain age it has to be said) were in a high state of excitement - complete with Santa hats, Christmas jumpers and so many sequins that people's retinas were at risk of being burned out.
When they took to the stage, the whole set was lit up by hundreds of fairy lights and there were four white Christmas trees - very festive and very appealing. They began the show with 'The Most Wonderful Time of the Year' and this was performed well with excellently precise moves which were very pleasing to watch because their timing is immaculate. They are clearly born performers.
Unfortunately, as soon as they went into the next song, 'Sleigh Ride', the audience took to their feet, blocking the view for anyone who chose not to stand. Whilst not wanting to sound like a complete party pooper, I found this very irritating - I understand that this show is being presented as a Christmas Party but not everyone wants to get up and make a spectacle of themselves in front of other people so you had the choice to either sit down and not see a single thing or you had to stand and even then, the view was impeded by the people who were dancing.
For the entire first half, my view was restricted to a very small corner of stage right and I occasionally glimpsed the singer who was at that far side of the stage. Many people left their seats and asked to be moved upstairs into the gallery as they couldn't see and it became apparent later when talking to the Front of House staff that there had been a lot of complaints from people whose enjoyment was spoiled by others.
Although the actions of the audience are not relevant to how The Overtones performed, I feel it is an important point to make as the band were actively encouraging people to get on their feet and in a move that I have never encountered before, they overrode the instructions to Front of House to deter people from photographing and filming and stated that people had paid a lot of money to be here and should be able to do what they want. On the one hand, this could be seen as a kind and generous sentiment but on the other, it is bound to impair the evening for a lot of people - myself included.
After the first two Christmassy songs, the rest of the first half was songs from their back catalogue - these were all performed slickly and with a great deal of polish.
The second half had a higher content of Christmas songs taken from their new album, "Good Ol' Fashioned Christmas". They sat on stools for part of the time but as soon as they stood, so did the audience. Fortunately, by that time, my theatre companion had requested that we be moved to different seats so although we were in the gallery, we had a much better and unrestricted view. (Thank you to the very helpful Front of House Manager who facilitated this for us, much appreciated).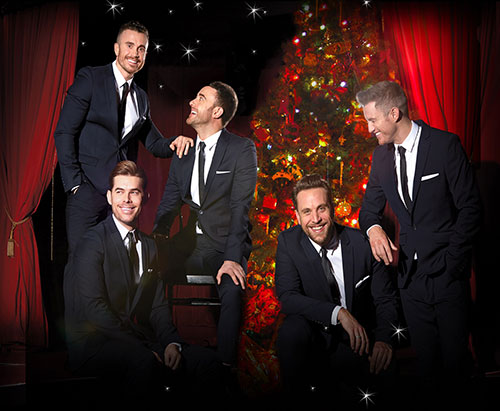 I very much enjoyed their performance of 'Pretty Woman' - this really highlighted their excellent dance moves which are tight, well judged and precise and was fun to watch. I also liked their arrangement of the song.
Just a minor irritant for me was the fact that whenever they spoke to the audience, they had to say "Manchester" in almost every sentence..."are you feeling festive, Manchester...have we warmed you up, Manchester..." Yes OK, maybe I sound a bit like Scrooge but when it's repeated so often, it does start to sound over-rehearsed and a little insincere… and we were in Salford! Sorry boys.
The Overtones clearly have an extremely - and I mean, EXTREMELY - enthusiastic and loyal following (the audience bordered on hysteria from time to time) and they know exactly how to work their audience, with cheeky comments about Christmas stockings and flirtatious winks, not to mention the heavily innuendo-laden question "who wants to pull our cracker". The slightest hint of a gyrating hip and there was bedlam!
Their old fashioned Christmas vibe worked very well and they are skilled performers for sure. I would just have liked a bit of old fashioned theatre etiquette from some of the other audience members to go with it.
Reviewed on: 7th December 2015
Reviewed by: Nicky Lambert