It would be a cold heart that wasn't warmed by this evening's entertainment from Lancashire's own folk favourites, The Houghton Weavers.
Performing a generous selection of songs from their repertoire which spans the 42 years the folk group have been together: the audience were treated to a mix of The Houghton Weavers original songs, folk classics, covers of popular hits and a sprinkling of Christmassy tunes for good measure.
Tony Berry, David Littler and Steve Millington first performed as The Houghton Weavers in 1975 and have recently welcomed longstanding contributor, Jim Berry (Tony's younger brother) as their fourth permanent member. During the 70s and 80s the group had their own TV show in the North West; "Sit Thi Deawn" continued for six series over seven years and had the highest viewing figures for any regional T.V. programme.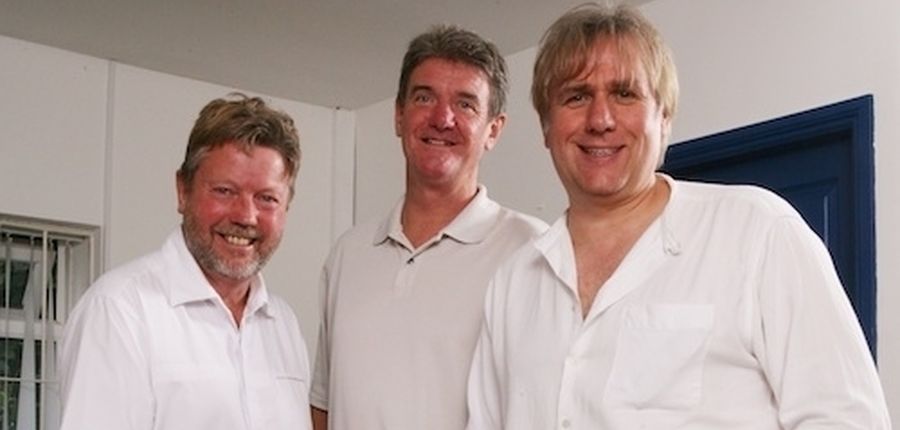 It's not surprising that the group have a loyal following gathered over their years in the business but you don't have to be a fan to be delightfully entertained by their own brand of music, storytelling, reminiscing and wonderfully awful 'Dad jokes'. Indeed, the funny stories and jokes seem to be a trademark of The Houghton Weavers performance. Tony Berry takes the lead in keeping the rapport with the audience going, he has a down to earth charm and sincerity which reflected the warmth and familiar comfort of the evening as a whole. The audience were encouraged to join in at every turn and did so to their obvious enjoyment. Their mission to "Keep Folk Smiling" was most certainly accomplished tonight.
It's true the audience were (not exclusively) an older crowd but I was surprised by how many of songs I knew or recognised. I loved their cover of the Lindisfarne's "Meet me on the Corner", Jim Berry's tribute to the audience "I'm a Haughton Weavers Fan', made me chuckle and tapping my foot (and yes I admit it singing along) to "You are my Sunshine" and "My brother Sylvest" transported me back to party sing-songs with my Nanna and Grandad…lovely.
The Pavilion Theatre at the beautiful Buxton Opera House is a fairly big auditorium and in the tradition of folk music the stage setting was simple (just the musicians and their instruments) but a warm and friendly atmosphere filled the space. Good sound quality and acoustics showed off the skilled experience and musicianship of the group very well.
So, the weather outside in beautiful Buxton was frightful but the Houghton Weavers offering was indeed delightful. A gentle, friendly and fun evening of folk and festive music perfect for a multi-generational outing and guaranteed to get you in the Christmas spirit. Their mission to "Keep Folk Smiling" was most certainly accomplished tonight.
Reviewer: Andrea Ethell
Reviewed: 10th December 2017
North West End Rating: ★★★★