There are many artists who can be deemed as iconic to the 80s, one such artist being Howard Jones. when he first came on to the music scene in 1983 with 'new song'; it was all about not going with the trends, not being hip and cool and not playing by the rules, now some 34 years later, Howard Jones still proves himself as a talented musician who doesn't do things in the conventual way.
Support for the show came in the form of Rachael Sage, who performed a number a uplifting songs which got the audience in the mood, the poem to bells may have been a step too far though.
Howard Jones performed at the Lowry as part of his stories and songs tour and what you see is what you get.
No band, no dancers, no elaborate stage; just the man and his guitar humbly sat in the middle of a vast empty stage.
With an idea like this, it immediately becomes more intimate and more focused, nothing to drag you away from the music.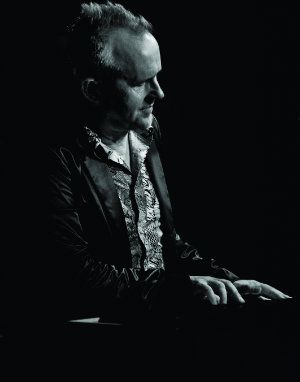 Jones interjects throughout the evening with stories of how the songs came about and some behind the scenes gossip.
This really turns out to be the show the fans want to hear, quite literally as Jones plays a number of audience requests from people who have emailed or contacted him prior and asked to perform a certain song, so it's a set list which evolves from each show on the tour and on that basis, no two Howard Jones concerts on this tour are the same, and in music, that's about as unconventional as it gets.
Jones performs classic hits such as 'Like to get to know you Well', 'New Song' and 'What is Love' while also performing new material and the song which he performed in front of thousands at Live Aid; the haunting 'Hide & Seek'.
Howard Jones proves quite the story teller when recounting funny stories about songs in his repertoire such as when his hit 'Like to get to know you well' was translated for the Japanese Market and somehow gained a new meaning, while also cementing his worthiness with fantastic vocals throughout his performance.
There is also a rather touching tribute to the late great George Michael with a cover of 'Careless Whisper' towards the end of his set.
This it must be said, is a very laid back kind of performance, if you're looking to be dancing in the aisles, this isn't the show for you but if you want to sit back and enjoy the lyrics and music of an extremely talented musician while also getting to know them well, then this is a show to see.
The simplistic nature of the show for me meant that sometimes I felt disinterested but on the whole it was an enjoyable performance and my highlight had to be his performance of the song that started it all; 'New Song' complete with audience members joining in.
Verdict: A Little too stripped back for me, but still a very talented songwriter!
Reviewer: Max Eden
Reviewed: 30th March 2017
North West End Rating: ★★★