Ray Quinn has done a lot with his time over the years. He spent 3 years in the Liverpool soap opera, Brookside, between 2000 and 2003. In 2006 he was on the 3rd series of X factor where he was runner up. In 2009, Ray won Dancing on Ice and also won the final of Dancing on Ice 'All Stars' series on 2014. He then went on to win the first series of 'Get Your Act Together' where he learned the craft of impressionism. In between all this he has appeared in musicals such as Grease, Legally Blonde, Dirty Dancing and numerous pantos.
Which brings us to tonight and his concert at the Blue Room, Floral Pavilion, New Brighton. The room is quite intimate for a concert but it added to the atmosphere. I'm not sure if the concert was originally supposed to be in this part of the theatre but it was certainly homely and raring to go.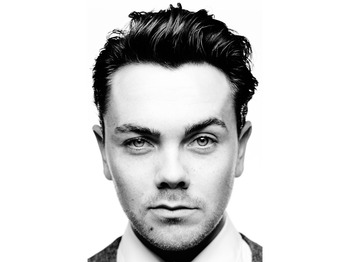 The support act for this evening was Chesqua, who was also part of Ray's backing group. Chesqua absolutely held her own and did a fantastic job of warming the crowd up. Chesqua did a mix of current covers and some of her own original songs. She has a unique sounding voice, very powerful and encapsulating in very word she sings. She really engaged with the audience and involved everyone there. A particular favourite of mine from her own music was 'What Do You Want From Me'. It was very upbeat and had the audience clapping along. I have a feeling this girl is going to go a long way as she has a great talent and I would happily buy tickets to her gig one day.
After a short break we were ready for the main act and wow was it worth the wait. Still hyped from Chesqua, Ray came bursting on to the stage opening with his first number. The evening was split into 3 parts music wise. Firstly Ray did covers of more recent songs. He had the audience clapping along and had me in awe, especially when he sung a cover of Ed Sheeran's' Thinking Out Loud. This song showed the range Ray had and he gave his all.
The second section was a stripped back version of swing songs, which seemed particular favourites with lots of the audience. He ended this section with a phenomenal version of 'My Way' which blew the audience away.
Finally, he did a section of songs from his upcoming album, No Man's Land. This was my favourite section. Ray told us a little story that went with each song, helping us fully understand what each song meant to him.
There were a couple of sad songs in there, Shadows and Time, which really told a story of times in life where it had been a struggle but he came through. Next up came 'Breaking Chains' a real fighting song, showing his strength and moving forward. To me this was the most powerful song of the evening. Ray put every ounce of effort into this song, making you feel you're coming along this journey with him. A couple of my favourites were Sunrise and Smile. Happy songs that really encapsulated good feelings.
The title song of the tour and album, No Man's Land is a hit! This has the whole audience joining in, clapping along and it's is playing over and over in my head even now while writing this.
Ray inserted a lot of humour in this concert but also told a lot of truths and was very honest, making the audience warm to him even more. At a point he came off the stage in to the audience shaking hands with people and welcoming us, giving a real caring feel.
At the end of the night, Ray was happy to sign autographs, pose for photos and have conversations with people which meant a lot to everyone, even me.
Special shout out to Ray's band and backing singers, Rachel Walters, Franchesqua Evans, Joe Boyes and Danny Wares who all worked so hard and gave a great atmosphere to a fantastic show.
Ray is continuing with his tour until November and I urge you, if it get a chance to go, please do. Tickets can be found at www.rayquinn.co.uk
Reviewer: Damian Riverol
Reviewed: 15th September 2016
North West End Rating: ★★★★★