"Oh, what a night!"
Big Girls Don't Cry is a tribute show to the Four Seasons, pop/doo wop/close harmony singing group who began in New Jersey in 1960 and became one of the best-selling musical acts of all time, with so many hits under their belts, it's difficult to count and many more familiar as having been covered by other artists. The show is performed by the East Coast Boys and their four backing musicians, the East Coast Band.
Sale Waterside is an excellent venue, modern and bright and comfortable. The auditorium is modestly full. There is no announcement, the music starts and the lights go down. When the black curtains draw back, the four seasoned performers are already on stage, wearing red, green, blue and lilac jackets and ties and they launch into the title track, Big Girls Don't Cry. The red suited front man sings in distinctive falsetto in the style famously used by Frankie Valli and the harmonies by the other three are incredibly good. The East Coast Boys look the part, they sound the part, but best of all are the tightly choreographed, perfectly timed dance moves that are captivating and easily conjure up the genuine Four Seasons. Immediately they have won the audience over.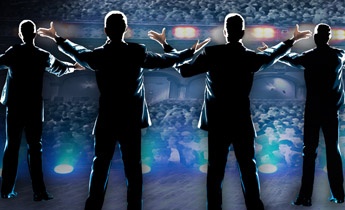 Between songs they chat easily with the audience. They are in character as the original Four Seasons, Frankie Valli, Bob Gaudio, Tommy DeVito and Nick Massi and speak in an Italian inflected transatlantic drawl. They are immediately likeable and strike up an easy rapport with a very appreciative audience. They tell us they've played all over the world: "Boston, Chicago, New York… and Sale" which gets a hearty laugh.
Many hits follow: Let's Hang On, Working My Way Back To You, Rag Doll and a stunning rendition of Silence is Golden. There are also obscure, older songs thrown in, such as Peanuts, which they released under the group name of The Wonder Who? With frenzied squeaky backing vocals and a fast, furious and hilarious dance routine.
They tell the audience they had a walk around Sale and went into "a beautiful little bar owned by J.D. Wetherspoon" and into "a nice little deli called Greggs", which elicits laughter and cheers from the audience… and to "the deer park, Dun-ham Massey" At each of these places they miraculously met women, who all shared names with their songs, as a tenuous but funny linking method.
One of the boys picks a lady in the audience and asked her name. "Jane" she says. "Marlena?" he replies. "No kiddin'! What a coincidence." The poor woman is dragged up on stage and they sing Marlena at her; she responds incredibly well as they proceed to vie for her affections. Dawn and Marianne follow, then Sherry "our first number one". All too soon it's the end of the first half. As everyone files to the bar and the toilets there is a hum of conversation and everyone is impressed with the show, and the general consensus seems to be: "I didn't know that was one of their songs."
The second half opens with the boys in white jackets and black ties, renewed after a half of lager, perfectly performing more hits, including Walk Like A Man… with its incongruous falsetto lead vocal and hilariously camp routine… Why Do Fools Fall in Love and Beggin'. After a quick change they reappear in leather jackets and perform Grease, the title track from the film, which Frankie Valli performed originally as a solo artist, which is accompanied by another amazing dance routine.
As one audience member heads out to the bar, the guys cheekily ask him if he'll get them a drink. Obligingly he comes back with a tray and four pints of lager which earned him a round of applause. (At the end of the encore he returns with four pints for the boys in the amazing backing band, which was a really nice and generous touch.)
The falsetto vocals of Frankie Valli aren't to everyone's taste, in the same way that the Bee Gees aren't. For me, the best moments are when all four are singing together and their voices blend perfectly. This isn't just a front man with his three bland backing singers; they each sang perfectly and brought so much visual style, warmth and character.
The last song of the main part of the show is, appropriately, Bye Bye Baby, more associated with the later cover by the Bay City Rollers; the audience are encouraged to join in; people are dancing down at the stage and the whole auditorium is in raptures.
The encore features a medley of songs, with more tight vocals and captivating dancing. Then finally to end the show the classic December 1963 (Oh What A Night) which had everyone standing, singing, clapping and dancing. A truly memorable song, a truly memorable finale to a truly memorable show. Everyone came away buzzing.
If you like the Four Seasons you should go and see this show. If you don't like them you should probably go anyway, because it's a great night out, the dancing is mesmerising and you probably know a lot more of the songs than you think. If it was on again tonight I'd go straight back, because this show has a feel good factor of ten.
Reviewed: 10th June 2016
Reviewer: John Wood
North West End Rating:★★★★