"The Astonishing Times of Timothy Cratchit" is another musical premiere for Hope Mill Theatre. Written by Allan Knee, with music and lyrics by Andre Catrini, it is described as the sequel to Charles Dickens' "A Christmas Carol".
Timothy Cratchit is now a teenager and in the care of his Ward, Ebenezer Scrooge. We follow Timothy as he strikes out into the world, wanting to find his own place and make something of himself, much to the chagrin of his benefactor who struggles to deal with Timothy growing up and wanting to become independent. Timothy's boundless enthusiasm for life and refusal to admit defeat sees him eventually find success as the assistant/protégé of Grimaldi, the famous clown, despite encountering some difficult life lessons along the way.
Ryan Kopel as Timothy Cratchit gives an outstanding performance, or dare I say, astonishing. He is on stage the whole time but never flags, despite having to constantly project youthful exuberance, whilst capturing the spirit of hope and positivity.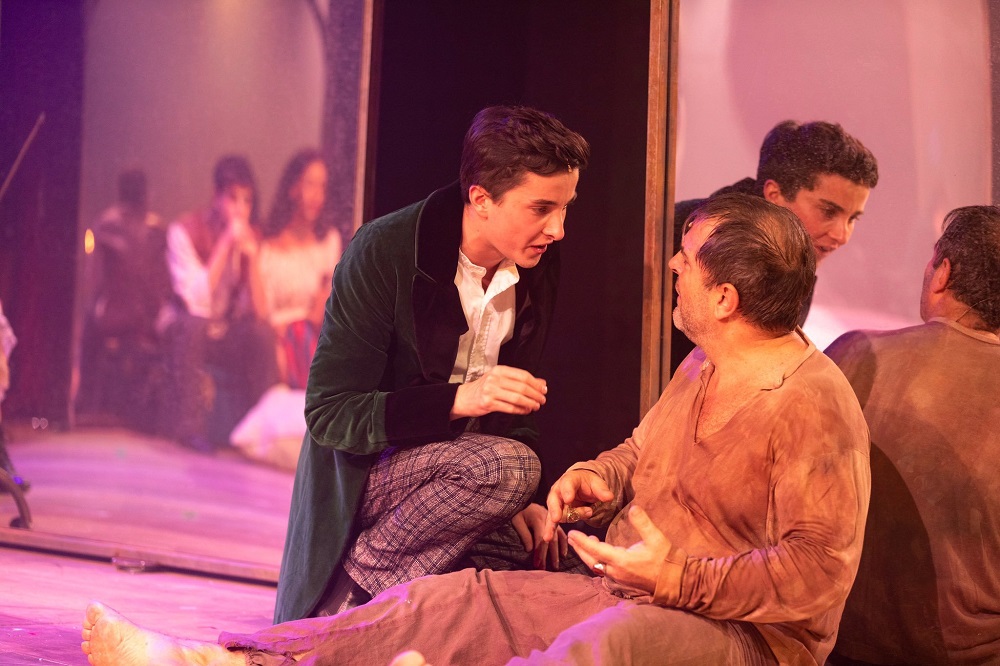 He is just so natural, with an easy charm and an endearing naivety. He displays eagerness and bashful awkwardness in certain situations which make the character very likeable. His interaction with Scrooge is exceptionally touching, particularly in the second half and their duet "In The Garden" is one of the high points of the show, albeit very emotional and moving.
I did feel that the character of Ebenezer Scrooge (Paul Greenwood) was a little too nice and almost unbelievably positive but that said, he did become a reformed character at the end of "A Christmas Carol". However, we did see him return to his former Scroogeish ways once Timothy leaves and I much preferred this version of him. His rendition of "Waiting" towards the end of the first half was full of bitterness and built the atmosphere wonderfully: prior to this I had felt that everything was just a little lightweight. Paul's later portrayal of an ailing Scrooge really pulled at the heartstrings and he gave an extremely strong performance.
Once Grimaldi (Michael Matus) is introduced, he proceeds to shamelessly and hilariously steal every single scene in which he features. Michael Matus gives an outlandish performance which appears to border on the brink of wild insanity, with Grimaldi's moods switching from enthusiastically joyful to aggressively hostile in the blink of an eye, whilst projecting tremendous humour. Every time he was on the stage he got the loudest laughs from the audience, with his faux Italian accent ("I was born in the Italian part of Brighton"), hilarious delivery and physical comedy. Grimaldi's troupe are equally quirky, with strong performances from all, making each character well defined and highly entertaining and amusing. There is also much humour from Helen Pearson who plays two roles but it is her performance as Mrs Poole, the Landlady of the boarding house, which gave us the first laughs of the evening. She is raucous and hilarious and I would have loved to see more of her, together with the other quirky characters who live there, particularly Mr Archibald (Tom Sterling) who popped up every now and then with brief gems of bizarre dialogue, delivered in an animated and entertaining way.
The first half tried a little too hard to throw a lot of plot at us – and with that came some exposition which at times was clumsy. There was a lot of plot to take in during the first twenty minutes or so and it was difficult to follow what was happening as we seemed to be hurtling through the story.
New musicals have the disadvantage of the songs being unknown but they should generally be immediate and catchy enough to hook you in. Unfortunately, I did feel that a lot of them were simply dialogue set to music and would never be the type that are still going round in your head after you have left the theatre. One or two were very moving, however and some have the potential to become memorable.
The set was quite minimalistic, cleverly utilising seven large mirrors which could be rotated. This was extremely effective whilst at the same time appearing to be deceptively simple. There was some excellent choreography and staging with the mirrors being used to full extent as screens and at times for ghostly apparitions to appear in which was hauntingly atmospheric.
The Victorian atmosphere was well created with the use of candelabra and minimal lighting.
The performance given by everyone on stage was worthy of five stars. Unfortunately I felt the writing let the show down slightly in some areas, with exposition and certain references from "A Christmas Carol" seeming to be shoehorned in. Some scenes could also be made tighter.
The second half was stronger and everything worked well. Although a couple of scenes were slightly overlong, generally things seemed to be coming together better and building well. There was some fabulous interaction between Timothy and Grimaldi with lots of humour and the performance of "A Joyeux Noel" was another high point.
The finale of "My World" sung by Timothy is absolutely spellbinding. I felt that as an audience, we were hanging on his every word and he had us all in the palm of his hand. It was a perfect way to end the show.
To quote Charles Dickens "there is nothing in the world so irresistibly contagious as laughter and good humour" so if you like the idea of that with a bit of bah humbug thrown in, this is the show for you. And god bless us, every one!
"The Astonishing Times of Timothy Cratchit" is at Hope Mill until 29th December 2019 https://hopemilltheatre.co.uk/events/the-astonishing-times-of-timothy-cratchit-hope-aria-productions/
Reviewer: Nicky Lambert
Reviewed: 27th November 2019
North West End UK Rating: Four Bah Humbugs