Cirque Surreal are a relatively new touring circus who combine traditional circus skills in a non-traditional with dance and drama. Quirki is their new show running in Manchester for the half term period.
Centre to the whole show is the highly engaging Chico Rico. Hailing from Mexico, he is the perfect clown for people who aren't keen on clowns. Gentle, humorous and beguiling, both his interactions with his colleagues or with his audience are beautiful showmanship. He is one of those performers who could easily keep the audience entertained by himself for the entire two-hour show. As one of those people who aren't keen on clowns, I found him a delightful character.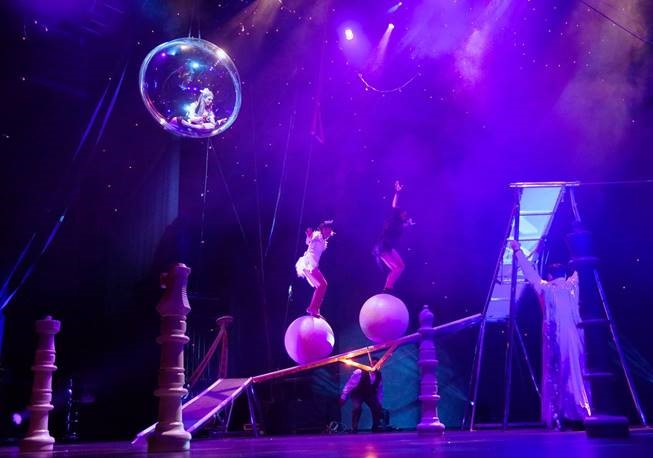 The first opening act was a contortionist and while obviously amazing at what he does, it makes for rather uncomfortable watching. Thankfully after that the show starts to flow and doesn't stop for the entire hour up to the interval and then again in the second half. From traditional circus acts such as tightrope artists, ribbon artists, trapeze work through to some incredibly beautiful illuminated inflatable horses, there is never a pause in the show. Even during technical set ups and take downs there a smaller performances or dancers to focus your attention.
Throughout most acts a mysterious silent ringmaster moves around the ring, watching, sometimes involved and always magnetic. Costumed in echoes of Labyrinth's Goblin King, they add to the drama and effects brilliantly.
Circuses often rely on the illusion of danger to thrill the audience. Here with Cirque Surreal, the majority of the acts. although highly dangerous, gave the impression of being so well performed and controlled that they were thrilling without the nervous anticipation. The exception being the space wheel act which saw a couple of near accidents and was difficult to watch or appreciate.
The first half had concluded with the space wheel, the second culminated with a small motorcycle terror dome. One bike in there was impressive, two – spectacular, but three left the audience on the edge as they drove around and over each other at impressive speeds in such a tight space.
Cirque Surreal are billing this show as Night at The Museum meets the circus. It's a fitting description as the entire evening feels like it could be exhibits coming to life to perform with Chico Rico as a bumbling janitor.
In Quirki, Cirque Surreal excel at combining well known circus skills with a stylish performance which includes dancing, singing and drama. It is a hugely enjoyable evening's entertainment and one that can be highly recommended for the entire family.
Reviewer: Helen Jones
Reviewed: 18th October 2019
North West End UK Rating: ★★★★