Jason Manford tonight starred in the UK and Ireland tour of Kander and Ebb's musical Curtains at the PalaceTheatre in Manchester, a musical whodunit.
The piece has a book by Rupert Holmes, with an original book and concept by Peter Stone and additional lyrics by John Kander and Holmes and was directed by Paul Foster.
The tour began at Churchill Theatre Bromley on 4th October and is touring several cities including Manchester, Cardiff, Sheffield, Birmingham, Liverpool, London and Glasgow, until 4th April 2020.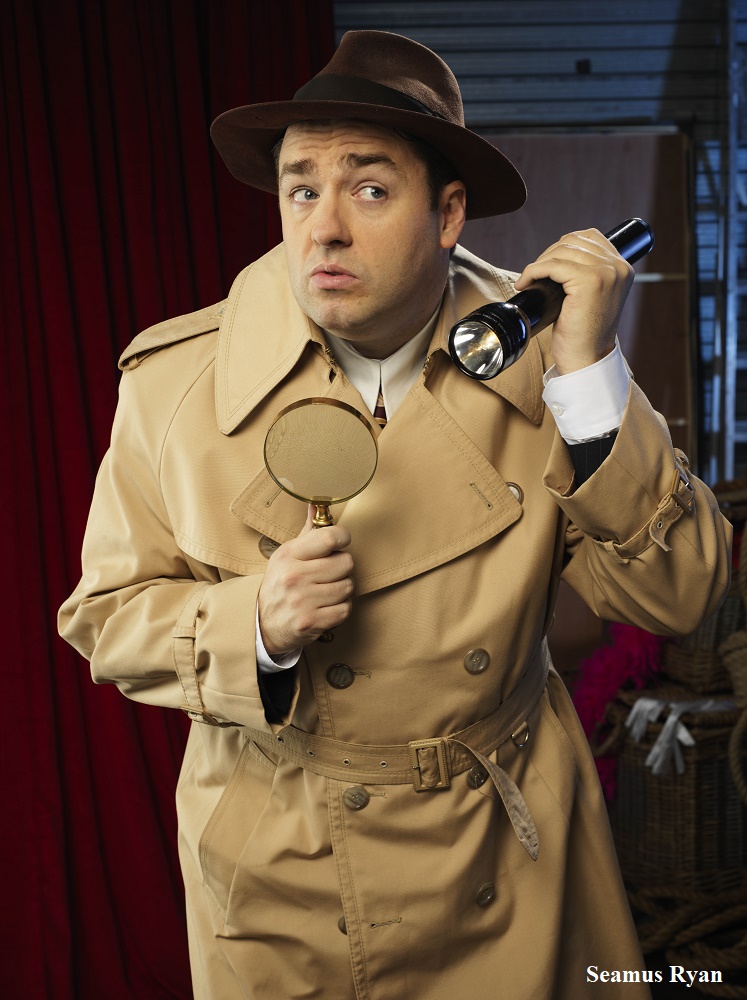 Curtains revolves around a murder of the Broadway star Jessica Cranshaw on opening night on the set of a Broadway-bound musical, entitled Robbin Hood. The entire cast and crew are suspects. Leading to the local detective Frank Cioffi being called in to solve the crime. Incidentally Cioffi just happens to be a huge musical theatre fan. With a nose for crime and an ear for music, Frank has his work cut out trying to find the killer whilst giving the show a much needed lifeline. Set in 1959, Curtains originally premiered in 2006 in Los Angeles and opened on Broadway in 2007.
Jason Manford plays Lieutenant Frank Cioffi with ease and perfect comedy timing. However tonight's performance was not as outstanding as Manford's previous musical theatre credits including playing Caractacus Potts in Chitty Chitty Bang Bang and Leo Bloom in The Producers on the UK tours, as well as Pirelli in "Sweeney Todd in the West End and Nathan Detroit in Guys and Dolls at the Royal Albert Hall.
The shows' musical numbers have been written by John Kander and lyrics by Fred Ebb, who also wrote Cabaret and Chicago. With my favourite piece of the show had to be: 'Coffee Shop Nights' being sung by the very talented and versatile Manford.
Choreography for the show is by Alistair David, musical supervision and arrangements are by Sarah Travis, set design is by David Woodhead, costume by Gabriella Slade, lighting by Tim Mitchell, sound by Tom Marshall and casting is Jim Arnold. All of which should be applauded in their contribution to this production as all of the above was on point.
The tour stars Jason Manford as detective Frank Cioffi, alongside Strictly Come Dancing winner Ore Oduba as Aaron Fox as well as Carley Stenson as Georgia Hendriks. Rebecca Lock plays Carmen, Samuel Holmes plays Christopher Belling, Leah West plays Niki Harris and Alan Burkitt plays Bobby. Emma Caffrey joins them as Bambi, Adam Rhys-Charles as Daryl Grady, Martin Callaghan as Oscar Shapiro, Minal Patel as Johnny Harmon and Mark Sangster as Sidney. The ensemble is made up of Kathryn Barnes, Pamela Blair, Charlie Johnson, Kate Ivory Jordan, Robin Kent, Thomas Lee-Kid, Ben Mundy, J R Ballantyne, Gleanne Purcell-Brown and Samuel John-Humphreys. The entire cast was truly outstanding and tonight's stand out performance has to go to Samuel Holmes portrayal of the hilarious and outlandish Christopher Belling, which had the best comedy one liners of the show.
Curtains is a great piece of musical theatre with some catchy songs and plenty of twists to the tale, and was clearly a hit with the audience last night. Sadly though, it was not for me. Mixing musical theatre with a Columbo styled detective story just didn't work in my opinion, and I found myself losing interest in parts. This however is no reflection on the cast as the talent was phenomenal and Jason Manford with his boyish charm had the audience in the palm of his hand with his cheeky grin and perfect delivery of comedy. More information on the tour can be found at https://curtainsmusical.com
Reviewer: Victoria Wilmot
Reviewed: 9th October 2019
North West End UK Rating: ★★★