You know you have seen a good show when the audience sing the title song as they walk away from the theatre back to their cars, busses or trams home. That is exactly what happened tonight on Oxford Road after the opening night of Dolly Parton's 9 to 5 arrived at the Palace Theatre.
I have been fortunate to see this show professionally in all its guises and also a number of amateur version and was very interested to see how this new version which is still running in the West End would match up to previous offerings. The answer is, on the whole, very well indeed.
Forget girl power, woman power wins the day in this fun filled fast paced musical with music and lyrics written by the one and only Dolly Parton who narrates the show appearing within a huge clock face on stage. Sean Needham plays villain Franklin Hart with a fun but menacing persona. I really believe that if he didn't end up where he did at the interval he may have been hunted down such were the boos he was getting with every sexist remark made.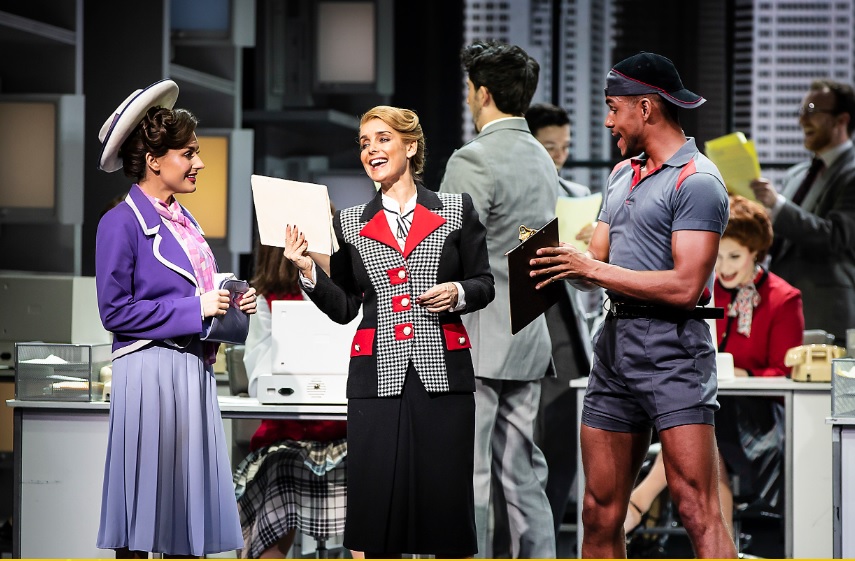 For this show to succeed you need three strong women in the leading roles and this show ticked that box with aplomb. Georgina Castle takes on the role of Doralee with confidence whilst Louise Redknapp showed off her Strictly skills in a strong well-rounded performance direct from the West End.
Another direct from the London production is Amber Davies, and wow what an impression she made. She was instantly likeable as the ditzy Judy with some of the best lines in the show and possesses a killer voice. Make a note of her name as she is destined to be a musical theatre star for many years to come, simply sensational.
Lucinda Lawrence as love struck Roz provided some superb comedic moments and the sizable ensemble played the remainder of roles and acted as the cogs which made the simple yet effective set move around the stage which was framed with 72 computer monitors and featured a large video screen at the back.
Musically this show is packed with catchy numbers, not least the title song 9 to 5. For me the stand-out song of the night was Get Out and Stay Out where Davies brought the house down with a show stopping performance. The 8-piece band under the direction of Simone Manfredini were faultless throughout.
I am reviewing this production on tonight's performance alone but I must mention one omission from this updated version that upset me. The whole Judy's fantasy sequence as a result of the three ladies smoking a joint is missing! Whilst the song Hey Boss which replaced this was perfectly adequate it was a horrendous oversight in my view. I did however enjoy a number of topical references within the updated script which didn't go unnoticed by the knowledgeable Manchester audience.
There is something about 9 to 5 which cannot fail to make you smile from ear to ear, it is infectious, and as the autumn nights begin to draw in this show is a welcome ray of sunshine and one I think will be around for many years to come.
9 to 5 continues at the Palace Theatre until Saturday 21st September https://www.atgtickets.com/shows/9-to-5-the-musical/palace-theatre-manchester/
Reviewer: Paul Downham
Reviewed: 17th September 2019
North West End Rating: ★★★★★