Based on the life of playwright Andrea Dunbar (writer of Rita, Sue and Bob Too), Black Teeth and a Brilliant Smile gives Andrea the chance to tell her own story. Adapted by Lisa Holdsworth from Adelle Stripe's 'outstanding debut novel' of Andrea Dunbar's life, this play is a fictionalised version of events inspired by Andrea's reality.
Set primarily in Dunbar's hometown of Buttershaw in Bradford, the set design of the local Beacon pub by Hannah Sibai encaptured the common ground, which no matter where Andrea went she always ended up back there eventually. The studio space of the Oldham Coliseum was a great location for the play, as the audience felt like they were sitting in the pub with Andrea as she reminisced. Before the show began, the pub atmosphere was set with low lighting and a jukebox playing 80s hits in the background.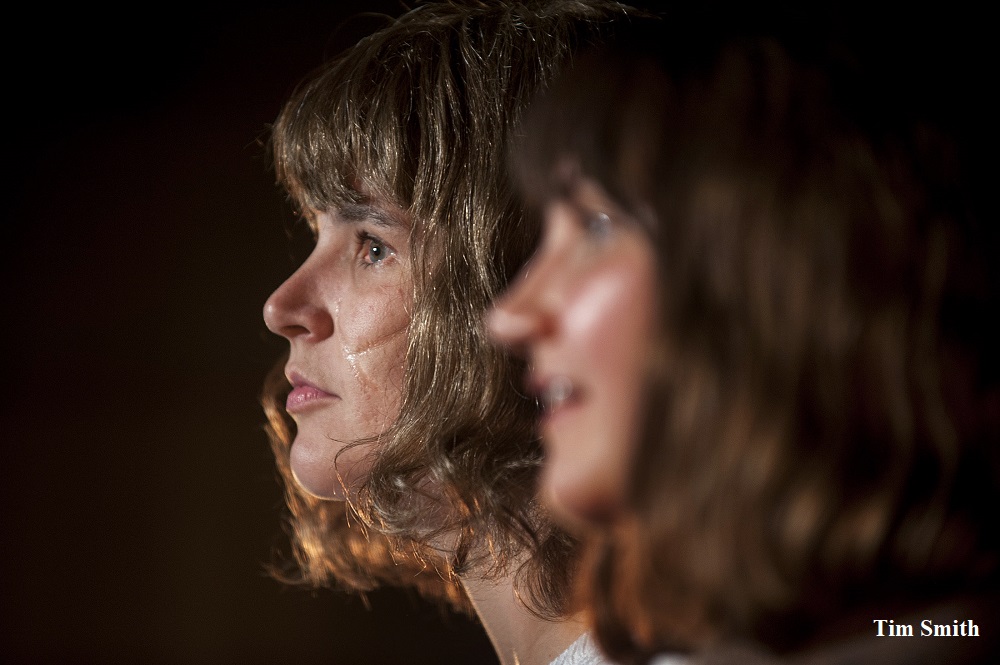 The female voice is celebrated throughout as the men were purposefully absent in the play, and Andrea's story was capably and rightfully told by an all-female cast. There were older and younger versions of Andrea (played by Emily Spowage and Lucy Hird respectively) who narrated the events, and Spowage in particular represented the male characters throughout Andrea's life without giving them any undue attention. The rest of the cast is made up of Laura Lindsay, Claire Marie-Seddon, and Balvinder Sopal who between them provided detailed and authentic portrayals of countless characters.
Spowage holds the audience captive from the very start of the evening, and the rest of the cast have the same effect. We are drawn into Andrea's story and experience the frustrations and heartbreak alongside her, whilst Spowage showcases her impressive emotional range. However, the play is not all doom and gloom with larger than life characters and situations consistently providing plenty of laughs along the way. Hird's younger Andrea was a firecracker ready to blow up at any minute; her fresh, raw and feisty portrayal was a joy to watch.
The One Act play was executed well, and homage must be paid to Kash Arshad's direction who created a fast-paced, highly entertaining piece with still moments that were just as engaging. A huge reason for this being the flawless transitions, of course complimented and achieved by Karen Lauke's sound and Keilidh Whyte's lighting.
The whole cast and crew have clearly worked hard to give Andrea's story the platform it deserves. However, the highlight of this production was the remarkable cast. All the performers were highly skilled at multi-roling and showed incredible versatility. They worked together superbly, and had the audience engaged throughout.
An extraordinary story shared extraordinarily well.
Reviewer: Becky Mottershead
Reviewed: 27th June 2019
North West End Rating: ★★★★★